Indian Defence Estates Service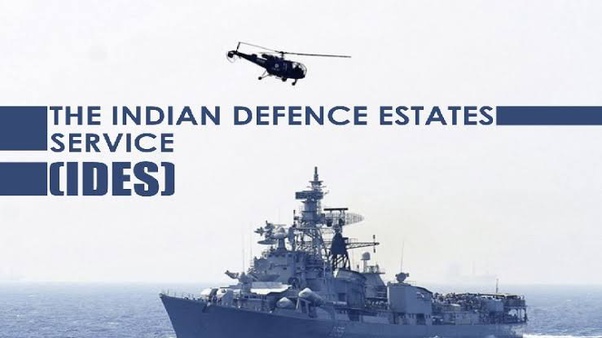 The management of cantonments is under the care of Defence Estate Service. The appointment on completion of probation is that of Executive Officer Class I or Class II of cantonments. The senior most position in this service is that of Director General Defence Estates.
Indian Defence Estates Service Eligibility
The eligibility criteria for the Indian Defence Estates Service exam is the same as for other services. Once the candidate clears the civil services and gets allotment to the Indian foriegn service as per his rank, he has to go through specified training.
IDES eligibility for persons with disability
People with the following disabilities & Physical conditions can be selected into the IDES
Category(ies) for which Identified
Functional Classification
Physical Requirements
(i) Locomotor Disability including Cerebral Palsy, Dwarfism, Acid Attack Victims, Leprosy Cured and Muscular Dystrophy
OA (One Arm) OL (One Leg)
Sitting, Standing, Walking, Seeing, Reading and Writing, Communication, Manipulation by Finger
BL (Both Legs)
Sitting, Seeing, Reading and Writing, Communication, Manipulation by Finger
(ii) Blindness and Low Vision
LV (Low Vision)
Seeing, Reading and Writing
(iii) Hearing Impairment
HH (Hard of Hearing)
Hearing
(iv) Multiple Disabilities from amongst persons under clauses (i) to (iii) including deaf-blindness
All mentioned above
[(i), (ii) and (iii) above]
All mentioned above
[(i), (ii) and (iii) above]
Indian Defence Estates Service Recruitment and Training
The IDES officers are recruited through Civil Services Exam conducted by UPSC commission, all the selected candidates for All India Service, Group A and Group B are supposed to undergo orientation training. IDES comes under Group A services and the officers selected head towards NIDEM (National Institute of Defence Estates Management) at Delhi for the actual IDES training. The training at NIDEM is for 6 months and aims to learn the various departments of municipal control in Cantonment and Security Territory Management.
During the probation period the probationary IDES officers have to assume two months 'End of Probation Training' which includes the combination of practical knowledge gained in orientation training and field experience obtained in primary postings. The IDES officers also set for a tour to entire India for two weeks which is known as Bharat Darshan including Indian Navy, Indian Army and Indian Air Force setup and also attached to Indian Army in some of the distant areas that are imperative part of training.
Indian Defence Estates Service Ranks and Salaries
Service Hierarchy
S.No
Posts in Directorate
Posts in Directorate General
Time Scale
Pay Band
Grade
1
-------------
Director General Defence Estates
Secretary level Post
80,000 –(Fixed) Apex Scale
2
Principal Director
Sr. Addl. Director General
Higher Administrative Grade
67,000-79000
--------
3
Director
Addl. Director General
Senior Administrative Grade
37.400-67.000
10,000/-
4
Joint Director
Deputy Director General
Junior Administrative Grade (Selection)
37.400-67.000
8,700/-
5
Joint Director
Deputy Director General
Junior Administrative Grade (Ordinary)
15,600-39,100
7,600/-
6
Deputy Director
Assistant Director General
Senior Time Scale
15,600-39,100
6,600/-
7
Assistant Director
Assistant Director General
Junior Time Scale
15,600-39,100
5,400/-
Related Link