Indian Railway Traffic Service (IRTS) - 2023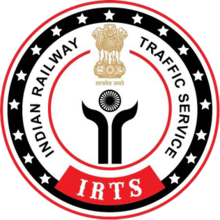 The Indian Railway Traffic Service (IRTS) is one of the Group 'A' civil services. This service primarily manages the transportation department of the Indian railways. Besides, this service is primarily responsible for income generation in the railways department. Earlier, these officers were named as Officers of the Superior Revenue Establishment of the Traffic, Transportation and Commercial Department of Indian Railways.
What are the eligibility and recruitment modes ?
There are two modes of recruitment to IRTS Group 'A'. Firstly, 50 % of the candidates are selected through direct recruitment through the Combined Civil Services Examination conducted by UPSC. Secondly, 50 % of the candidates are selected through promotion from Group B officers of Operating and Commercial departments of the Zonal Railways.
What are the duties and responsibilities of IRTS officer?
The primary role of an IRTS officer changes according to the department he/she is employed. Most of the officers act as coordinator between the production and sale of transportation output and manages the customer interface of railways. There are two main streams of Traffic Department, Operations and Commercial, where these officers are posted. Under the Central Staffing Scheme, an IRTS officer can also be sent on deputation to other ministries and departments. Some of the important responsibilities are:
Ensuring smooth and fast transportation of freight and passengers.
Optimum utilization of assets maximizing output with least inputs
Coordinating the production and sale of transportation output.
Managing the customer interface of railways.
Deal with the sales, pricing, service and marketing aspects of passenger and freight business.
What kinds of trainings are offered ?
Candidates selected through direct recruitment would have to undergo 90 weeks guidance program. This session will act as an orientation programme into the actual service at several railway zones and other offices. The guidance program will be conducted at NAIR (National Academy of Indian Railways) in Vadodara, LBSNAA (Lal Bahadur Shastri National Academy of Administration) in Missouri, NDAT (National Academy of Direct Taxes) in Nagpur, NIFM (National Institute of Financial Management) in Faridabad and many more academies for training.
During the training session at Indian Railways Institute of Transport Management (IRITM), The selected candidates go through infield training and along with the classroom training. These sessions are held at several railway activity centers and institutes of Indian Railways which are known as centralized training institutes, also seminars and managements all over the country. Trips to railways project locations, ports and short sessions at Civil Services Academies and at authorized management academies in India.
Indian Railway Traffic Service Ranks and Salaries
Service Hierarchy
| | | | | |
| --- | --- | --- | --- | --- |
| Grade | Pay scales | Designation in Field (Commercial) | Designation in Field (Operational) | Status in Railways |
| Junior time scale | Rs.15,600-39100 + Grade Pay Rs.5400 | Assistant commercial manager | Assistant operational manager | |
| Senior time scale | Rs.15,600-39,100 + Grade Pay Rs.6600 | Divisional commercial manger | Divisional operational manager | |
| Junior administrative grade | Rs.15,600-39,100 + Grade Pay Rs.7600 | Senior divisional commercial manager | Senior divisional operational manager | |
| Selection grade | Rs.37,400-67,000 + Grade Pay Rs.8700 | Senior divisional commercial manager/Deputy chief commercial manager | Senior divisional operational manager/Deputy chief operations manager | |
| Senior administrative grade | Rs.37,400-67,000 + Grade Pay Rs.10,000 | Chief commercial manger/Chief claims officer | Chief operational manager/Chief freight | Executive director |
| Higher administrative grade | Rs.67000-3%-79000 | Chief commercial manager | Chief operations manager | Additional member/Additional advisor |
| Higher Administrative Grade + | Rs.80000 | | | Member (Traffic) |
Related Link