Ebola virus: global concern
The Government has initiated the launch of a natioGlobal populace has now confronted with deadly Ebola virus which has erupted at speedy rate and gripped various nations. Scientists and health experts are extremely concerned for the outcome of this virus as there is no vaccine discovered to treat patients who are infected with Ebola. The most affected continent is Africa as Ebola virus was first identified in Africa some time in mid-1970s. Reports revealed that Ebola virus is emanated from African monkeys, chimps and other nonhuman primates. A milder strain of Ebola has been discovered in monkeys and pigs in the Philippines. Ebola is uncommon but person got infected with fatal virus has bleeding inside and outside the body. Ebola not only disrupt the human functions instantly but it rapidly threatens the life of people rapidly. As the virus multiplies through the body, it attacks the immune system and organs and damages considerably. This results in levels of blood-clotting cells to drop which leads to severe, uncontrollable bleeding. This health ailment is called Ebola hemorrhagic fever or Ebola virus. Medical reports have shown that this deadly virus exterminate up to 90% of people who are contaminated. According to the press release, researchers are deeply engrossed to investigate antibodies to fight Ebola virus. It is stated that three antibodies are used to treat two American health care employees who were gripped with the Ebola virus. Ebola virus is virulent disease because it is transmitted very fast through blood or other bodily fluids of an infected person.
Outbreak of Ebola in different geographical region of world: Severe Ebola cases have been reported in Central and West Africa. Liberia is most affected country with current Ebola virus outburst. This deadly virus is rapidly hitting countries such as Sierra Leone, Guinea, and Nigeria. The Associated Press reports exposed that the fatal Ebola epidemic is occurring. The virus is so dangerous that it gripped one Liberian senior doctor, Samuel Brisbane who was working to fight the disease and died. Reports of World health organization have revealed that the virus once infected to human, it exhibits flu-like symptoms and often ends with terrible haemorrhaging.
Until October 2014, no minor EVD cases had occurred outside of Africa. That month, health workers in Spain and the United States contracted EVD cases while providing care for Ebola patients. Other factors make this outbreak inimitable are its introduction into West Africa, multi-country outbreaks occurring simultaneously, disease transmission within urban areas and an unprecedented scale and pace of transmission. In an August 2014 report, WHO estimated that it would cost roughly $500 million to contain the outbreak by January.
Figure: Outbreak in 2014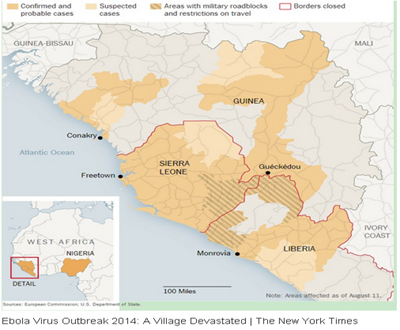 Virus transmission:
Experts believe that transmission of this deadly virus may be accelerated through an infected animal's bodily fluids such as blood. Slaughtering or consuming infected animals may be another major cause of rapid multiplication of the viruses. Scientists who are engaged in animal researches and operate infected animals have also come in contact with the virus.
Risk factors for infecting Ebola hemorrhagic fevers in most people are low. The risk increases when people migrate to Africa. People are more likely to contract the Ebola virus if they do animal research with monkeys imported from Africa or the Philippines. Medical practitioners can also get infected if they do not take preventive measures such as surgical masks and gloves. It is important to note that the bodies of people who have died of Ebola hemorrhagic fever are infectious. People catch Ebola infection through the blood or bodily fluids such as sweat, urine, and semen of a person or animal that is infected whether alive or dead. People can also catch it through indirect contact with victims' fluids, such as through bedding or medical equipment.
Complications: Ebola hemorrhagic fevers can lead to death. As the disease progresses, it can cause Multiple organ failure, severe bleeding, Jaundice, Delirium, Seizures, Coma and Shock. The major cause of this deadly virus is its interference with the immune system. Among other problems, white blood cells from the immune system are often seen to die off in patients. And if the body can not fight back, the virus can spread over. The virus makes proteins that act as decoys, interfering with the body's ability to fight back. Ebola is comparatively difficult to diagnose. People may exhibit symptoms of hair loss, sensory changes, liver inflammation, weakness, Fatigue, headaches, eye inflammation, and testicular inflammation.
The instant diagnosis of Ebola is not possible because most of its symptoms are that of any common viral fever, but medical practitioners must not rule out the disease and must carry out the necessary tests. The antigens in the patient's blood are tested and the virus isolation is done to confirm its presence. IgM and IgG ELISA tests are conducted. It can be confirmed that symptoms are caused by Ebola virus infection through following investigations:
Antibody-capture enzyme-linked immunosorbent assay (ELISA)
Antigen-capture detection tests
Serum neutralization test
Reverse transcriptase polymerase chain reaction (RT-PCR) assay
Electron microscopy
Virus isolation by cell culture.
Treatment: There is no proven vaccine to cure Ebola disease. Patients are treated for symptoms, including IV fluids for dehydration. Medical reports indicated that some people show signs of recovery from an Ebola infection. The patient must be kept in isolation and the body fluids (masks, tissues) and clothing of the infected person must be disposed suitably in order to make sure no further transmission of the disease. Visitors and observers including medical personnel should exercise caution and wear medical-rated disposable gloves, face masks goggles and medical gown at all times. The medical equipment and premises should be sterilized.
Scientists are focusing their efforts on two approaches that include treatments to help people already infected with the virus and vaccines to protect people from catching it in the first place. There are several different experimental vaccines and drug treatments for Ebola under development, but they have not yet been fully tested for safety or effectiveness.
Vaccine trial: Recently, an experimental Ebola vaccine developed that is safe and activated signs of immune protection in some volunteers. According to New England journal of medicine, the vaccine is designed to stimulate the immune system's production of anti-Ebola antibodies, and people developed them within four weeks of getting the shots at the National Institutes of Health. Half of the test group received a higher-dose shot, and those people produced more antibodies. The researchers reported no serious side effects. But it is very difficult to treat such deadly disease. The GSK vaccine uses a chimpanzee-derived adenovirus vector with an Ebola virus gene inserted. It is being tested in Mali, the UK and the US ( BBC report).
According to BBC report, the medical charity Medicins Sans Frontieres announced that three of its treatment centres in West Africa would each host separate research projects to try to cure for the Ebola virus. The first trials are due to start in December and the first results could be available in February 2015. These three trials will investigate the following thing.
Convalescent blood and plasma therapy: Using blood from Ebola patients who have survived, which contains antibodies that successfully fought off the virus, to improve ill patients' immune systems. This approach has worked for other infectious diseases. The trial will take place at the Donka Ebola centre in Conakry, Guinea, led by the Antwerp Institute of Tropical Medicine (ITM)
The antiviral drug brincidofovir - it works by interfering with the virus's ability to multiply. Up to 140 consenting patients will take the tablets twice a week over a two-week period, and survival rates will be compared with those before the trial. To conduct this research, the Wellcome Trust will give fund and led by the University of Oxford.
The antiviral drug favipiravir, led by the French National Institute of Health and Medical Research (Inserm), in Gueckedou, Guinea
Preventive steps: As the Ebola outburst intimidates the whole world and death rate is increasing exponentially, health authorities and immigration departments are jointly making efforts to track health of passengers travelling across the globe. There are some precautionary measures to avoid the spread of the Ebola virus. People must evade travelling to areas with identified outbreaks of the Ebola virus. It is advised to make a habit of maintaining hand hygiene such as wash hands frequently using soap and water. When water is not available, use hand rubs with at least 60% alcohol.
It is not recommended to eat bush meat and avoid contact with infected people. People must wear protective clothing, such as gloves, long sleeved gowns, masks and eye shields. Keep infected people isolated from other people. Medical staff must take care in disposing off needles and other instruments and they must not reuse injection needles and syringes. Do not handle remains of Ebola victims. Only trained people with proper safety equipment should handle their remains. Health specialists advised that people with low immunity and those suffering from diabetes, kidney disease, HIV infection and malnutrition should take extra care in travelling to places where Ebola is prevalent. Older people, young peers and pregnant women are not advised to travel in Ebola hit areas.
India's readiness to deal with Ebola virus:
The continuing Ebola is a concern at international emergency and therefore every country must be careful on the lethal virus. India must be on alert because approximately 45000 Indians live in African countries where Ebola has spread its leg. In India, steps have been taken by the health ministry to tackle this dangerous virus:
An emergency 24-hour help line has been set up. The help line numbers are (011)-23061469, 3205 and 1302.
Strong alerts have been issued at airports and ports.
According to health ministry, the most advanced surveillance and tracking systems for the virus has been put in to action and there is nothing to worry. He also stated that the chances of Ebola in India are very low.
Ram Manohar Lohia Hospital in Delhi has been declared as the healthcare centre in India for the treatment and management EVD cases.
Reports have been revealed that Indian missions have contacted resident Indians in the affected countries and they were supplied all instructive materials so that they can take preventive measures.
Experts are worried about unparalleled spread of the Ebola virus in West Africa that push the world toward a viral tragedy.
Lastly, humans are in risk with the outbreaks of Ebola virus which is gripping world quickly and scientist could not found any vaccine to curb severe medical ailment caused by virus. Humans pollute the environment through diverse activities and invite major threats to their health system. New collective endeavours of medical scientists can offer best treatment to medical condition occur due Ebola. Through developing preventive measure, humans can fight against transmittable disease detonated by fatal virus.
Related Sections: