Science & Technology current affairs 2021
Following the current events and news in the area of science and technology is very very important for the general studies paper in the UPSC exam. In recent times questions are set on only those topics that have made news. Regular study of science from NCERT books or otherwise is no longer required. The idea is to follow the current affairs news related to science and technology and understand the science behind those issues. This is true for all levels of teh IAS exam - prelims, mains and also the interview.
This Week Affairs
Current Affairs Quiz
Science & Technology Affairs Current Affairs - June 2022
Axiom Space Ax-1 Mission: A SpaceX capsule carrying three paying customers and a former NASA astronaut arrived at the International Space Station, finishing the first leg of this first-of-its-kind mission that will last about 10 days.
Key Highlights:
On board this mission are Michael Lopez-Alegría, a former NASA astronaut turned Axiom employee who is commanding the mission; Israeli businessman Eytan Stibbe; Canadian investor Mark Pathy; and Ohio-based real estate magnate Larry Connor.
The Ax-1 mission, which was organized by Houston Company Axiom Space, is flying on the SpaceX Crew Dragon Endeavour.
The mission was launched from Kennedy Space Center in Florida.
The spacecraft, which separated from the rocket after reaching orbit, spent about 20 hours free-flying through orbit as it maneuvered closer to the ISS.
About Ax-1:
Axiom Mission 1 (or Ax-1) is a private crew mission to the International Space Station (ISS).
It is operated by Axiom Space out of Axiom Space's Mission Control Center (or MCC-A) in Houston, TX.
The flight was launched on 8 April 2022, from Kennedy Space Center.
Axiom Space:
Axiom Space was founded in 2016 with the goal of creating the world's first commercial space station.
In 2020, Axiom was granted access to the ISS's forward port, with intentions to dock its "Axiom Orbital Segment" there.
It is a complex that will be expanded to five pressurized modules with a huge observation window by 2024.
Axiom also plans to charter paid missions to the International Space Station for the planet's wealthiest citizens.
Gaofen-3 03: China recently launched a new Earth observation satellite named Gaofen-3 03 on 7th April 2022.
Key Points:
Gaofen-3 03 was launched successfully from Jiuquan Satellite Launch Centre on board a Long March-4C rocket.
The new satellite will become part of its land-sea radar satellite constellation by forming a network with the orbiting Gaofen-3 and Gaofen-3 02 satellites.
These 3 satellites will form a land-sea radar satellite constellation and will be capturing stable, reliable, synthetic aperture radar (SAR) images.
Use of the Satellite:
It will capture images to help China safeguard its maritime rights and interests.
It will help in the mitigation and prevention of marine disasters, help in the monitoring of the dynamic marine environment, environmental protection, marine research, agriculture, water conservancy, and meteorology.
About SAR Images:
The Earth Observation (EO) satellites capture a large number of SAR images every day.
These images are characterized by all-weather operation, high spatial resolution, among other things.
These photos have a 1-meter resolution, which enhances China's surveillance capabilities.
K2-2016-BLG-0005Lb: Astronomers have recently discovered an identical twin of Jupiter dubbed as K2-2016-BLG-0005Lb.
Key Highlights:
This newly discovered twin of Jupiter has a similar mass and is at a similar location (420 million miles away) from its star as Jupiter is from our Sun (462 million miles away).
It has been discovered by an international astrophysicist's team using data obtained that was obtained by NASA's Kepler space telescope.
The study led by Jodrell Bank Centre for Astrophysics and David Specht, a Ph.D. student, from the University of Manchester has been published as a preprint on ArXiv.org and submitted to the journal Monthly Notices of the Royal Astronomical Society.
Key Points about K2-2016-BLG-0005Lb :
K2-2016-BLG-0005Lb is "the first bound microlensing exoplanet to be discovered from space-based data.
It is located 17,000 light-years away from Earth.
This newly discovered identical twin of Jupiter not only has a mass that is similar to Jupiter but its position from its respective Sun is also similar to that of Jupiter from the Sun.
It was first detected by the Kepler space telescope in 2016.
The scientists employed Albert Einstein's Theory of Relativity and a gravitational microlensing method to spot this twin of Jupiter.
The planet was spotted after the scientists temporarily magnified and bent the light from a background star.
Science & Technology Affairs Current Affairs - April 2022
Space Junk and NETRA Project: With space junk posing increasing threat to Indian assets in space, the Indian Space Research Organization (ISRO) is building up its orbital debris tracking capability by deploying new radars and optical telescopes under the Network for Space Objects Tracking and Analysis (NETRA) project.
Overview:
A space debris tracking radar with a range of 1,500 km and an optical telescope will be inducted as part of establishing an effective surveillance and tracking network under NETRA.
The government has given the go-ahead for the deployment of the radar, which will be capable of detecting and tracking objects 10 cm and above in size.
It will be indigenously designed and built.
ISRO plans to have two such radars deployed 1,000 km apart for spatial diversity.
Curently, ISRO has a Multi Object Tracking Radar at Sriharikota range, but it has a limited range.
The SSA Control Center in Bengaluru coordinates ISRO's efforts in space situational awareness (SSA), which are administered by the Directorate of Space Situational Awareness and Management at ISRO headquarters.
What is Space Debris?
The space debris or space junk is a term used to describe a group of unwanted objects in Earth's orbit, whether man-made or natural.
Natural Debris is made up of natural bodies that orbit the sun, such as asteroids and meteors.
Artificial space junk or debris consists of exhausted rocket stages, dead satellites, shards of space objects, and debris from the Anti-satellite (ASAT) System.
These free floating space debris, hurtling through space at a speed of 27,000 kmph in Low Earth Orbit (LEO), pose a genuine hazard as collisions involving even centimetre-sized fragments can be lethal to satellites.
These particles are a potential hazard for operational satellites and colliding with them can leave the satellites dysfunctional.
This is referred to as Kessler Syndrome, named after National Aeronautics and Space Administration (NASA) scientist Donald Kessler in 1978.
According to Kessler Syndrome, if there is too much space trash in orbit, it could cause a chain reaction in which more and more objects hit and create additional space junk, eventually rendering Earth's orbit uninhabitable — a Domino Effect.
Project NETRA:
NETRA project is an early warning system in space to detect debris and other hazards to Indian satellites.
NETRA Project was initiated by ISRO in August 2020.
Under NETRA, ISRO plans to put up the following:
Many observational facilities:
Connected radars,
Telescopes;
Data processing units and
A control centre.
Note: Radars and optical telescopes are vital ground-based facilities for keeping an eye on space objects, including orbital junk.
They can also spot, track and catalogue objects as small as 10 cm, up to a range of 3,400 km and equal to a space orbit of around 2,000 km.
Once operational, it will give India its own capability in Space Situational Awareness (SSA) like the other space powers which is used to 'predict' threats from debris to Indian satellites.
It also goes so far as to serve as an unstated warning against missile or space attack for the country.
Under this project, SSA was first used for low-earth orbits or LEO which have remote-sensing spacecraft.
NETRA's ultimate goal is to capture the GEO, or geostationary orbit, scene at 36,000 km where communication satellites operate.
Why the need?
With countries launching more and more satellites, each one a strategic or economic asset, preventing collisions may grow increasingly difficult in the future.
In the year 2021, ISRO monitored 4,382 events in LEO and 3,148 events in the geostationary orbit where space objects closely approached Indian assets.
For protecting its space assets, ISRO was forced to perform 19 Collision Avoidance Manoeuvres (CAM).
Fragments from the Fengyun-1C satellite (part of the anti-satellite test (ASAT) by China in 2007) and the Cosmos 2251-Iridium satellite collision in 2009 accounted for the maximum number of these threats.
The observations also covered 84 "close approaches of less than one km" between Starlink satellites and Indian assets.
PACER Scheme: The Polar Science and Cryosphere (PACER) scheme has been approved for continuation during 2021-2026.
About the PACER scheme:
Polar Science and Cryosphere Research (PACER) scheme comprises of the Antarctic program, Indian Arctic program, Southern Ocean program and Cryosphere and Climate program.
It is implemented through National Centre for Polar and Ocean Research (NCPOR), an autonomous institute under the Ministry of Earth Sciences.
Objective:
The main objective of the scheme is to improve our understanding of Polar Science and the cryosphere system.
Components of PACER:
PACER encompasses the following six components.
1)Construction of polar research vessel
2)Construction of the third research base in Antarctica
3)Indian scientific endeavours in the Arctic
4)Polar expeditions-Antarctica
5)Replacement of Maitri station
6)Southern Ocean
PACER Scheme is one of the five major programs of MoES, other four are:
1)Atmosphere and Climate Research – Modelling, Observing Systems and Services (ACROSS).
2)Ocean Services, Technology, Observations, Resources, Modelling and Science (OSTORMS).
3)Seismology and Geosciences (SAGE).
4)Research, Education, Outreach and Training (REACHOUT).
Major achievements of the PACER scheme in the recent three years are:
Executed 39th & 40th Indian Scientific Expedition to Antarctica.
41st Indian Scientific Expedition to Antarctica is ongoing.
Clear-air atmospheric observatories containing automatic weather stations, a suite of sensors to measure aerosol and greenhouse gas concentrations has been established at Maitri and Bharati stations.
Twenty-three research projects related to glaciology, marine science, polar biology, and atmospheric science were successfully carried out during 2019-20 Arctic Expedition.
IndARC mooring system along with Hydrophone system was successfully retrieved and deployed in Kongsfjorden, Svalbard.
Studies in Western Himalayas:
Glaciological field campaigns were carried out in six benchmark glaciers in Chandra basin of Lahaul-Spiti region of Western Himalaya.
Differential Global Positioning System (DGPS) and Ground Penetrating Radar (GPR) survey were conducted.
Snow, ice, meltwater, water and cryoconite samples were collected from various glaciers and lakes.
Automatic Weather Station (AWS) systems were installed at Baralacha La, a high elevation site in the arid Spiti region to strengthen infrastructure across the Chandra basin.
Indian Antarctic Program:
The Indian Antarctic Program is a multi-disciplinary, multi-institutional program under the control of the National Centre for Polar and Ocean Research, Ministry of Earth Sciences.
It was initiated in 1981with the first Indian expedition to Antarctica.
The program gained global acceptance with India's signing of the Antarctic Treatyand subsequent construction of the Dakshin Gangotri Antarctic research base in 1983, superseded by the Maitri base from 1989.
The newest base commissioned in 2012 is Bharati.
Under the program, atmospheric, biological, earth, chemical, and medical sciences are studied by India.
As of today, Maitri and Bharati are fully operational.
About NCPOR:
The National Centre for Polar and Ocean Research (NCPOR), Goa—an autonomous institute under the Ministry of Earth Sciences—manages the entire Indian Antarctic program.
The Antarctic Treaty:
The Antarctic Treaty was signed in Washington on 1 December 1959 by the twelve nations (Argentina, Australia, Belgium, Chile, France, Japan, New Zealand, Norway, South Africa, United Kingdom, United States and USSR).
The Treaty, applies to the area south of 60° South latitude.
The Treaty now has 52 signatories.
India became a member of this treaty in 1983.
It is headquartered in Buenos Aires, Argentina.
What is the cryosphere?
The cryosphere is the frozen water part of the Earth system.
The term "cryosphere" comes from the Greek word, "krios," which means cold.
Ice and snow on land are one part of the cryosphere.
These are places on Earth that are so cold that water is frozen solid.
These areas of snow or ice, which are subject to temperatures below 0°C 32°F for at least part of the year, compose the cryosphere.
This includes the largest parts of the cryosphere, the continental ice sheets found in Greenland and Antarctica, as well as ice caps, glaciers, and areas of snow and permafrost.
When continental ice flows out from land and to the sea surface, we get shelf ice.
The other part of the cryosphere is ice which is found in water.
This includes frozen parts of the ocean, such as waters surrounding Antarctica and the Arctic.
It also includes frozen rivers and lakes, which mainly occur in polar areas.
GSAT 7B Satellite: The Defence Acquisition Council (DAC) has given the Acceptance of Necessity (AoN) for Capital Acquisition proposals of Armed Forces amounting to Rs 8,357 crore.
Key Highlights:
The AoN for procurement of a GSAT 7B satellite, along with equipment like Night Sight (image intensifier), 4X4 light vehicles, and Air Defence Fire Control Radar (light) was given at the meeting of 22nd March 2022 held under the Chairmanship of Raksha Mantri Shri Rajnath Singh.
All of these proposals have been approved under 'Buy (Indian IDDM)' category with focus on indigenous design & development and manufacturing in India, as an impetus to 'Aatmanirbhar Bharat'.
Note: IDDM stands for indigenously designed, developed and manufactured.
The DAC also accorded consolidated AoN for procurements of Rs 380.43 crore from iDEX startups and MSMEs in a ground-breaking programme to encourage innovation.
The DAC, to accelerate the pace of indigenisation, achieve self-reliance in defence and to facilitate Ease of Doing Business for defence industry approved effecting the following policy initiatives in the DAP-2020:
All modernisation requirements of defence forces to be indigenously sourced with imports used only as a last option.
To reduce financial burden on defence industry, the IPBG (Integrity Pact Bank Guarantee) requirement will be eliminated, and an Earnest Money Deposit (EMD) will be used as bid security and PCIP(Pre Contract Integrity Pact) coverage up to contract stage.
EMD will be applicable only for proposals of Rs 100 Cr and above and MSMEs & Startups will be exempted from EMD.
Vendors whose products are successfully trial evaluated will be provided a certificate to that effect.
iDEX and Make II procedures have been simplified resulting in compressing timelines and ensuring early placement of contracts on successful iDEX and Make II vendors.
About GSAT 7 satellites:
The GSAT 7 satellites are advanced satellites developed by the Indian Space Research Organisation (ISRO) to meet the communication needs of the defence services.
The GSAT 7 satellite was launched in August 2013 from an Ariane 5 ECA rocket from Kourou in French Guiana.
It is a 2,650 kg satellite which has a footprint of nearly 2,000 nautical miles in the Indian Ocean region.
This satellite is mainly used by the Indian Navy for its communication needs.
The GSAT 7 provides a gamut of services for military communication needs, which includes low bit voice rate to high bit rate data facilities, including multi-band communications.
Named Rukmini, the satellite carries payloads in UHF, C-band and Ku-band.
It helps the Navy to have a secure, real time communication link between its land establishments, surface ships, submarines and aircraft.
The satellite was injected into a geosynchronous transfer orbit (GTO) of 249 km perigee (nearest point to earth), 35,929 km apogee (farthest point to earth) and an inclination of 3.5 degree with respect to the equator.
The Army currently is using 30% of the communication capabilities of the GSAT 7A satellite, which has been designed for the Indian Air Force (IAF).
About DAC:
The Defence Acquisition Council (DAC)is the highest decision-making body in the Defence Ministry for deciding on new policies and capital acquisitions for the three services (Army, Navy and Air Force) and the Indian Coast Guard.
The Minister of Defence is the Chairman of the Council.
It was formed, after the Group of Ministers recommendations on 'Reforming the National Security System', in 2001, post Kargil War (1999).
Objective of DAC:
The main objective of the DAC is to ensure expeditious procurement of the approved requirements of the Armed Forces in terms of capabilities sought, and time frame prescribed, by optimally utilizing the allocated budgetary resources.
Monster Missile Hwasong-17: North Korea successfully test-fired the Hwasong-17 intercontinental ballistic missile (ICBM) recently.
The Hwasong-17 missile was launched for testing from a Transporter Erector Launcher (TEL) vehicle.
About Monster Missile Hwasong-17:
This is the world's largest intercontinental ballistic missile ever developed.
The diameter of this missile is between 2.4 and 2.5 meters.
When fully fuelled, it has a total mass of around 80,000 to 1,10,000 kg.
This missile has the capability to deliver a nuclear warhead to any United States (US) location.
The analysts have named this missile a 'monster missile'.
This missile was first shown to the public at a military parade commemorating the ruling Workers' Party's 75th anniversary in the year 2020.
It was again displayed in 2021 in Pyongyang at a defense exhibition.
Due to this missile's size, it is being speculated that the Hwasong-17 capable of carrying numerous decoys and warheads, allowing it to effectively penetrate a country's missile defence system.
Ayurveda for Rheumatoid Arthritis: Ayush Ministry has recently launched the world's first multicenter phase III clinical trial that will be assessing Ayurveda's efficacy in Rheumatoid Arthritis treatment.
Key Details:
The clinical trial will be conducted in accordance with stringent International Council for Harmonisation of Technical Requirements for Pharmaceuticals for Human Use – Good Clinical Practice guidelines.
The trial will be closely monitored by Dr Daniel Erick Furst, a renowned rheumatologist at University of California Los Angeles in the United States of America.
Dr. Edzard Ernst, currently the Director of Clinical Research at Arthritis Association of South California (AASC) and a vociferous critic of CAM, has endorsed the study as a model for future investigations on Complementary and Alternative Medicine(CAM).
The trial will be conducted by the AVP Research Foundation, affiliated to the Arya Vaidya Pharmacy (Coimbatore) Ltd and the Central Council for Research in Ayurveda (CCRAS), Ministry of Ayush.
The study is expected to begin in May 2022 and is expected to be completed in the next two years.
The sample size has increased almost five times, from 48 patients to 240.
Where will the trials be conducted?
It will be conducted at three locations which are -
Central Ayurveda Research Institute for Metabolic Disorders,
Bengaluru, AVP Research Foundation, Coimbatore, and
Raja Ramdeo Anandilala Central Ayurveda Research Institute for Cancer, Mumbai.
About Rheumatoid Arthritis:
Rheumatoid arthritis is an inflammatory autoimmune disease in which the body's immune system attacks the healthy cells by mistake.
This causes inflammation in the body parts that are affected.
This disease mainly occurs in the joints like the joints in the knees, wrists, and hands.
Science & Technology Affairs Current Affairs - March 2022
Hydrogen-based advanced Fuel Cell Electric Vehicle (FCEV): India's Union Minister for Road Transport and Highways (MoRTH) Nitin Gadkari recently launched India's first green hydrogen-based advanced fuel cell electric vehicle (FCEV) called Toyota Mirai at New Delhi.
This is a first of its kind project in India which seeks to create a Green Hydrogen based ecosystem in the country and help India to become 'Energy Self-reliant' by 2047.
About the Toyota Mirai:
Toyota Mirai is the world's most advanced technology-developed FCEV which is completely powered by Hydrogen.
Note: In Japanese, the word 'Mirai' means 'future'.
It is capable of providing a range up to 650 km in a single charge, with a refuelling time of five minutes.
This pilot project was initiated by Toyota Kirloskar Motor (TKM) Pvt. Ltd and International Center for Automotive Technology (ICAT).
The project is conducting a pilot project to study and evaluate the world's most advanced FCEV Toyota Mirai, which runs on hydrogen, on Indian roads and climatic conditions.
The project's goal is to spread the knowledge about hydrogen and FCEV technology, as well as disseminate its benefits, in order to help India transition to a hydrogen-based society.
Background:
Toyota Mirai was launched in 2014.
It is one of the world's first hydrogen fuel electric vehicles.
About FCEV:
Fuel Cell Electric Vehicle (FCEV) is powered by hydrogen.
It is environment-friendly, as it has zero tailpipe emissions.
Therefore, it is one of the best zero-emission solutions.
About Green hydrogen:
Green Hydrogen can be generated using renewable energy renewable energy and abundantly available biomass through electrolysis.
Significance:
Introduction and adoption of technology to tap into the Green hydrogen's potential will play a key role in securing a clean and affordable energy future for India.
Transportation powered by Green hydrogen is going to be a key technology option of the future with significant application, especially across bigger cars, buses, trucks, ships and trains and best suited for medium to long distances.
Green Hydrogen offers huge opportunities to decarbonize a range of sectors including road transportation and is gaining unprecedented momentum globally.
Mega Moon Rocket: For the first time, National Aeronautics and Space Administration (NASA) rolled out the integrated Space Launch System (SLS) and spacecraft of Artemis-1 moon mission on 17th March 2022.
Key Highlights:
The rocket and spacecraft for NASA's Artemis I mission were kept at the Kennedy Space Center's Vehicle Assembly Building (VAB) and it is on the way to Launch Complex 39B for a wet dress rehearsal test.
The integrated SLS and Orion system atop it are being rolled out on a 6.6-million-pound crawler-transporter.
Key Points:
Once the SLS and Orio ship is secured at the pad, engineers will prepare for a critical wet dress rehearsal test that includes loading all the propellants.
It will begin on April, 3, 2022.
Artemis 1 is currently scheduled to launch no earlier than late May 2022.
SLS and Orion, along with the commercial human landing system and the Gateway that will orbit the Moon, are NASA's backbone for deep space exploration.
About Artemis Program:
The Artemis program is a United States-led international human spaceflight program.
Its primary goal is to return humans to the Moon, specifically the lunar south pole, by 2025.
If successful, it will include the first crewed lunar landing mission since Apollo 17 in 1972, the last lunar flight of the Apollo program.
The Artemis program began in December 2017 as the reorganization and continuation of successive efforts to revitalize the U.S. space program since 2009.
Objective:
If the Artemis plan successfully continues, then in 2024, the Artemis 2 mission will follow sending astronauts around the moon and back.
Artemis mission 3 will put astronauts down on the moon, near the Lunar South Pole with the aid of spaceX's Starship vehicle and is targeted for the year 2025 or 2026.
The Artemis missions (named after the twin sisters of Apolo in Greek Mythology), NASA will land the first woman and the first person of colour on the Moon and establish long-term exploration in preparation for missions to Mars.
Long-term objectives are laying the foundations for the extraction of lunar resources, and eventually, making crewed missions to Mars and beyond feasible.
GenOMICC Project: Scientists in the United Kingdom (UK) as part of a research project, GenOMICC (Genetics of Mortality in Critical Care), have identified 16 new genetic variants that make a person more susceptible to a severe COVID-19 infection.
About GenOMICC Study:
The GenOMICC study is reportedly the largest of its kind.
It is a research study that brings together clinicians and scientists from around the world to find the genetic factors that lead to critical illnesses.
The scientists involved compare the DNA of critically-ill patients with members of the general population.
However, ferreting out such differences requires a large number of people and comparing their genetic structures at multiple levels of resolution.
Since 2015, the GenOMICC has been studying emerging infections such as SARS (severe acute respiratory syndrome), flu, sepsis, MERS (Middle East respiratory syndrome) and other forms of critical illness.
PARAM Ganga: The National Supercomputing Mission (NSM) has installed a supercomputer named "PARAM Ganga" at IIT Roorkee.
About PARAM Ganga:
PARAM Ganga has a supercomputing capacity of 1.66 Petaflops (Peta Floating-Point Operations Per Second).
It has been designed and commissioned by Centre for Development of Advanced Computing (C-DAC) under Phase II of the build approach of the National Supercomputing Mission (NSM).
The critical components required to build PARAM GANGA, as well as an indigenous software stack created by the C-DAC, are manufactured and assembled in India.
This is a step forward in the government's Make in India agenda.
Significance:
The PARAM Ganga" Supercomputer will speed up the research and development activities in multidisciplinary domains of science and engineering with a focus on providing computing power to the IIT Roorkee and neighbouring academic institutions' user communities.
About National Supercomputing Mission (NSM):
NSM is a joint initiative of Ministry of Electronics & Information Technology (MeiTY) and the Department of Science and Technology (DST).
It is being implemented by the Centre for Development of Advanced Computing (C-DAC) and the Indian Institute of Science (IISc), Bangalore.
C-DAC is in charge of deployment, designing, developing and commissioning the supercomputing system in India.
NSM has three phases:
Phase I included assembling supercomputers.
Phase II was manufacturing certain components within the country.
Phase III is indigenously developing a supercomputer.
NSM has the following four major pillars:
Infrastructure
Applications
R&D (Research and Development)
HRD (Human Resource Development)
Some of the large-scale applications being developed under NSM are as follows:
NSM Platform for Genomics and Drug Discovery.
Urban Modelling: Science-Based Decision Support Framework to Address Urban Environment Issues (Meteorology, Hydrology, Air Quality).
Flood Early Warning and Prediction System for River Basins of India.
HPC Software Suite for Seismic Imaging to aid Oil and Gas Exploration.
MPPLAB: Telecom Network Optimization.
The main goal of NSM mission is to build and deploy 24 supercomputers in India with a total compute power of over 64 petaflops.
Till now, under NSM Phases 1 and 2, C-DAC has installed 11 such systems at IISc, IITs, IISER Pune, JNCASR, NABI-Mohali, and C-DAC.
These systems have a cumulative compute power of more than 20 Petaflops.
What is a super computer?
A supercomputer is a computer with a high level of performance as compared to a general-purpose computer.
The performance of a supercomputer is commonly measured in floating-point operations per second (FLOPS) instead of million instructions per second (MIPS).
Petascale computing refers to the computing systems that are capable of calculating at least 1015 FLOPS.
Supercomputers play an important role in the field of computational science.
Uses of Supercomputers:
They are used for a wide range of computationally intensive tasks in various fields, including quantum mechanics, oil and gas exploration, climate research, weather forecasting, molecular modeling (computing the structures and properties of chemical compounds, biological macromolecules, crystals and polymers), and physical simulations (such as simulations of the early moments of the universe, airplane and spacecraft aerodynamics, the detonation of nuclear weapons, and nuclear fusion).
They have also been essential in the realm of cryptanalysis.
MoU Between ICMR AND DFG, Germany: The Union Cabinet, chaired by PM Modi was apprised of a MoU signed between the Indian Council of Medical Research (ICMR) and Deutsche Forschungsgemeinschaft e.V. (DFG), Germany in accordance with Rule 7(d)(i) of the Second Schedule of Government of India (Transaction of Business) rules 1961.
The MoU about cooperation in scientific research and technological development was signed in December 2021.
Objectives of the MoU:
The objectives are as follows:
Cooperation in the field of medical sciences/health research in areas including Toxicology, Neglected (Tropical) disease, rare diseases and any other areas of mutual interest.
Cooperation in scientific research and technological development includes joint funding of scientific research projects, researcher exchanges, and funding of joint seminars, symposia, and workshops of high scientific quality and benefit to the advancement of science, all of which are scientifically significant.
About ICMR:
The Indian Council of Medical Research (ICMR) is the apex body in India for the formulation, coordination and promotion of biomedical research, is one of the oldest and largest medical research bodies in the world.
The ICMR was founded in 1911.
It is funded by the Government of India (GoI) through the Department of Health Research, Ministry of Health and Family Welfare.
It is headquartered in New Delhi, India.
About DFG, German Research Foundation:
Deutsche Forschungsgemeinschaft (DFG, German Research Foundation) is the central, independent research funding organization in Germany.It serves all branches of science and the humanities by funding research projects at universities and other research institutions.
MoU between ICMR, NIAID: The Union Cabinet, chaired by PM Modi has also approved another MoU between ICMR, the National Institute of Allergy and Infectious Diseases (NIAID), National Institute of Health of Department of Health and Human Services, USA.
It was signed in accordance with Rule 7(d)(i) of Second Schedule of Government of India (Transaction of Business) rules 1961.
Objectives of the MoU:
Cooperation will be undertaken primarily at the ICMR's National Institute for Research on Tuberculosis (NIRT) in Chennai, India, in the scientific area, including but not limited to, basic, translational and applied innovative research, epidemiology, medicine, molecular biology, medical entomology, parasitology, immunology, medicine, microbiology and virology, with a focus on techniques for prevention, diagnosis and treatment of tropical infectious and allergic diseases.
Focus on collaboration includes HIV/AIDS, Allergic diseases, immune system diseases, tuberculosis, parasitic infections, other emerging and re-emerging pathogens, and other diseases of shared scientific interest.
Background:
The Indo-US joint statement was originally signed in 2003 for the establishment of an International Center for Excellence in Research (ICER) in Chennai.
The same has been extended in 2008 and again renewed in 2017 and now renewed as MOU.
The ICER is located in Chennai and is a partnership between NIAID and the National Institute for Research on Tuberculosis (NIRT) of ICMR.
Significance:
This collaboration has aided in developing a fundamental understanding of the immunology of helminth infections, elaborating the effects of diabetes mellitus on the immune response to tuberculosis, conducting several studies to better understand malnutrition and tuberculosis, and initiating a pilot study to investigate the effects of helminth infection, SARS-CooV-2 seropositivity on the immune response, among other things as well.
Mandatory Testing & Certification of communication Equipment (MTCTE): A skill development training program for girl students from rural background has recently been organized by the Telecommunication Engineering Center (TEC) in collaboration with industry.
Key Highlights:
It was organized on the occasion of the International Woman's Day on the 8th of March 2022.
To begin with, EMC Test and Training Center has volunteered to provide a one-week online training programme on EMI/EMC testing.
Moreover, numerous additional labs have already expressed an interest in providing training in the field of telecom testing, which will be taken up by TEC.
About MTCTE:
Government of India (GoI) has notified Mandatory Testing & Certification of communication Equipment (MTCTE) in 2017.
Under the scheme, all telecom equipment, whether imported or indigenously manufactured, are to be tested and certified before their induction/ sale in India for Safety, EMI/ EMC and technical requirements.
MTCTE for Phase -III and Phase-IV has been notified vide letter dated 22.09.2021.
Telecommunication Engineering Centre (TEC) is the designated authority for implementation of this scheme.
About Telecommunication Engineering Centre (TEC):
TEC is a body under telecom commission and a nodal agency of the Department of Telecommunications, Ministry of Communications and Information Technology, GoI.
It is headquartered in New Delhi.
World Kidney Day 2022: World Kidney day is celebrated on the second Thursday of March every year.
Key Highlights:
This year, it is being observed on March 10.
World Kidney Day aims to raise awareness of the importance of our kidneys to our overall health and to reduce the frequency and impact of kidney disease and its associated health problems worldwide.
Theme for 2022:
The theme for World Kidney day 2022 is "Kidney Health for All".
The 2022 campaign focuses on the efforts to increase education and awareness about kidney health and on reducing the stubbornly high CKD knowledge gap at all levels of kidney care.
History of the day:
The observance of this day was started by the International Society of Nephrology and the International Federation of Kidney Foundations.
World Kidney Day was first celebrated in 2006.
Objectives of World Kidney Day:
To raise awareness about kidneys and how to take care of them.
To highlight that diabetes and high blood pressure are key risk factors for Chronic Kidney Disease (CKD).
To encourage systematic screening of all patients with diabetes and hypertension for CKD.
To encourage preventive behaviours.
To educate all medical professionals about their key role in detecting and reducing the risk of CKD, particularly in high-risk populations.
To encourage Transplantation as a best-outcome option for kidney failure, and the act of organ donation as a life-saving initiative.
To stress the important role of local and national health authorities in controlling the CKD epidemic.
On World Kidney Day all governments are encouraged to take action and invest in further kidney screening.
Kavach: The Union Minister of Railways Shri Ashwini Vaishnaw recently inspected the trial of the 'Kavach' working system between Gullaguda-Chitgidda Railway stations on Lingampalli-Vikarabad section in Secunderabad Division of South Central Railway.
Key Points:
The Kavach (meaning armour in English) is an indigenously developed ATP system by Research Design and Standards Organization (RDSO) in collaboration with the Indian industry.
This indigenous kavach system adheres to the spirit of Make in India and Atmanirbhar Bharat.
It is a state-of-the-art electronic system of Safety Integrity Level - 4 standards.
It is meant to provide protection by preventing trains to pass the signal at Danger (Red) and avoid a collision.
If the driver fails to control the train as per the speed restrictions then it automatically activates the train braking system.
In addition, it prevents collision between two Locomotives equipped with a functional KAVACH system.
It is also known as Train Collision Avoidance System (TCAS).
'Kavach' is one of the cheapest; Safety Integrity Level 4 (SIL-4) certified technologies with the probability of error are 1 in 10,000 years.
It also opens avenues of export of this indigenous technology for Railways.
Note:
It will be soon operational all over India in a gradual manner, as proposed in the Budget.
As a part of Atmanirbhar Bharat, 2,000 km of the network will be brought under Kavach for safety and capacity augmentation in 2022-23.
Around 34,000 Kms of the network will be brought under Kavach.
Background:
It is being developed since 2012.
In 2016 first field trials were conducted.
Currently, it is operational in the Lingampalli & Vikarabad section of the South Central Railway (SCR) zone.
Features of Kavach:
Prevention of Signal Passing at Danger (SPAD).
Continuous update of Movement Authority with a display of signal aspects in Driver Machine Interface (DMI) / Loco Pilot operation cum Indication Panel (LPOCIP).
Automatic Braking for Prevention of Over Speeding.
Auto Whistling while approaching Level Crossing Gates.
Prevention of collision between two Locomotives equipped with functional KAVACH.
SoS Messages during emergency situations.
Centralized live monitoring of Train movements through the Network Monitor System.
Cluster Bombs and Thermobaric Weapons: Human rights groups Amnesty International and Human Rights Watch accused Russia of using cluster bombs and vacuum bombs in the ongoing war.
Vacuum Bomb:
A vacuum bomb sucks in oxygen from the surrounding area to generate a high-temperature explosion.
It has the capability of vaporizing human bodies.
Vacuum bombs are not prohibited by any international law or agreement, but their use against civilian populations in built-up areas, schools, or hospitals, could attract action under the Hague Conventions of 1899 and 1907.
Thermobaric weapon:
Thermobaric weapons are also known as aerosol bombs, fuel-air explosives, or vaccum bombs.
They use oxygen from the air for a large, high-temperature blast.
A thermobaric weapon causes significantly greater devastation than a conventional bomb of comparable size.
It can be fitted to hand-held launchers, can be fired as rockets from tank-mounted launchers, or dropped from aircraft.
Cluster munitions:
According to the 2008 Convention on Cluster Munitions, a cluster munition means a "conventional munition that is designed to disperse or release explosive submunitions each weighing less than 20 kilograms, and includes those explosive submunitions".
Essentially, cluster munitions are non-precision weapons that are designed to injure or kill human beings indiscriminately over a large area, and to destroy vehicles and infrastructure such as runways, railway, or power transmission lines.
They can be dropped from an aircraft or launched in a projectile that spins in flight, scattering many bomblets as it travels.
Countries that have ratified the Convention on Cluster Munitions are prohibited from using cluster bombs.
Dangers of cluster munitions:
These cluster munitions are non-precision weapons so they release many small bombs over a large area that can indiscriminately kill civilians.
It is difficult to locate and remove such unexploded bombs.
Many of these bombs don't explode immediately but continue to lie on the ground.
Hence, even long after the conflict is over they continue to pose threat to the life of civilians.
About Convention on Cluster Munitions (CCM):
The Convention on Cluster Munitions (CCM) is an international treaty that prohibits all use, transfer, production and stockpiling of cluster bombs.
It was adopted in Dublin, Ireland, in 2008.
It entered into force on 1 August 2010, six months after it was ratified by 30 states.
As of 10th February, 2022,123 states have joined the Convention, with 110 states that have ratified it, and 13 states have signed the Convention but not yet ratified it.
Apart from prohibiting cluster bombs, the convention also establishes a framework to support the victim assistance, clearance of contaminated sites, risk reduction education, and stockpile destruction.
It also specifically identifies "cluster munition remnants", which include "failed or abandoned cluster munitions, unexploded submunitions, and unexploded bomblets.
Note: Ukraine and Russia are not signatories to this convention.
Obligations:
Countries that ratify the convention will be obliged "never under any circumstances to":
Use cluster munitions
Develop, produce, otherwise acquire, stockpile, retain or transfer to anyone, directly or indirectly, cluster munitions
Assist, encourage, or induce anyone to engage in any activity prohibited to a State Party under this Convention
Exceptions:
However, the treaty allows certain types of weapons with submunitions that do not have the indiscriminate area effects or pose the same unexploded ordnance risks as cluster munitions.
Permitted weapons must contain fewer than ten submunitions, and each must weigh more than 4 kilograms and must contain self-deactivation mechanisms.
Weapons containing submunitions that all individually weigh at least 20 kg (44 lb) are also excluded.
A limited number of prohibited weapons can be acquired for training and development of, detection, clearance, and destruction techniques and counter-measures.
Resilient Crops: Scientists at the Indian Agricultural Research Institute (IARI), in collaboration with several other research institutions, have identified about 15,000 selected germplasms of rice and wheat.
Key Details:
These have been identified for developing varieties that are tolerant to floods, droughts, heatwaves, and diseases to mitigate the adverse impact of climate change on food production.
This is being done to mitigate the adverse impact of rising in temperature because of climate change on food production.
Agricultural scientists have sourced rice and wheat genetic resources from a gene bank located at the heart of Delhi as part of a Department of Biotechnology (DBT) project to develop improved crop varieties to combat climate change.
This gene bank is managed by the National Bureau of Plant Genetic Resources (NBPGR).
The gene bank has around 4 lakh accessions (a unique identifier given to a protein sequence) in its collection.
These accessions represent the wide natural genetic variation across the 15 agro-climatic regions in the country.
About the technology being used by scientists:
After identification of genes, 'marker-assisted backcross breeding technology' is being used by the scientists for developing rice and wheat varieties, which could withstand extreme weather conditions such as drought, floods and heatwaves, as well as diseases such as bacterial blasts and blight.
With the use of this technology, it takes three-five years to develop a new variety which previously used to take at least 10 years.
Varieties of Crops Developed:
IARI has developed three different types of disease resistance basmati rice which are PB 1847, PB 1886, and PB 1885.
These have been developed through projects funded by DBT and will be distributed to private sector seed companies for multiplication.
An MoU with private seed companies will be entered into shortly.
In the case of wheat, varieties to cope with new challenges with climate-changing scenarios are being developed by NBPGR in coordination with several other institutions.
How many such crop varieties have reached farmers?
According to DBT, there is a development of 17 varieties of crop plants with enhanced nutritional content, resistance to pathogens and tolerance to abiotic stress.
The varieties are divided into
Rice: 8,
Wheat: 4
Maize: 2
Of these, six varieties have already reached farmers' fields after multiplication by private players.
International Treaty on Plant Genetic Resources for Food and Agriculture:
India is a signatory to the International Treaty on Plant Genetic Resources for Food and Agriculture.
It is a global agreement in harmony with the Convention on Biological Diversity.
It aims at guaranteeing food security through the conservation, exchange and sustainable use of the world's plant genetic resources for food and agriculture.
Intracortical Visual Prosthesis (ICVP): While there is currently no cure for blindness, a first-of-its-kind artificial vision system has undergone its first successful implantation, bringing with it the potential to restore partial vision to people who have lost their sight.
Key Details:
This surgery is part of a Phase I Feasibility Study of an Intracortical Visual Prosthesis for People With Blindness.
The Intracortical Visual Prosthesis (ICVP) is a type of implant that bypasses the optic nerves and the retina to link directly to the brain's visual cortex.
The ICVP system has been developed by a team which is led by Philip R. Troyk, executive director of Illinois Institute of Technology's Pritzker Institute of Biomedical Science and Engineering.
The study represents the culmination of nearly three decades of Illinois Tech research dedicated to ultimately providing artificial sight to those with blindness due to eye disease or trauma.
About ICVP:
The Intracortical Visual Prosthesis (ICVP) System is the first intracortical visual implant that uses a group of fully implanted tiny wireless stimulators to see if blind people can benefit from the artificial vision it provides.
This visual prosthesis system allows the devices to be permanently implanted, which is a unique advantage that provides researchers ample time to figure out how effectively the device works, and for the recipient to learn how the device can be useful.
About the clinical test:
During the preclinical phase, the Illinois Tech team tied up with neurosurgeons from Rush University Medical Center to develop and optimize surgical procedures.
This resulted in the successful implantation of 25 stimulators with a total of 400 electrodes in a blind person.
The clinical test was aimed at testing whether this prosthesis will provide study participants with an improved ability to navigate and perform basic, visually guided tasks.
After a 4-6-week recovery period, testing will commence at The Chicago Lighthouse.
Quantum Key Distribution (QKD): A joint team of Defence Research and Development Organisation (DRDO) and Indian Institutes of Technology (IIT)-Delhi scientists successfully demonstrated a Quantum Key Distribution (QKD) link between Prayagraj and Vindhyachal, Uttar Pradesh, a distance of more than 100 kilometres.
Key Highlights:
The technological breakthrough was achieved over the commercial-grade optical fibre already available in the field.
This is for the first time in the country that QKD has been successfully demonstrated.
This technology will enable security agencies to plan a suitable quantum communication network with indigenous technology backbone.
About Quantum Key Distribution (QKD):
Quantum Key Distribution (QKD) also called Quantum Cryptography is primarily a mechanism to undertake secure communication, which utilizes a cryptographic protocol involving various components of quantum mechanics.
Process:
The technology enables two communicating sides to come up with random secret keys shared by both of them and known exclusively to them, so only they can use it to encrypt and decrypt messages, thus achieving a very highly-secure communication.
The distribution of encryption keys is the crucial factor for this.
Sharing of keys over the air or wired links requires encryption, which in turn requires encryption keys to be pre-shared.
Quantum-based communication offers a robust solution to sharing the keys securely.
Significance:
Secure communications are vital not just for the defence and strategic agencies across the globe but also for various civilian applications.
With this success, the country has demonstrated indigenous technology of secure key transfer for bootstrapping military-grade communication security key hierarchy.
The performance parameters have been measured and have been found to be repetitively within the reported international standards at sifted key rates of up to 10 KHz.
This technology will enable security agencies to plan a suitable quantum communication network with indigenous technology backbone.
Now, highly secured military-grade communications could occur.
DRDO has undertaken multiple projects for the development of this technology.
Soft X-ray Spectrometer (CLASS): A Large Area Soft X-ray Spectrometer (CLASS), a payload onboard Chandrayaan-2 Orbiter, has detected solar proton events recently.
Key Highlights:
The Solar Proton Events significantly increase the radiation exposure to humans in space.
CLASS Payload, on January 18, 2022, also recorded coronal mass ejections (CMEs).
Such multi-point observations help astronomers in understanding the propagation and its impact on different planetary systems.
What are Coronal Mass Ejections (CMEs)?
Coronal Mass Ejections (CMEs) are a powerful stream of ionized material and magnetic fields, which reach the Earth a few days later.
It leads to geomagnetic storms and lighting up the polar sky with auroras.
When do solar flares occur?
When the sun is active, spectacular eruptions called solar flares occur.
Such incidents sometimes also spew out energetic particles (called solar proton events or SPEs) into interplanetary space.
Most of these flares are high-energy protons that impact space systems and significantly increase radiation exposure to humans in space.
Solar proton events can cause ionization on large scales in the middle atmosphere of the Earth.
Classification of solar Flares:
Solar flares are classified according to their strength.
The smallest ones are A-class, followed by B, C, M and X.
Each letter represents a 10-fold increase in energy output.
This means that an M class flare is 10 times more intense than C-class flare and 100 times intense than B-class flare.
Within each letter class there is a finer scale from 1 to 9 - a M2 flare is twice the strength of M1 flare.
M-class solar flares:
Recently, there were two M-class solar flares.
One flare (M5.5) spewed out energetic particles into interplanetary space.
The second flare (M1.5) was accompanied by a CME.
Detection of the event:
The SPE event was seen by NASA's Geostationary Operational Environmental Satellite (GOES) orbiting around the Earth. However, the CME event was not detected by GOES.
The CLASS payload on Chandrayaan-2 saw both the SPE and CME events pass by from two intense flares on the Sun.
It detected SPE due to an M5.5 class solar flare that occurred on January 20, 2022.
It also detected a CME event, while passing through the moon due to an M1.5 class solar flare.
About CLASS:
The CLASS payload of Chandrayaan-2 measures Moon's X-ray Fluorescence (XRF) spectra in order to examine the presence of major elements like Aluminium, Magnesium, Calcium, Titanium, Silicon, Iron, and Sodium.
National Science Day 2022: The National Science Day (NSD) is celebrated on 28 February each year in India to spread the message about the importance of science in the daily life of the people.
Key Points:
This day holds great prominence as it was on this day in 1928 that the Indian Physicist Chandrashekhara Venkata Raman made a significant discovery in the field of Spectroscopy.
The discovery was later named after him and was known as the 'Raman Effect'.
In 1930, CV Raman received the Nobel Prize in Physics for his work.
Theme of NSD 2022:
The NSD theme for 2022 is 'Integrated Approach in S&T for Sustainable Future'.
This theme highlights a folds integrated approach for science and technology for a sustainable future.
History of NSD:
In 1986, the National Council for Science and Technology Communication (NCSTC) had asked the Government of India to announce February 28 as the National Science Day in India.
The first National Science Day was observed on February 28, 1987, for the first time.
Significance of this day:
National Science Day 2022 recognizes the contributions of scientists towards the development of India which helped the country in marking its place in the world.
The objective of this day is to increase awareness about the importance of science.
Educational institutions celebrate NSD by organizing public speeches, science movies, radio, television, science exhibitions on various concepts and themes, quiz competitions, debates, science model exhibitions, and lectures.
About CV Raman:
Indian physicist Sir Chandrasekhara Venkata Raman was a gifted child and he was born in 1888 in Thiruvanaikaval, Tiruchi.
He completed his schooling in Visakhapatnam before enrolling in The Presidency College, which was part of the University of Madras, for a B.A. programme in 1903 when he was just 14 years old.
In 1917, CV Raman was appointed the first Palit Professor of Physics at the Rajabazar Science College under Calcutta University.
While working in the laboratory of the Indian Association for the Cultivation of Science in Kolkata, physicist CV Raman discovered the Raman Effect.
He and his student K. S. Krishnan, using a spectrograph developed by Raman, discovered that when light passes through a transparent medium, the frequency, and wavelength of the deflected light change.
They named this phenomenon "modified scattering" and was later termed the Raman scattering or Raman Effect.
On February 28, 1928, he announced the discovery of the 'Raman Effect.'
In 1930, CV Raman received a Nobel Prize for his discovery in the field of Spectroscopy. He became the first Asian to receive a Nobel Prize in any branch of Science.
In 1933, he moved to Bangalore to become the first Indian Director of the Indian Institute of Science.
He also founded the Indian Academy of Science in the same year.
In 1948, CV Raman established the Raman Research Institute where he worked until his last days.
In 1954, CV Raman was awarded the Bharat Ratna, which is the highest civilian honour in India.
Science & Technology Affairs Current Affairs - February 2022
JPL-SES Joint Venture: Jio Platforms Ltd, the digital arm of Reliance Industries (RIL) has formed a Joint Venture (JV) with Luxembourg-based satellite and telecom services provider SES, named Jio Space Technology Ltd. to provide satellite-based broadband communication services in India.
SES is a global satellite-based content connectivity solutions provider.
Key Points:
The joint venture will deliver the next generation scalable and affordable broadband services in India, leveraging satellite technology.
Jio Platforms Ltd will hold 51% and SES will own a 49% equity stake in the joint venture.
The total value of the contract is around $100 million.
As part of the investment plan, the joint venture will develop extensive gateway infrastructure in India to provide services within the country.
About the Joint Venture:
The joint venture (JV) will use multi-orbit space networks that are a combination of GEO (geostationary equatorial orbit) and MEO (medium earth orbit) satellite constellations.
It is capable of delivering multi-gigabit links and capacity to enterprises, mobile backhaul and retail customers across the length and breadth of India and neighbouring regions.
The JV will be the vehicle for providing SES's satellite data and connectivity services in India, except for certain international aeronautical and maritime customers who may be served by SES.
It will also have availability of up to 100 Gbps capacity from SES.
It will leverage Jio's sales reach in India to unlock this market opportunity.
SES-12:
The joint venture will leverage SES-12 which is the high-throughput GEO satellite of SES, serving India.
It will also leverage O3b mPOWER which is the next-generation MEO constellation of SES.
It will be done in a bid to extend and complement Jio's terrestrial network as well as to increase access to digital services and applications.
Difference between Jio's proposed satellite broadband service and Starlink or OneWeb:
SES primarily has satellites in the GEO and the MEO, while those of Elon Musk-led Starlink and Bharti Group's OneWeb are in low earth orbit (LEO).
While GEO satellites are positioned at an altitude of 36,000 km, MEO and LEO are lower at altitudes of 5,000-20,000km and 500-1,200 km, respectively.
The altitude of the satellite is directly proportional to the area of the earth that it covers. Therefore, the higher a satellite is positioned, the larger an area it covers.
Advantages and disadvantages of GEO, MEO and LEO:
GEO and LEO satellites are considered to be the two extremes in satellite communications.
GEO satellites provide a larger coverage and therefore only three satellites can cover the whole earth, hundreds of LEO satellites are needed to provide coverage to a larger area.
While LEO satellites are smaller and are cheaper to launch than GEOs or MEOs.
But, LEO-based satellites have risks, for instance, the recent incident of SpaceX's satellites falling out of orbit as a result of the solar flare has put the spotlight on the riskiness of the technology and the threat from the space debris it creates.
For MEO satellites, on the other hand, while a simple equatorial orbit covers 96% of the global population, it shares some disadvantages of GEO satellites such as the need for a high inclined antenna for locations away from the equator.
About SES:
SES is the world's leader in satellite-based content connectivity solutions.
Listed on the Paris and Luxembourg stock exchanges, SES has over 70 satellites in two different orbits.
It provided video and data services to customers across the world.
Through a string of acquisitions, SES has managed to expand its video and data business beyond Europe to international markets such as the US, India, Kenya, Brazil, Mexico, South Africa, Indonesia, the Philippines, Malaysia and Australia.
Lassa Fever: Recently, one of the three persons diagnosed with Lassa fever in the United Kingdom (UK) has died on February 11, 2022.
Key facts:
The cases have been linked to travel to West African countries.
The Lassa virus is named after a town in Nigeria where the first cases were discovered.
The death rate associated with this disease is low, at around one percent.
However, the death rate is higher for certain individuals, such as pregnant women in their third trimester.
According to the European Centre for Disease Prevention and Control, about 80% of the cases are asymptomatic and therefore remain undiagnosed.
Some patients may need to be hospitalized and develop the severe multi-system disease.
15% of hospitalized patients may die.
It was first discovered in Lassa, Nigeria in 1969.
This disease was discovered when two nurses died in Nigeria.
What is Lassa fever?
Lassa fever also known as Lassa hemorrhagic fever (LHF) is a type of viral hemorrhagic fever caused by the Lassa virus.
Lassa fever is an animal-borne (zoonotic) virus.
The virus is commonly carried by rats.
It is endemic in parts of West Africa — mainly in the regions of Ghana, Mali, Togo, Benin, Sierra Leone, Guinea, Liberia, and Nigeria.
How does it spread?
According to the WHO, a person can become infected, when they come in contact with food items contaminated with urine or faces of an infected rat.
People who catch and prepare the rats as food and who may breathe in tiny airborne particles infected with the rats' faeces are also at risk.
In rare cases, it can also spread, if a person comes in contact with infected bodily fluids of sick person or through mucous membranes like eyes, nose or mouth.
Person-to-person transmission is common in healthcare settings.
Symptoms:
Symptoms of Lassa fever typically occur 1-3 weeks after the patient is exposed to the virus.
Mild symptoms include slight fever, fatigue, weakness and headache.
More serious symptoms include bleeding, difficulty breathing, vomiting, facial swelling, pain in the chest, back, and abdomen and shock.
Neurological problems may also occur including hearing loss, tremors, and encephalitis. Multi-organ failure may cause death within two weeks of symptom onset.
Most common complication associated with it is deafness.
The key to improving the survival rate is early supportive care with rehydration and symptomatic treatment.
How to prevent Lassa fever?
Primary transmission of the Lassa virus from its host to humans can be prevented by:
Avoiding contact with rats.
Storing food in rodent-proof containers.
Maintaining hygiene by keeping the house clean and keeping food in rat-proof containers.
Further human-to-human transmission can be avoided with preventive precautions against contact with patient secretions and proper sterilization.
Patients should be isolated and PPE kits should be used.
PSLV-C52 Mission: The Indian Space Research Organization, ISRO has successfully launched the Polar Satellite Launch Vehicle PSLV-C52.
Key Points:
PSLV-C52 was launched from the first launch pad of Satish Dhawan Space Centre in Sriharikota.
This is the first launch of 2022.
It is also the first launch since the failure of EOS – 03 missions.
The PSLV-C52 mission has also injected three satellites into the orbits.
PSLV C52 placed an EOS-04 radar imaging satellite which weighs 1710 kgs into orbit.
EOS-04 is a Radar Imaging Satellite.
It is designed to provide high-quality images under all weather conditions for applications such as forestry and plantations, agriculture, soil moisture and hydrology and flood mapping.
It is to supplement the data from RISAT – 2B series, Cartosat and Resources at series.
It generates 2280 W power.
It has a mission life of 10 years.
This satellite will be positioned into a Sun synchronous polar orbit gradually.
As a co-passenger INS-2TD technology demonstrator satellite and INSPIRE sat 1 student satellite were also placed into orbit.
INS-2TD is a precursor to India-Bhutan Joint Satellite INS-2B.
INS-2TD carries a thermal imaging camera to assess land and water surface temperature and thermal inertia at day and at night.
INSPIRE sat-1 is a small satellite from the Indian Institute of Space Science and Technology (IIST) in association with the Laboratory of Atmospheric & Space Physics at the University of Colorado.
This was the PSLV-C52 launch vehicle's 54th launch in the series.
First-Ever Quadruple Asteroid: Astronomers have discovered a third moon orbiting the main-belt asteroid (130) Elektra, making it the first quadruple asteroid ever found.
Key Highlights:
Astronomers have now discovered the third moon, orbiting Elekta.
The team's paper was published on February 8, 2022, in the journal Astronomy & Astrophysics.
The discovery of the first quadruple asteroid system slightly opens the way for understanding the mechanisms of the formation of these satellites.
About the 3rd Moon:
It is designated as S/2014 (130) 2 or S3.
It has a diameter of 1.6 km and an orbital period of 0.679 days.
It revolves inside S2 orbit, with a semi-major axis of 344 km.
It has an orbital period of 0.679 days.
About Elektra:
Elektra is a large main-belt asteroid.
It was first discovered on February 17, 1873, by Litchfield Observatory astronomer Christian Peters.
Elektra has an effective diameter of 199 km (124 miles) and an estimated mass of 7*1018.
1st Moon of Electra:
In 2003, Dr. William Merline and his team discovered the first moon of Elektra using "Keck II telescope" at the Mauna Kea Observatory.
It is designated as S/2003 (130) 1 or S1.
It has a diameter of 6 km. It orbits 1,300 km away from the parent asteroid, with a period of 5.3 days.
2nd Moon of Electra:
On 6 December 2014, the second moon of Electra was discovered by Dr. Bin Yang and his team, using the SPHERE facility on ESO's Very Large Telescope.
It has a diameter of around 2 km.
It orbits 500 km away from Elektra, once every 1.2 days.
SVAMITVA Scheme: Union Minister of State for Science and Technology Jitendra Singh recently said that India plans to prepare digital maps of all its 6,00,000 villages and pan-India 3D maps will be prepared for 100 cities.
Key Highlights:
He said this at an event to mark the 1st anniversary of the release of Geospatial Data policy guidelines.
Six lakh villages will be mapped under the SVAMITVA (Survey of Villages and Mapping with Improvised Technology in Village Areas) scheme.
The ongoing SVAMITVA scheme piloted by the Panchayati Raj Ministry, called SVAMITVA (Survey of Villages and Mapping with Improvised Technology in Village Areas) was launched by Prime Minister Narendra Modi in April 2020.
Key Points:
The updated guidelines help private companies prepare a variety of maps without needing approvals from a host of Ministries and make it easier to use drones and develop applications via location mapping.
The "trinity of geospatial systems, drone policy and unlocked space sector will be the hallmark of India's future economic progress".
The complete geospatial policy would be announced soon as the liberalization of guidelines had yielded very positive outcomes within a year's time.
Significance:
The geographical information-based system mapping would also be useful in forest management, disaster management, electrical utilities, land records, water distribution, and property taxation.
The size of the Indian geospatial market in 2020 to be ₹23,345 crore, including ₹10,595 crore of export which was likely to grow to ₹36,300 crore by 2025.
In addition to this, Singh also called for the roll out of a pan-India 3D map of 100 cities across the country by Genesys International.
POWERTHON-2022: Union Cabinet Minister of Power and New & Renewable Energy Shri R K Singh launched POWERTHON-2022.
Key Highlights:
It was launched virtually on 7 February 2022 in presence of senior officials from various Ministries, REC, DISCOMS, IIT Bombay, and other stakeholders.
Powerthon-2022 is a hackathon competition to find technology-driven solutions to solve the complex problems in power distribution and to ensure quality and reliable power supply.
A pilot run will be conducted under POWERTHON-2022 by the selected TSP and scale-up avenues will be pursued under the RDSS scheme thereafter.
About Powerthon-2022:
The Powerthon-2022 will bring together qualified mentors with Technology Solution Providers (TSPs), startups, innovators, educational and research institutions, equipment manufacturers and state power utilities and other participants from across the nation.
The participants will be briefed on the current challenges faced across the power distribution sector.
They are needed to showcase their technology-driven solutions to solve complex problems.
Those ideas and concepts will be rewarded with licence and the development of prototypes will also be fostered.
Nuclear Fusion Energy: Scientists in the United Kingdom recently stated that they have achieved a new milestone in producing nuclear fusion energy, or imitating the way energy is produced in the sun.
Key Points:
A team at the Joint European Torus (JET) facility near Oxford in central England generated 59 mega joules of energy from a fusion reaction over five seconds (11 megawatts of power).
It exceeded the previous mark of just less than 22 megajoules of total energy achieved in 1997.
With this, the company has smashed its own world record.
With this, the company has become capable of creating a mini star and holding it there for five seconds.
The record and scientific data from these crucial experiments are a major boost for the International Thermonuclear Experimental Reactor (ITER), the larger and more advanced version of the JET.
About ITER:
The ITER is an international nuclear fusion research and engineering megaproject, which will be the world's largest magnetic confinement plasma physics experiment.
It is supported by seven members — China, the European Union, India, Japan, South Korea, Russia and the U.S. — and is based in the south of France.
It seeks to further demonstrate the scientific and technological feasibility of fusion energy.
How was the experiment carried out?
No material on the earth can withstand 100 million degrees Celsius.
Therefore, in order to conduct the fusion reaction, the scientists created a solution having super-heated gas or plasma in a machine called a tokamak, a doughnut-shaped apparatus.
The tokamak is surrounded by giant magnets that confine and circulate the superheated, ionized plasma, away from the metal walls.
Note: A kilogram of fusion fuel contains about 10 million times as much energy as a kilogram of coal, oil or gas.
About JET Site:
The JET site is the largest operational one of its kind in the world.
It is the largest and most successful fusion experiment in the world, achieved the first-ever controlled release of fusion power in 1991.
Fusion reaction:
Nuclear fusion power works by colliding heavy hydrogen atoms to form helium, releasing vast amounts of energy, mimicking the process that occurs naturally in the centre of stars like our sun.
Significance:
Energy by nuclear fusion is one of mankind's long-standing quests of trying to develop fusion energy as a viable power source.
Unlike the burning of fossil fuels or the fission process of existing nuclear power plants, fusion offers the prospect of abundant energy without pollution, radioactive waste or greenhouse gases.
Artificial Sun:
In 2021, China's 'artificial sun' nuclear fusion reactor in Hefei also set a new world record after running at 126 million°F (70 million°C) for 1,056 seconds — more than 17 minutes.
The fusion reactor was named EAST, Experimental Advanced Superconducting Tokmak.
South Korea also has its own 'artificial sun', the Korea Superconducting Tokamak Advanced Research (KSTAR), which has run at 180million°F (100million°C) for 20 seconds.
International Day of Women and Girls in Science: The International Day of Women and Girls in Science is observed globally on 11 February every year.
Key Points:
This day recognizes the critical role of women and girls play in science and technology.
Aim:
The day aims to recognize the role of women and girls in science, not only as beneficiaries but also as change agents, particularly in light of accelerating progress toward SDG 6 achievement (Clean Water and Sanitation).
UNESCO and UN-Women organize the Day in conjunction with institutions and civil society partners who want to encourage women and girls to pursue careers in science.
Theme:
The 2022 theme of the Day is "Equity, Diversity, and Inclusion: Water Unites Us".
History:
The United Nations issued a resolution in December 2015 designating February 11 as International Day of Women and Girls in Science.
In 2016 is the first time it was commemorated.
The goal of this day is to ensure equal participation and involvement of women and girls in the fields of Science, Technology, Engineering and Mathematics (STEM).
Impact of Geomagnetic Storm: Elon Musk-owned Starlink lost a dozen of satellites that were caught in a geomagnetic storm a day after the satellites were launched on February 3.
Key points:
According to Starlink, some 40 out of 49 satellites have been impacted causing them to fall from orbit before they could be commissioned.
The second stage of the Falcon 9 launcher had deployed the satellites into their intended orbit, with a perigee of around 210 km above Earth.
Each of the satellites achieved controlled flight.
They had been due to join its Starlink satellite internet project.
These satellites were designed to burn up while re-entering the Earth's atmosphere, in order to avoid the creation of debris in space.
What are Solar storms or flares?
Solar storms are magnetic plasma ejected at great speed from the solar surface.
Solar "storms" are caused by powerful explosions on the sun's surface, which spit out plasma and magnetic fields that can hit the Earth.
This usually occurs during the release of magnetic energy associated with sunspots.
Sunspots are the dark regions on the surface of the Sun.
These dark regions are comparatively cooler than the surrounding photosphere.
These storms usually last for a few minutes or sometimes even hours.
Note: The solar storm that deorbited the satellites occurred on February 1 and 2, and its powerful trails were observed on February 3.
Effect on Earth:
Most of the Solar flares do not reach the Earth.
But sometimes, solar flares or storms, solar energetic particles (SEPs), high-speed solar winds, and coronal mass ejections (CMEs) that come close can impact space weather in near-Earth space and the upper atmosphere.
What are services hit by Solar storms?
Solar storms can hit operations of space-dependent services like global positioning systems (GPS), radio, and satellite communications.
Geomagnetic storms interfere with high-frequency radio communications and GPS navigation systems.
Aircraft flights, power grids, and space exploration programmes are also vulnerable.
CMEs (coronal mass ejections), with ejectiles loaded with matter traveling at millions of miles an hour, can potentially create disturbances in the magnetosphere, the protective shield surrounding the Earth.
Astronauts on spacewalks could face possible health risks from exposure to solar radiation outside the Earth's protective atmosphere.
How do scientists predict solar storms?
Solar physicists, scientists among others use computer models in order to predict solar storms and solar activities.
The recent phenomenon, February 1-2, that knocked out Starlink's satellites was already predicted on January 29.
Current models are capable of predicting a storm's time of arrival and its speed but the storm's structure or orientation still cannot be predicted.
However, with increasing global dependence on satellites for almost every activity, better space weather forecasts and more effective ways for protecting satellites are needed.
Square Kilometre Array Observatory (SKAO): India recently inked an interim agreement to confirm its commitment to working on a mega-science project called "Square Kilometre Array Observatory (SKAO)".
Key Highlights:
The Cooperation Agreement between India and SKA was signed virtually.
India was represented by TIFR – National Centre for Radio Astrophysics (NCRA) on behalf of Department of Atomic Energy (DAE), India.
The agreement is to be valid for one year.
Significance of the Agreement:
This project will facilitate India in making its first monetary contribution towards the construction phase of SKA which got underway in 2021.
About SKAO:
Square Kilometre Array Observatory (SKAO) is a private organization dedicated to radio astronomy.
On 12 March 2019, the Square Kilometre Array Observatory (SKAO) consortium was founded in Rome by seven initial member countries.
It is headquartered in Cheshire, United Kingdom (UK).
At the moment, organizations from ten countries are a part of the SKAO.
These include Australia, Canada, China, India, Italy, New Zealand, South Africa, Sweden, the Netherlands and the UK.
Is India a member country of SKA?
No, at present, India is just a participating country in the setting up of the world's largest radio telescope.
It is yet to receive central government's approval to become a Member Country.
Note: India was a member of the SKA Organisation but it is yet to become a member of the SKA Council.
SKA Council:
In December 2020, the SKA Organization graduated to become SKA Council.
The council is an umbrella body to plan, oversee and undertake the construction of SKA Observatory.
It also manages operations of facilities in decades to come.
SKA Telescope:
The Square Kilometre Array (SKA) is an intergovernmental radio telescope project. The SKA will be built in the southern hemisphere, with cores in South Africa and Australia, where the view of the Milky Way Galaxy is the best and radio interference at its least.
It is proposed to be the world's largest radio telescope.
In 2011, the SKAO Council approved the establishment of the project mentioned above.
Its operation, maintenance and construction will be overseen by SKAO.
It is likely to be operational by the end of this decade.
Note: Four precursor facilities are already operating:-
MeerKAT and the Hydrogen Epoch of Reionization Array
(HERA) in South Africa,
The Australian SKA Pathfinder (ASKAP)
Murchison Widefield Array (MWA) in Western Australia.
Background of SKA:
SKA was started in the 1990s.
It was further developed and designed by the late-2010s.
After completion, it will have a total collecting area of approximately one square kilometre.
Significane of SKA Telescope:
SKA telescope will operate across a wide range of frequencies.
Its size will make it 50 times more sensitive as compared to any other radio instrument.
It will require very high-performance central computing engines as well as long-haul links.
If it is built as planned, it would be able to survey the sky about ten thousand times faster than before.
Copper-based Nanoparticle-coated Antiviral Face Mask: A team of Indian Scientists in collaboration with an industry partner Resil Chemicals Bengaluru have developed a self-disinfecting 'Copper-based Nanoparticle-coated Antiviral Face Mask to fight against the COVID-19 pandemic.
Key Highlights:
It has been developed under the DST-sponsored Nano-Mission project, to fight against the COVID-19 pandemic.
It has been developed by Scientists at International Advanced Research Centre for Powder Metallurgy and New Materials (ARCI), an autonomous R&D Centre of Department of Science and Technology (DST), Government of India (GoI), in collaboration with the Centre for Cellular & Molecular Biology (CSIR-CCMB) and Resil Chemicals, a Bengaluru based company.
About the Mask:
The mask exhibits high performance against the COVID 19 virus as well as several other viral and bacterial infections, is biodegradable, highly breathable and washable.
Public mask-wearing is most effective in reducing the spread of the virus COVID-19 caused by SARS-CoV-2, an enveloped positive-sense single-stranded RNA virus, where the mode of transmission is via respiratory particles that are mainly airborne.
Significance:
The present-day face masks only retain the viruses by filtering and do not kill them and hence, are prone to transmission if the masks are not properly worn or disposed of.
In addition, there is a huge concern around the globe regarding the disposal of used masks.
Most of the conventional masks effective against COVID-19 are for single-use and are not bio-degradable, creating serious environmental concerns and waste-management issues.
Therefore, in the present scenario, where mutations in coronavirus causing the COVID-19 pandemic are fast emerging, it is an urgent necessity to develop a low-cost antiviral mask.
The present antiviral mask which is made from cotton fabric that is biodegradable would eliminate that problem too besides making it highly breathable and washable.
ISS to be ceased in 2031: NASA recently announced that the International Space Station (ISS) will cease operations in 2031, after which it will fall out of orbit and plunge into the waters of the South Pacific Ocean.
Key Highlights:
ISS will continue its operations until 2030.
According to the space agency`s budget estimates, the ISS, launched in 1998, will be "de-orbited" in January 2031.
Mission control will first lower its altitude, before the spacecraft begins its descent into the "South Pacific Oceanic Uninhabited Area (SPOUA)," in an area known as Point Nemo.
Point Nemo:
Point Nemo, also known as the "Oceanic Pole of Inaccessibility" or the "South Pacific Ocean Uninhabited Area", the region around the space cemetery is known for its utter lack of human activity.
It is about 2,700 km from any land.
It has become known as the space cemetery where decommissioned space debris, old satellites and other human space debris are often brought to rest.
It is named after a character in Jules Verne's novel "Twenty Thousand Leagues Under the Sea.
About ISS:
The International Space Station (ISS) was the brainchild of former US President Ronald Reagan, who in 1984 proposed building a permanently inhabited spacecraft in cooperation with a few other countries.
The space station weighs about a million pounds on earth and is approximately the same size as an American football field.
It can support a crew of six people, along with visitors.
It also houses laboratory modules from the United States, Russia, Japan and Europe.
In 1998, the first piece of the space station, a control module, was launched into space onboard a Russian rocket. About two weeks later, a crew onboard the US' Endeavour space shuttle attached the control module with another part, the Unity node.
Over the next two years, the space station was built piece by piece until it was ready to carry a crew onboard.
It was on November 2, 2000, that the first crew arrived.
Since then, the space lab has carried over 200 astronauts and cosmonauts from about 19 different countries — marking a continuous human presence in space.
Achievements of ISS:
Several landmark firsts were recorded onboard the ISS in the last two decades.
For instance, in 2018, NASA's Cold Atom Lab became the first facility to produce the fifth state of matter, called a Bose-Einstein condensate, in space.
In 2016, a NASA astronaut was able to sequence DNA in space for the first time.
Advanced water filtration and purification systems besides successful attempts at crop production onboard the ISS have offered useful lessons for people worldwide who lack access to these crucial resources.
Note: ISS was meant to be operated only for about 15 years but in 2014, NASA extended its tenure in space by another 10 years.
The ISS has been orbiting Earth at a speed of around 8 km/second, for more than two decades.
Chandrayaan-3: Indian Space Research Organisation (ISRO) will make its third venture to the Moon through the Chandrayaan-3 mission in August this year.
This was stated by Union Minister Dr. Jitendra Singh in a written reply to Lok Sabha.
Key Points Chandrayaan-3:
Chandrayaan-3 is a planned third lunar exploration mission by the Indian Space Research Organization (ISRO).
Chandrayaan-3 will be a mission repeat of Chandrayaan-2 but will only include a lander and rover similar to that of Chandrayaan-2.
It will not have an orbiter.
It will demonstrate India's capability of soft landing on a celestial body, with the rover.
It will then communicate with Earth via the existing orbiter from Chandrayaan-2 and take images 100 km from Moon's orbit.
The orbiter has an estimated lifespan of seven years.
Following Chandrayaan-2, where a last-minute glitch in the soft landing guidance software led to the failure of the lander's soft landing attempt after a successful orbital insertion, another lunar mission for demonstrating soft landing was proposed.
The spacecraft is planned to be launched in August 2022.
This year is expected to be quite busy for ISRO as major projects such as Gaganyaan and Aditya solar mission are also in the pipeline.
ISRO will conduct 19 missions till December 2022.
Objective of Chandrayaan 3:
The main objective of the unique exploration of Chandrayaan-3 is not only to study just one area of the Moon but all the areas combining the exosphere, the surface as well as the sub-surface in a single mission.
India further aims to further the study of the lunar surface, focusing on the South Pole or dark side of the Moon that has not seen sunlight in billions of years, which is believed to have ice and vast mineral reserves.
Important Fact:
With Chandrayaan-1, ISRO achieved immense success as the 'Moon Impact Probe' by Chandrayaan-1 lunar remote sensing orbiter detected water in vapor form in trace amounts.
Param Pravega: Indian Institute of Science (IISc), Bengaluru has installed and commissioned one of the most powerful supercomputers in India.
Key Points
This supercomputer has been named 'Param Pravega'.
It is the largest supercomputer in an Indian academic institution.
About Param Pravega:
Param Pravega has been designed and developed by the Centre for Development of Advanced Computing (C-DAC).
This supercomputer has been commissioned in the institution under the National Supercomputing Mission (NSM) which is spearheaded by the Department of Science and Technology and the Ministry of Electronics and Information Technology (MeitY) and implemented by C-DAC and IISc.
It has a total Supercomputing capacity of 3.3 petaflops (1 petaflop equals a quadrillion or 1015 operations per second).
The majority of components used in the supercomputer have been manufactured and assembled indigenously.
Its software was also developed in India.
Features of Param Pravega:
Param Pravega is a supercomputer part of the High-Performance Computing class of systems.
This system is a mix of heterogeneous nodes, comprising of Intel Xeon Cascade Lake processors for and NVIDIA Tesla V100 cards on the GPU nodes.
The hardware consists of an ATOS BullSequana XH2000 series system, with a comprehensive peak compute power of 3.3 petaflops.
It hosts an array of program development tools, utilities and libraries to develop and execute High-Performance Computing (HPC) applications, comprising of the software stack on top of the hardware.
It also hosts high-memory CPU-only nodes, similar in configuration to CPU-only nodes.
There is a total of 156 such nodes on this system.
It can yield a maximum of 7488 cores for high-memory computations.
What is the purpose of commissioning supercomputers?
Param Pravega supercomputer has been commissioned in the institution under National Supercomputing Mission (NSM) to power diverse research and educational pursuits from entire India.
Under NSM, 10 other supercomputers have already been deployed across India, seen in institutions such as IITs, IISER Pune, JNCASR and NABI-Mohali, resulting in cumulative computing power of 17 petaflops.
Significance of supercomputers:
The supercomputer will be used for research and development projects at the institution.
These systems have greatly helped faculty members and students carry out major R&D activities, including developing platforms for genomics and drug discovery, studying urban environmental issues, establishing flood warning and prediction systems, and optimizing telecom networks.
About National Supercomputing Missions (NSM):
National Supercomputing Mission (NSM) is a proposed plan by the Government of India (GoI) to create a cluster of seventy supercomputers connecting various academic and research institutions across India.
It was launched in April 2015 with a total outlay of Rs.4500 crore for a period of 7 years.
NSM aims to connect national academic and R&D institutions with a grid of more than 70 high-performance computing facilities.
It supports the government's vision of 'Digital India' and 'Make in India' initiatives.
The mission is being implemented by the Department of Science and Technology (Ministry of Science and Technology) and Ministry of Electronics and Information Technology (MeitY), through the Centre for Development of Advanced Computing (C-DAC), Pune and Indian Institute of Science (IISc), Bengaluru.
It was to enhance the research capacities and capabilities in the country by connecting them to form a Supercomputing grid, with National Knowledge Network (NKN) as the backbone.
What is a Supercomputer?
The supercomputer is a computer with a high-level computational capacity compared to a general-purpose computer.
The performance of a supercomputer is measured in floating-point operations per second (FLOPS) instead of million instructions per second (MIPS).
They are expensive and are employed for specialized applications that require immense amounts of mathematical calculations (number crunching).
For example, weather forecasting requires a supercomputer.
Other uses of supercomputers:
Other uses of supercomputers are as follows:
scientific simulations,
(animated) graphics,
fluid dynamic calculations,
nuclear energy research,
electronic design, and
analysis of geological data (e.g. in petrochemical prospecting)
World's most powerful supercomputers:
Japanese supercomputers Fugaku (442 petaflops) and IBM's Summit (148.8 petaflops) are the two most powerful supercomputers in the world.
Supercomputer in India:
Supercomputers developed in India are:
Mihir: Mihir (146th on the list), clubs with Pratyush to generate enough computing power to match PARAM-Siddhi.
PARAM-Siddhi: It is the high-performance computing-artificial intelligence (HPC-AI) supercomputer, and has achieved a global ranking of 62 in the TOP 500 most powerful supercomputer systems in the world.
Pratyush: It is a supercomputer used for weather forecasting at the Indian Institute of Tropical Meteorology, ranked 78th on the November edition of the list.
PARAM Shivay: It is the first supercomputer assembled indigenously, was installed in IIT (BHU), followed by PARAM Shakti, PARAM Brahma, PARAM Yukti, PARAM Sanganak at IIT-Kharagpur IISER, Pune, JNCASR, Bengaluru and IIT Kanpur respectively.
Detection of Oral Cancer: Scientists from IIT Kharagpur have developed a portable, user-friendly, and non-invasive device for detecting oral cancer in resource-constrained clinical settings.
Key Highlights:
The researchers from the Guru Nanak Institute of Dental Sciences in West Bengal supervised the clinical trials, and have established the efficacy of the new method in differentiating cancerous and precancerous stages of suspected oral abnormalities, as verified by high-standard biopsy reports.
The research has been published recently in the prestigious Proceedings of the National Academy of Sciences (PNAS), USA.
About the new technology:
This is a low-cost, handheld imaging device.
The device screens the cancerous stage by measuring the blood flow rate in the tissues.
The blood perfusion imager, which combines a miniature far-infrared camera and a humidity sensor, are electronically controlled and interfaced with a combined physics-based and data-driven software engine.
The device has sensors and controllers. The biological data collected by these elements are fed into a computer-simulated software engine.
The engine classifies pre-cancer and cancer cases.
Need for the technology:
Cancer of the oral cavity remains one of the major causes of morbidity and mortality in socially-challenged and underserved communities.
Around a fifth of the women population suffers from cancer.
Also, oral cancer is high in India which is mainly because of tobacco.
In the last decade, the incidence of oral cancer has increased among young adults and women.
There is an 80% chance on average of a five-year survival rate if diagnosed early.
The survival rate drops to 65% or less in more advanced stages of the disease.
Efforts by the Indian Government:
The Government of India (GoI) has set up National Cancer Control Programme.
The programme has launched regional cancer centres.
About NPCDCS:
NPCDCS is the National Programme for Prevention and Control of Cancer, Diabetes, Cardiovascular disease and Stroke.
NPCDCS was launched in 2010.
The main objective of this programme is strengthening infrastructure, human resource development, health promotion, early diagnosis, management and referral.
Ultra-Long Period Magneta: Scientists have detected what appears to be an incredibly dense star behaving unlike anything else ever seen.
Key Points:
They suspect it might be a type of exotic astrophysical object whose existence has until now been only hypothesized.
The object was spotted using the Murchison Widefield Array telescope in outback Western Australia.
It unleashed huge bursts of energy roughly three times per hour when viewed from Earth during two months in 2018.
It may be the first known example of what is called an"ultra-long period magnetar."
This is a variety of neutron stars - the compact collapsed core of a massive star that exploded as a supernova - that is highly magnetized and rotates relatively slowly, as opposed to fast-spinning neutron star objects called pulsars that appear from Earth to be blinking on and off within milliseconds or seconds.
It is located relatively close to Earth in cosmic terms, roughly 4,200 light-years away, where a light-year is the distance light travels in a year, 9.5 trillion km.
Neutron stars including pulsars are among the universe's densest objects.
They are roughly 12 km in diameter - akin to the size of a city - but with more mass than our Sun.
The researchers said that a neutron star with an extreme magnetic field, a magnetar, could potentially power the radio pulsations.
Vikas Engine: The Indian Space Research Organisation (ISRO) has successfully test-fired the Vikas engine that would power India's first human-carry rocket (Gaganyaan human space mission).
Key Highlights:
This qualification test of the Vikas Engine for the Gaganyaan human space mission was conducted by ISRO at Mahendragiri, Tamil Nadu.
The test was carried out to verify the robustness of the engine by operating beyond its nominal operating conditions (fuel-oxidizer ratio and chamber pressure).
The performance of the engine met the test objectives and the engine parameters were closely matching with the predictions during the entire duration of the test.
Objective of Gaganyaan Programme:
The objective of the Gaganyaan programme is to demonstrate the capability to send humans to low earth orbit onboard an Indian launch vehicle and bring them back to earth.
Note: Gaganyaan is India's first manned mission to space.
About ISRO:
ISRO is an abbreviation for the Indian Space Research Organization.
ISRO is the space agency of the Government of India (GoI) and was formed on 15 August 1969.
It superseded the erstwhile "Indian National Committee For Space Research" (INCOSPAR) which was established in 1962 by the efforts of Independent India's first prime minister' Jawaharlal Nehru' and his close aide and scientist Vikram Sarabhai.
In 1972, the Government of India had set up a Space Commission and the Department of Space (DOS), bringing ISRO under the DOS. ISRO then embarked on its mission to provide the Nation space-based services and to develop the technologies to achieve the same independently.
Its vision is to "harness space technology for natural development while pursuing space science research & planetary exploration".
ISRO built India's first satellite Aryabhata.
It is headquartered in Bangalore, India. The current Chairman of ISRO is Eminent rocket scientist Dr S Somanath.
Data Privacy Day 2022: Data Privacy Day is celebrated on January 28, every year across the world.
Key Points:
The purpose of Data Privacy Day is to raise awareness and promote privacy and data protection best practices.
It is currently observed in the United States, Canada, Israel, Nigeria and 47 European countries.
Theme of 2022:
The theme for 2022 is 'Privacy Matters'.
It instills a sense of accountability that Privacy is integral to every individual's life.
Key Facts:
Observance of the day is "an international effort of creating awareness on the importance of respecting privacy, enabling trust and safeguarding data".
Data privacy has been one of the hot topics of discussion in a digitally connected world.
The issue has become an important topic of discussion in the digitally connected world, especially at the time of the coronavirus disease (Covid-19) pandemic when more and more people are forced to spend time in the online world.
Now, people are more concerned about protecting their data, with the proliferation of instant messaging mobile applications like WhatsApp and Telegram.
Failure in safeguarding one's privacy could result in exploitation as well as criminal offences against internet users.
Objective:
The main objective of the day is to sensitize individuals and disseminate privacy practices and principles.
It encourages everyone to own their privacy responsibilities to create a culture of privacy.
History:
The Council in Europe first initiated Data Privacy Day in 2007.
Their mission grew to a global platform. In 2009, the United States House of Representatives recognized National Data Privacy Day.
The United States Senate later recognized Data Privacy Day in 2010 and 2011.
Since then, various groups and organizations continue supporting the observance annually.
Why is it necessary to ensure data privacy?
It is necessary to ensure data privacy for the following reasons:-
Personal data has been collected, manipulated, and shared or sold for decades, then manipulated further for profit by banking institutions, product manufacturers, political parties, nonprofit organizations, ad agencies, polling groups, airlines, grocery stores, credit agencies, and many others.
Personal data is collected through a variety of media.
Digital technologies have made the collection of personal data easier, both legally and illegally.
What is being done to ensure data privacy?
To ensure data privacy, some companies have rolled out many security features on mobile applications, such as "end-to-end encryption". For instance, WhatsApp and Telegram are providing this feature.
This feature ensures that the exchange of information is not visible to anyone and it remains restricted to two people involved in a particular conversation.
Note: In India, at present, sensitive data is regulated by the Information Technology Act 2000.
Difference between Data Privacy and Data security:
Data privacy is not the same thing as data security, although the two are closely connected and interdependent.
Data security is like putting steel bars on windows to make it difficult for others to burglarize your home; whereas data privacy is more like pulling down the window shades so no one can look inside to see any of your activities.
Science & Technology Affairs Current Affairs - January 2022
China's Artificial Moon: China has built an artificial low-gravity artificial moon research facility that is capable of controlling gravity with the use of powerful magnets by scientists.
Key Points:
The gravity can be controlled to such low levels that it can successfully simulate the moon's gravity.
Note:
China has successfully created an "artificial sun" too which is a nuclear fusion reactor.
This artificial Sun reached temperatures five times hotter than the Sun and for over 17 minutes.
This artificial sun seeks to eventually help create the source of near-unlimited clean energy to power cities.
About Artificial moon research facility:
The artificial moon research facility is scheduled to be officially launched later this year.
The research facility is the first of its kind in the world.
The research facility will be filled with dust and rocks to simulate the lunar surface.
Objective:
As per Li Ruilin of the China University of Mining and Technology, the main objective of this project is to use powerful magnetic fields inside a vacuum chamber of 2-foot-diameter, for making the gravitational pull of the Earth disappear.
However, it cannot be used to train astronauts because of the small size of the low-gravity research facility.
NASA trains its astronauts for microgravity situations in high-altitude parabolic flights.
What is the use of this facility?
The facility has been established to augment China's ongoing lunar exploration programme.
It will be used to extensively test the technology in prolonged low-gravity environments, before sending it to the moon, where gravity is one-sixth of Earth's gravity.
It will also help the scientists work out the technical vulnerabilities in the expensive equipment and also test the durability of instruments.
In addition, it will also help in the assessment of the viability of human settlement on the moon.
About China's Lunar Exploration Programme:
In 2019, Chang'e 4 landed the rover on the far side of the moon.
In 2020 Chang'e 5 gathered rock samples from the moon's surface as part of this initiative.
Chang'e is named after the Chinese Goddess of the moon.
How was the low-gravity research facility created by China?
According to the Chinese scientists, they were inspired by a 1997 experiment that used magnets to completely levitate the frog.
The experiment was carried out by "Andre Geim", who is a physicist at the University of Manchester in the U.K.
He won "satirical Ig Nobel Prize in 2000" for conducting an experiment in which a frog was made to float with a magnet.
The levitation trick used in his experiment comes from an effect dubbed as "diamagnetic levitation".
So they used the same trick is being used in the "Artificial Moon research facility".
What is diamagnetic levitation?
Diamagnetic Levitation occurs by bringing a diamagnetic material in close proximity to material that produces a magnetic field.
The diamagnetic material will repel the material producing the magnetic field.
For instance -
Atoms consist of atomic nuclei and electrons orbiting around them in loops of current.
These moving currents induce tiny magnetic fields.
Usually, randomly oriented magnetic fields of all the atoms of an object cancel out, and no material-wide magnetism is evident.
With the application of an external magnetic field to these atoms, electrons modify their motion and produce their own magnetic field to oppose the external magnetic field.
If the applied external field is strong enough, the magnetic force of repulsion between it and the field of the atoms will grow powerful enough to overcome gravity and levitate the object into the air.
Made In Africa Satellites: South Africa recently launched its first satellite constellation developed entirely in the continent of Africa.
Key Points:
Three locally nanosatellite constellation — consisting of three satellites is called MDASat (Marine Domain Awareness).
It was launched from Cape Canaveral in the United States, as part of American aerospace company SpaceX's Transporter-3 mission.
Transporter-3, SpaceX's third dedicated rideshare mission, carried a total of 105 spacecraft for various organizations and governments, including CubeSats, microsats, PocketQubes and orbital transfer vehicles.
Significance:
The MDASat nanosatellite constellation is designed to collect data that will enhance the security and protection of South African marine resources.
The constellation will detect, monitor and identify foreign vessels within the country's exclusive economic zone.
This could help track illegal dumping and fishing.
Threat to Airline Safety: The chief executives of major US passenger and cargo airlines have warned of a "catastrophic" aviation crisis this week as AT&T and Verizon deploy new 5G services.
Key Points:
They said the new C band 5G service set to begin could render a significant number of widebody aircraft unusable, causing chaos for US flights and potentially stranding tens of thousands of Americans overseas.
The US Federal Aviation Administration (FAA) has warned that the new 5G technology could interfere with instruments such as altimeters, which measure how far above the ground an airplane is traveling.
What are altimeters?
An altimeter or an altitude meter is an instrument used to measure the altitude of an object above a fixed level.
Altimeters operate in the 4.2-4.4 GHz range and the concern is that the auctioned frequencies sit too close to this range.
In addition to altitude, altimeter readouts are also used to facilitate automated landings and to help detect dangerous currents called wind shear.
Altimetry & Bathymetry:
The measurement of altitude is called altimetry.
The measurement of depth under-water is called bathymetry.
Pig Heart Transplantation: for the first time in medical history, doctors in Maryland hospital in the USA recently transplanted a pig heart into a patient in the last effort to save his life.
Key Points:
The surgery went miraculously well and the patient was doing well three days after surgery.
However, the next few weeks will be critical as the patient recovers from the surgery and doctors carefully monitor how his heart is faring.
The doctors transplanted a pig heart into a 57-year-old man named David Bennett from Maryland in the last effort to save his life.
It marks the first effort to use animal organs for life-saving transplants.
As per Doctors at the University of Maryland Medical Center, transplant highlighted that heart from a genetically modified animal can function in the human body, without immediate rejection.
Significance:
This will be a great breakthrough in medical history if the pig heart transplant works then there will be an endless supply of these organs for patients who are suffering.
It will fill up the huge shortage of human organs for transplant cases.
Scientists over the years have researched using animal organs instead.
How was this latest surgery different?
In the recent transplant, Maryland surgeons used a heart from a pig after it underwent gene-editing in a bid to remove sugar in its cells which is responsible for hyper-fast organ rejection.
Note: The US Food and Drug Administration had allowed the surgery under a compassionate use emergency authorization when a patient with a life-threatening condition has no other options.
Prior attempts:
All prior attempts at animal organ transplants have failed because patients' bodies rapidly rejected the animal organ.
For instance, in 1984, Baby Fae, who was a dying infant, lived for 21 days with a baboon heart.
What is Xenotransplantation?
The procedure that involves the transplantation of living cells, organs, or tissues from one species to another is called Xenotransplantation or heterologous transplant.
Such cells, organs, or tissues are called xenografts or xenotransplants.
The technique of Xenotransplantation of human tumor cells into immunocompromised mice is often used in pre-clinical oncology research.
Vinisha Umashankar: Vinisha Umashankar is a student innovator who inspired the world with her solar ironing cart is now India's Batonbearer for the ongoing 16th official Queen's Baton Relay.
Key Details:
Ms. Vinisha Umashankar, a student innovator turned environmentalist from Tiruvannamalai district of Tamil Nadu, has been selected as a "changemaker" and Batonbearer for the ongoing 16th official Queen's Baton Relay (12-15 January 2022) in India.
The 16th official Queen's Baton Relay started at the Buckingham Palace in London on 7th October 2021.
It is scheduled to conclude on 28th July 2022 at the Opening Ceremony of the Birmingham 2022 Commonwealth Games after traveling 72 nations and territories of the Commonwealth for 294 days.
With the arrival of the baton in India, the 27th nation in the route, the Queen's Baton Relay will continue in India from 12th to 15th January 2022.
About Mobile ironing cart:
Vinisha Umashankar received the Dr. APJ Abdul Kalam IGNITE Awards instituted by National Innovation Foundation (NIF) – India, an autonomous body of the Department of Science and Technology (DST) for her mobile ironing cart.
The cart uses solar panels to power a steam iron box.
It turned out to be an inspiration for the world after her speech at the 26th Conference of the Parties to the UN Framework Convention on Climate Change in 2021 at Glasgow, Scotland.
A key benefit of Vinisha's solar ironing cart is that it eliminates the need for coal for ironing bringing about a welcome shift towards clean energy. End-users can move around and offer services at the doorstep for increasing their daily earning.
The ironing cart can also be fitted with a coin-operated GSM PCO, USB charging points, and mobile recharging, which can fetch extra income.
India is committed to solving the global climate change problem through Science, Technology, and Innovation based solutions.
It's the next generation of innovators like Vinisha who provide the nation a strong hope that "Tomorrow can be better than today" by virtue of their scientific thinking, societal focus, and institutional support mechanism like the one offered by NIF in India, which could be replicated in other parts of the world.
Today's success of Ms. Vinisha reflects the significance of Institutional support mechanisms and a conducive eco-system for innovators.
Following the conferring of the award, NIF had been very instrumental in driving prototype development and Intellectual Property Rights (IPR) protection for Vinisha's innovation.
NIF is also committed to improving the Technology Readiness Level (TRL) of her innovation in partnership with the Indian National Academy of Engineering (INAE).
S Somanath: Eminent rocket scientist Dr. S Somanath has recently been appointed as the new Chairman and Space Secretary of the Indian Space Research Organization (ISRO).
Key Highlights:
His appointment was approved by the Appointments Committee of the Cabinet (ACC).
He will be the tenth chairman of the premier space organization.
His appointment as the Space Secretary and the Space Commission Chairman is for a combined tenure of three years from the date of joining the post.
The post of the ISRO chairman, the Space Secretary and the Space Commission chief is usually held by one person only.
Dr Somanath is currently the Director of Vikram Sarabhai Space Centre (VSSC) in Kerala's Thiruvananthapuram.
He will succeed Kailasavadivoo Sivan who completes his extended tenure.
Sivan was appointed as the ISRO chief in January 2018 and was given a one-year extension till January 14, 2022.
About Dr. S Somanath:
Mr. Somanath is an expert in a host of disciplines including launch vehicle design.
He has specialized in launch vehicle systems engineering, structural design, structural dynamics, integration designs and procedures, mechanism design, and pyrotechnics.
He was a team leader for the Integration of the Polar Satellite Launch Vehicle (PSLV) during the early phases of his career.
He is the recipient of the Space Gold Medal from the Astronautical Society of India (ASI), Performance Excellence Award-2014 and Team Excellence Award-2014 for GSLV Mk-III realization, from ISRO.
About ISRO:
ISRO is an abbreviation for the Indian Space Research Organization.
ISRO is the space agency of the Government of India (GoI) and was formed on 15 August 1969.
It superseded the erstwhile "Indian National Committee For Space Research" (INCOSPAR) which was established in 1962 by the efforts of Independent India's first prime minister' Jawaharlal Nehru' and his close aide and scientist Vikram Sarabhai.
In 1972, the GoI had set up a Space Commission and the Department of Space (DOS), bringing ISRO under the DOS.
ISRO then embarked on its mission to provide the Nation space-based services and to develop the technologies to achieve the same independently.
Its vision is to "harness space technology for natural development while pursuing space science research & planetary exploration".
ISRO built India's first satellite Aryabhata.
It is headquartered in Bangalore, India.
ATL Space Challenge 2021 Results: The results of the 'ATL Space Challenge 2021', was recently declared by NITI Aayog's Atal Innovation Mission (AIM) after successful completion and overwhelming participation from young innovators.
The event coincides with the birth anniversary of Swami Vivekananda, also celebrated as National Youth Day.
Key Points:
The Challenge was launched in collaboration with the Indian Space Research Organisation (ISRO) and the Central Board of Secondary Education (CBSE).
The challenge was designed for all the school students, mentors and teachers across the country who not only are associated with schools having Atal Tinkering Labs (ATL) but for all the non-ATL schools as well.
This Challenge also had the heartening participation of over 35% of girl students.
The ATL Space Challenge witnessed over 2500 submissions from both ATL and Non-ATL students across the country from which 75 top innovators were selected.
It was for the first time that an ATL challenge was open to both ATL and non-ATL students.
Objective of the Challenge:
The ATL Space Challenge 2021 was launched on 6th September 2021 with an objective to enable innovation among young school students to create something in the space sector that will not only help them learn about the space but create something that space programmes can use.
The Challenge also aligned with the World Space Week 2021, which is observed from 4 to 10 October each year at the global level in order to celebrate the contributions of space science and technology.
Covid-19 new variant 'IHU': A new coronavirus variant called 'IHU' has recently emerged in France amid the rapid surge of Omicron cases across the world.
Key Points:
The discovery of the variant, dubbed B.1.640.2 was announced in a paper posted on medRxiv.
The B.1.640.2 variant was discovered at the institute IHU Mediterranean Infection.
Researchers believe that it contains 46 mutations.
This has more mutations than the Omicron variant of COVID-19.
The new variant has been associated with the African country Cameroon.
France has reported at least 12 cases of this variant.
This new variant can be a major threat.
However, the cases have not been reported so far in countries other than France and are not labeled as 'variant under investigation' by the World Health Organization (WHO).
Identification of this new variant:
The variant can be identified using careful PCR analysis of signals that are different from Delta and Omicron.
Currently, Omicron is the dominant coronavirus variant in France and other European countries like the United Kingdom and Portugal with surging case numbers over the past few days.
Note:
Scores of new variants are discovered all the time, but it does not necessarily mean they will be more dangerous.
What makes a variant more well-known and dangerous is its ability to multiply because of the number of mutations it has in relation to the original virus.''
ISM: Information Technology Minister, Ashwini Vaishnaw recently launched India Semiconductor Mission (ISM).
Key Points:
ISM has been launched to attract large investments for setting up semiconductor wafer fabrication facilities in India.
Under the scheme, the interested companies are invited by the Centre for the development of the semiconductors and display manufacturing ecosystem in India.
These companies will get an advantage of Rs 76,000-crore incentives set aside by the central government for developing semiconductors and demonstrating India's manufacturing ecosystem.
To avail of this advantage the companies will have to apply for the scheme beginning January 1, 2022.
In order to receive applications for the scheme, a portal has been created.
About India Semiconductor Mission (ISM):
ISM is a specialized and independent business division within the Digital India Corporation.
It is a government-led initiative to develop semiconductors in India (ISM).
The mission goal is to build a vibrant semiconductor besides displaying ecosystem in order for India to emergence as a global hub in electronics manufacturing and design.
It has the authority to negotiate with applicants under the semiconductor fab scheme and display fab scheme.
It also has the autonomy to choose the appropriate technology mix, node generation, applications, and capacity, among other things.
Background:
The Ministry of Electronics and Information Technology had announced this scheme on December 21, 2021.
The Union Cabinet had approved all these four schemes on December 15, 2021.
The centre has committed to providing financial support of Rs 2.30 trillion to position India as a global hub for electronics manufacturing.
The program was created in order to attract large investments in the production of AMOLED-based display panels or TFT LCDs.
Fiscal Support:
The financial support of up to 50% of the project cost (ceiling of Rs 12,000 crore per fab) in order to set up certain variants of silicon-based semiconductor fab across India will be provided for the scheme for setting up display fabs.
Fiscal support will be provided on 'pari-passu' basis for a period of six years from the date of approval both for semiconductor fabs and display fabs.
What is a semiconductor?
A semiconductor is a material product that is usually made up of silicon.
It conducts electricity more than an insulator, such as glass, but less than a pure conductor, such as metallic copper or aluminum.
The electrical conductivity of the semiconductor can be altered with the introduction of impurities to meet the specific needs of the electronic component in which it resides.
What is a fab?
A fab is short for a fabrication plant where raw silicon wafers are processed and transformed into integrated circuits.
Open Rock Museum: Union Minister of Science & Technology Jitendra Singh inaugurated India's first unique "Rock" Museum in Hyderabad.
The Museum was inaugurated at the CSIR-National Geophysical Research Institute (NGRI).
About Open Rock Museum:
There are 35 different varieties of rocks from different parts of India like Jharkhand, Odisha, Tamil Nadu, Uttarakhand, Jammu & Kashmir, etc. displayed in the museum.
The age of these rocks ranges from 3.3 billion years to around 55 million years.
These rocks also represent the deepest part of the earth up to 175 km of distance from the surface of the earth.
"Big Earth Data" occupies the strategic high ground in the era of knowledge economies and India has been fully exploiting this new frontier contributing to the advancement of Earth science.
Geosciences have been contributing significantly towards self-reliance in new India.
About Council of Scientific and Industrial Research (CSIR):
CSIR was established on 26 September 1942.
Dr. Shanti Swarup Bhatnagar was the Founder Director (and later first Director-General) of CSIR.
It is the largest research and development (R&D) organization in India.
It is funded by the Ministry of Science and Technology and it operates as an autonomous body through the Societies Registration Act, 1860.
The main objective of CSIR was to bring science and technology to the country and develop research capabilities that would support the industry.
About National Geophysical Research Institute (NGRI):
NGRI is a constituent research laboratory of CSIR.
It was established in 1961.
The main objective of NGRI is carrying research in multidisciplinary areas of highly complex structures and processes of the Earth system.
It has the mandate to conduct research for public-good science in a bid to enable government agencies, public & private sector stakeholders for making informed decisions on the use of geo-resources sustainably.
IMSc is 60: The Institute of Mathematical Sciences (IMSc), Chennai came into the 60th year of its existence on January 3rd, 2022.
Key Facts:
The Institute of Mathematical Sciences (IMSc) (sometimes also referred to as Matscience) was founded in Chennai by Alladi Krishnaswamy.
It is a research centre located in Chennai.
Nobel Laureate Subrahmanyam Chandrasekhar gave the inaugural lecture at IMSc.
It is funded mainly by the Department of Atomic Energy (DAE).
In 1984, DAE took charge of the institute.
IMSc is a national institute for fundamental research in frontier disciplines of the mathematical and physical sciences: theoretical computer science, mathematics, theoretical physics, and computational biology.
The institute operates the Kabru supercomputer.
GitHub: The open-source software repository service GitHub was in the news recently.
Key Highlights:
It was used to create and share an offensively named app that sexually harassed Muslim women in India.
IT Minister Ashwini Vaishnaw has announced that GitHub has taken remedial measures by blocking the user that used pictures of the women stolen from their social media handles and invited "users" to bid for them.
The Indian Computer Emergency Response System (Cert-In), the nodal agency for monitoring cyber security incidents, has been asked to form "a high-level committee" to investigate.
Delhi and Mumbai Police have registered FIRs on complaints by some of the women who were targeted.
What is GitHub?
GitHub is the world's largest open-source developer community platform where users upload their projects and code for others to view, edit, and tweak.
It is headquartered in California and it has been a subsidiary of Microsoft since 2018.
Under this platform, any developer can upload whatever software code or app code, or software idea they have on the platform and have others collaborate with them to help improve it, find errors, and fix problems.
It offers the distributed version control and source code management (SCM) functionality of Git, plus its own features.
The platform uses the software Git, which was created in 2005 by Linus Trovalds, the developer of the open-source operating system Linux, to track changes in a set of files and for coordination in software development.
KCCRSST: Raksha Mantri Rajnath Singh recently inaugurated Kalpana Chawla Centre for Research in Space Science & Technology (KCCRSST) at Chandigarh University.
He also launched a Scholarship Scheme, worth Rs 10 crore, for the wards of Defence Personnel of the three Services.
Key points:
KCCRSST was inaugurated on January 03, 2022.
It is established with the objective of training students in space science, satellite development and to meet future challenges in space research.
KCCRSST would be the Ground Control Station (GCS) for Chandigarh University's Student Satellite (CUSat), an in-house developed nano-satellite being designed by the students of the university and a Geo-Spatial Centre for research, besides other projects.
The CUSat will be among the 75 student-built satellites to be launched into space on the eve of the 75th Independence Day in 2022.
Chandigarh University has joined the list of 13 institutes like the Indian Institute of Technology (IIT) Kanpur, IIT Bombay and became the first university in North India to design and develop its own satellite.
With the launch of CUSat, Punjab will become the first border state in India to have its own satellite in space.
The launch of the university's nanosatellite - CUSat will prove to be an important step for the country, as it will collect data related to border intrusion detection, agriculture, weather forecasting, natural disaster forecasting, which will be helpful in the research and study of various problems in these areas.
In addition, the GCS will help develop satellite research facilities and launch satellites in countries that do not have developed satellite technology.
The GCS under the KCCRSST will monitor the majority of Low Earth Orbit (LEO) Satellites including CUSAT and being a member of the SatNOGS project, will be monitoring more than 380 satellites with over 810 transmitters in more than 50 Countries.
Aquamation: On January 8, 2022, the body of Nobel Peace Prize-winning Anglican archbishop Desmond Tutu underwent aquamation in Cape Town.
What is aquamation?
Aquamation is also called alkaline hydrolysis.
It is a process for the disposal of human and pet remains using lye and heat.
The process is being marketed as an alternative to the traditional options of burial or cremation.
What is the process of aquamation?
The dead body is immersed in a mixture of water and a strong alkali in a pressurized metal cylinder, for a few hours.
The dead body is then heated to about 150 degrees centigrade.
The combination of gentle water flow, alkalinity and temperature accentuate the breakdown of organic materials.
The process of water cremation leaves behind bone fragments and a neutral liquid called effluent.
Decomposition through this process is similar to what happens during burial, just sped up dramatically by using chemicals.
The effluent is sterile, and it comprises amino acids, salts, sugars, and peptides.
No tissue and DNA are left after this process.
The neutral liquid is discharged with all other wastewater and it can be added to the water systems.
Note:
As per the Cremation Association of North America (CANA), alkaline hydrolysis is a "flameless cremation".
This process is considered an environment-friendly way of disposing of a body.
It is also dubbed as bio cremation, resomation, flameless cremation, water cremation, green cremation, or chemical cremation.
History:
The process was originally developed as a method to process animal carcasses into plant food, patented by Amos Herbert Hobson in 1888.
Science & Technology Affairs Current Affairs - December 2021
India – ITU Joint Cyber Drill 2021: The Department of Telecommunications (DoT) and International Telecommunication Union (ITU) operating under the Ministry of Communications recently commenced India-ITU Joint Cyber Drill 2021.
Key Highlights:
This Cyber Drill is a four days virtual event starting from 30 November to 3 December 2021.
It is intended for Indian entities especially Critical Network Infrastructure operators.
Note: The Critical Network Infrastructure are the systems, assets and networks that are essential to ensure the security of a country.
The inaugural session witnessed the participation of several experts from ITU, United Nations Office on Drugs and Crime (UNODC), INTERPOL, National Security Council Secretariat (NSCS), Indian Computer Emergency Response Team (CERT-In) and other eminent organizations.
Ms Atsuko Okuda, Director of ITU Regional Office, Asia and Pacific Region highlighted significant achievement of India in securing 10th rank in the ITU Global Cybersecurity Index (GCI).
More than 400 participants participated from critical sectors, namely, power, finance, insurance, CERT-In and CSIRT, industry, academia, telecom service providers and field units of DoT.
The art and Culture arena at this Utsav drew the attendees through enchanting skits such as Sand Artist performance, Flash Mob, and varied stalls by banks & fintech.
Aim of CyberDrill:
It aims to improve the cyber security readiness of India. Also, it aims to improve the protection and incident response capability of the country.
During the cyber drill, the cyber attacks and information security incidents were simulated and the participants were trained to defend and respond against such incidents.
Thus, the drill helped to test the cyber capabilities of an organization.
Benefits of India – ITU Joint Cyber Drill:
The drill emphasized the role of Computer Security Incident Response Team and Computer Incident and Response Team (CIRT).
The CIRT is responsible for handling security breaches
It also strengthened India's capability in protecting critical information infrastructure and building cyber resilience.
About the Terms related to the drill:
CIRT: Computer Incident Response Team (CIRT) is responsible for handling the security breaches.
CERT: Computer Emergency Response Team (CERT) is an expert group that handles the cyber threats and cyber-attacks.
It includes the computer emergency readiness team and the CSIRT.
CSIRT: Computer Security Incident Response Team's (CSIRT) main responsibility is to expose the cyber-attacks targeting an organization.
SOC: Security Operation Centre (SOC) is a centralized function that employs people, technologies and processes to continuously monitor and improve the security of the organization.
It prevents, detects, analyses and responds to the cybersecurity incidents.
What steps have been taken by India to improve Cyber Security?
The steps taken by India to improve Cyber Security are as follows:
Section 66F of ITA Act
National Cyber Policy, 2013.
Cyber Swachhta Kendra.
Cyber Surakshit Bharat Initiative.
Indian Cyber Crime Coordination Centre (I4C)
Online cybercrime reporting portal.
National Critical Information Infrastructure Protection Centre (NCIIPC)
Azadi Ka Digital Mahotsav: The Ministry of Electronics and Information Technology (MeitY) recently hosted a unique event dubbed as 'Digital Payment Utsav'.
Key Highlights:
Digital Payment Utsav was hosted as part of the week-long 'Azadi Ka Digital Mahotsav'.
The event was held at the India Habitat Centre.
Under this event, the day celebrated the journey and rise of digital payments in India.
This event brought together leaders from the Government, banking sector, fintech companies and startups.
About Digital Payment Utsav:
The event witnessed the following:
Unveiling of the DIGIDHAN logo,
The launch of an awareness campaign called Digital Payments Sandesh Yatra with digital payments anthem titled 'Chutki Baja ke' (cashless, touchless, paperless).
An award ceremony for banks and fintechs namely 'Digidhan Awards" for their achievements and promotion of digital payments in FY 2019-20 and FY2020-21.
During the event, MeitY also awarded and recognized the contribution of four payment system aggregators for onboarding street vendors under the PM SVANidhi Scheme.
The event saw the launch of innovative solutions like:
Payments On the Go:
Wearables are re-defining the true paperless contactless payments, catalysing them further, Bank of Baroda and City Union Bank launched Rupay-on-the-Go.
Inclusive Credit for All:
Credit cards represent the next big in fintech and contactless is truly the way forward. To drive it to the next level, India Post Payments Bank-Punjab National Bank, Kotak Bank, YES Bank, Indian Overseas Bank, ICICI Bank, Indian Bank, Bank of Maharashtra, and City Union Bank launched Contactless Credit cards on the RuPay network.
SOFTPOS- Empowering Small Merchants:
India has close to 1.5 crore retail stores/ Kiryana stores. Union Bank announced an android-based SOFTPOS mobile app for point of sales, which will further the cause of digital payment adoption.
Skyroot Aerospace: Hyderabad-basedSkyroot Aerospace became the country's first privately developed, fully cryogenic rocket engine running on two high-performance rocket propellants — liquid natural gas (LNG) and liquid oxygen (LoX) after it successfully test-fired Dhawan-1 in November 2021.
About Dhawan-1:
The engine is completely 'Made-in-India" crygenic engine which was developed using 3D printing with a superalloy.
The engine is fuelled by liquefied natural gas and lilquid Oxygen- a high=performance, low-cost and clean rocket fuel.
It has been named after Satish Dhawan, who was the third chairman of ISRO. He pioneered the development of advanced launch capabilities of India.
Key Points:
That has set the firm on a higher trajectory with an ambitious plan to launch the first private space launch vehicle using cryogenic engine Vikram-2 into orbit in two years.
Before that, the two co-founders — Naga Bharath D. (IIT-Madras, 2012 batch) and C. Pawan Kumar (IIT-Kharagpur, 2012 batch) have plans to put their first launch vehicle, 20-metre Vikram-1, based on solid propulsion engine, in space.
Note: Vikram Rocket has been named after pioneering Vikram Sarabhai, who kickstarted the ambitious space program in India. He also conducted advanced nuclear research.
This was after successfully designing and developing the solid propulsion rocket engine, the first private firm in the country to do so.
The firm has already won a national award for start-ups in space research and had an online interaction with Prime Minister Narendra Modi.
Plant-Based Chewing Gum: Scientists from the University of Pennsylvania have recently developed a chewing gum that they say can potentially reduce transmission of the SARS-CoV-2 coronavirus.
Key Points:
The chewing gum is laced with a plant-grown protein, which serves as a "trap" for the SARS-CoV-2 virus.
This in turn can potentially decrease the viral load of the SARS-CoV-2 infection in saliva, and reduce its transmission.
The study has been published in the 'Molecular Therapy Journal'.
When a person infected with SARS-CoV-2 sneezes, coughs or speaks, some of the virus can be expelled and reach others.
The chewing gum targets the virus in the saliva, and does so by trapping it with the angiotensin-converting enzyme 2 (ACE2) proteins.
The ACE2 protein in humans is where the coronavirus latches on to, in order to enter the cell.
The study was carried out in collaboration with researchers from The Wistar Institute and Fraunhofer, USA.
LCRD: On December 7 around 3:50 pm IST, NASA launched its new Laser Communications Relay Demonstration (LCRD) from Cape Canaveral Space Force Station in Florida.
Key Points:
LCRD payload is hosted onboard the Space Test Programme Satellite 6 (STPSat-6) of the US Department of Defense Space.
It will be in a geosynchronous orbit, about 35,000 km above Earth.
LCRD is the first-ever laser communications system of NASA.
The LCRD will help the agency test optical communication in space.
Currently, most NASA spacecraft use radio frequency communications to send data.
But, Optical communications will help increase the bandwidth 10 to 100 times more than radio frequency systems.
LCRD will also show all of the advantages of using laser systems.
With this capability, laser communications can be implemented on more missions in a bid to standardise way to send and receive data.
Features of LCRD:
LCRD has two optical terminals – one to receive data from a user spacecraft, and the other to transmit data to ground stations.
The modems will translate the digital data into laser signals.
This will then be transmitted via encoded beams of light.
These capabilities make LCRD NASA's first two-way, end-to-end optical relay, the agency said in a release.
What are the advantages of laser over radio?
Laser communications and radio waves use different wavelengths of light.
Laser uses infrared light and has a shorter wavelength than radio waves. This will help the transmission of more data in a short time.
As per NASA's estimate, it would take around 9 weeks to transmit a completed map of Mars back to Earth using the current radio frequency systems, while, with laser systems, it can be accelerated to around 9 days.
LCRD will transmit data to Earth at 1.2 gigabits-per-second (Gbps) operating infrared lasers.
As Optical communications systems have smaller sizes & weights so they require less power than radio instruments.
Anil Menon: Anil Menon is an Indian-origin physician who has been selected by National Aeronautics and Space Administration (NASA) along with nine others to be astronauts for future missions.
Highlights:
The announcement was made by the American space agency NASA.
In a statement, Nasa announced that it has chosen 10 new astronaut candidates from a field of more than 12,000 applicants to represent the US and work for humanity's benefit in space.
About Anil Menon:
45 years old Anil Menon, a lieutenant colonel at the US Air Force, was SpaceX's first flight surgeon.
He helped to launch the company's first humans to space during Nasa's SpaceX Demo-2 mission.
Menon previously served Nasa as the crew flight surgeon for various expeditions taking astronauts to the International Space Station.
He is an actively practicing emergency medicine physician with fellowship training in wilderness and aerospace medicine.
As a physician, he was a first responder during the 2010 earthquake in Haiti, the 2011 Reno Air Show accident and 2015 earthquake in Nepal,.
Note: Earlier, aeronautical engineer Sirisha Bandla in July became the third Indian-origin woman to fly into space after Kalpana Chawla and Sunita Williams.
Till now, Wing Commander Rakesh Sharma is the only Indian citizen to travel in space. The former Indian Air Force pilot flew aboard Soyuz T-11 on April 3, 1984, part of the Soviet Interkosmos programme.
Exoplanet with Earth-Like Magnetosphere: Recently, a team of astronomers used data from the Hubble Space Telescope for discovering the signature of a magnetic field on an Exoplanet.
Highlights:
The findings were described in the journal called Nature Astronomy.
It is for the first time, that such a feature has been seen on an exoplanet.
Key Points:
The magnetic fields are essentially regions of charged carbon particles that surround the planet, whilst streaming away from it in a long tail.
They're helpful in protecting the planetary atmosphere.
Researchers used the Hubble for observing the exoplanet HAT-P-11b.
HAT-P-11b is a Neptune-sized planet, located at a distance of 123 light-years from Earth.
Observations were made in ultraviolet light spectrum.
Hubble managed to detect carbon ions surrounding the planet, also commonly known as the magnetosphere.
What is an Exoplanet?
An Exoplanet or extrasolar planet is a planet outside our Solar System.
In 1917, the first possible evidence of an exoplanet was found but was not recognized as such.
The first confirmed exoplanet was detected in 1992.
As of December 2021, there are 4,878 confirmed exoplanets, located across 3,604 planetary systems.
Out of all the systems, 807 systems are having more than one planet.
How are exoplanets detected?
Most exoplanets are found through indirect methods. Such as -
Measuring the dimming of a star that happens to have a planet pass in front of it, called the transit method.
Monitoring the spectrum of a star for the tell-tale signs of a planet pulling on its star and causing its light to subtly Doppler shift.
Other detection methods include gravitational lensing, the so-called "wobble method."
However, Transit photometry and Doppler spectroscopy have found the most.
JWST: The American space agency NASA successfully launched its largest and most powerful space telescope, James Webb Space Telescope (JWST) on 25th December 2021.
Key Highlights:
The most powerful and complex space observatory ever built, blasted off into space, beginning a one-million-mile journey to see 13.5 billion years into the past.
The $10 billion observatory was launched aboard Ariane 5 rocket from the Guiana Space Center in Kourou, French Guiana.
The telescope will take about a month to reach its destination in the solar orbit, which would be roughly 1 million miles from the Earth, four times away from the moon.
Webb will not be in orbit around Earth, like the Hubble Space Telescope, but will actually orbit the Sun.
JWST is an international collaboration between NASA, the European Space Agency (ESA), and the Canadian Space Agency.
Goal of JWST:
The primary goal of JWST will be to study galaxy, star, and planet formation in the universe.
The new telescope will help scientists to probe the structures and origins of our universe and our place in it.
It will aim to find the first galaxies that formed in the early universe and look through dusty clouds to see stars forming planetary systems.
It will examine every phase of cosmic history, starting from the first luminous glows after the Big Bang to the formation of galaxies, stars and planets and the evolution of our solar system.
It will also be able to tell more about the atmospheres of extrasolar planets.
It could even find the building blocks of life elsewhere in the universe.
About James Webb Space Telescope:
Webb is a large, space-based, infrared observatory, and a successor to the Hubble Space Telescope.
Development of the $10 billion telescope began in 1996.
The infrared telescope is the largest space observatory ever built, and the first of its kind.
The James Webb Telescope is named after James Edwin Webb, who was an American government official who served as Undersecretary of State from 1949–1952. He oversaw NASA during most of its formative decade of the 1960s.
It is 100 times more powerful than Hubble, and has been folded origami-style to fit in the rocket atop which it was launched.
Webb will unfold like a "Transformer" in space.
Webb is also set to unfold the Universe and will usher in a new era of astronomy.
Science & Technology Affairs Current Affairs - November 2021
China launches three new remote sensing satellites: China has successfully launched three new remote sensing satellites on November 6, 2021 from the Xichang Satellite Launch Centre. The centre is located in country's southwestern Sichuan province.
Key Points
• The satellites belong to the Yaogan-35 family.
• They were launched by a Long March-2D carrier rocket and entered the planned orbit successfully.
• The launch of these satellites marks the 396th mission for Long March series carrier rockets of China.
Background
Regarded as the main stay of China's space programme since 1970, the country's Long March-3B rocket had completed its 300th launch in March 2019 successfully. The rocket had put a new communication satellite into orbit. This rocket is regarded as the main stay of Chinese space programme since 1970.
About Long March carrier launches
The Long March carrier rocket series has been developed by the China Aerospace Science and Technology Corporation (CASC). This rocket series is responsible for about 96.4 per cent of all the launch missions in China.
While it took 37 years for the Long March rockets to complete the first 100 launches, the second 100 launches were completed in 7.5 years. What's more the final launches 100 were accomplished in only about four years. The average number of launches per year increased from 2.7 to 13.3 and then to 23.5.
China Aerospace Science and Technology Corporation (CASC)
Beijing headquartered CASC is the main contractor of Chinese space program. It manufactures aerospace equipment. The corporation has a number of subordinate entities which are involved in designing, developing and manufacturing a range of spacecraft, strategic & tactical missile systems, space launch vehicles, ground equipment and other aerospace products. This state-owned corporation was officially established in July 1999.
WISER Program: Women's Involvement in Science & Engineering Research (WISER) program was launched by Indo-German Science & Technology Centre (IGSTC) on November 26, 2021.
Key Points
• WISER is a first-of-its-kind programme to promote women in the field of research and development through lateral entry.
• The programme encourages women researchers in joint R&D projects between India and Germany.
• WISER will improve gender equality and women's participation in Science and Technology through IGSTC's program.
• The programme will be in addition to the ongoing flagship 2+2 program of IGSTC.
WISER program: An initiate between India and Germany
WISER program of IGSTC is a joint initiative of Department of Science & Technology (DST), India and Federal Ministry of Education & Research (BMBF) of Germany.
Characteristic features of the programme
This programme will support women scientists who are holding regular or long-term research positions in academia or research institutes or industry. Women can involvement in this program through lateral entry. There is no requirement of break-in-career or any age limit. This programme will enable easy participation.
Awards by the programme
IGSTC will support the awardees with a maximum amount of Rs. 39 Lakh from the Indian side and € 48000 from German side. WISER program will offer 20 awards per year.
Data Centre in Kanchipuram: Indian multinational conglomerate Larsen & Toubro has signed a Memorandum of Understanding with the Tamil Nadu state government to establish a data centre in the state.
L&T will establish 90 MW capacity Data Centers and associated units in a phased manner in Kanchipuram over the next 5 years. The company envisages to employ around 1100 people (600 direct and 500 indirect) in the project. The Government of Tamil Nadu will provide uninterrupted power supply and other infrastructure support on a best-effort basis that will bring tangible economic and social benefits to the people of Tamil Nadu.
L&T CEO and MD S N Subrahmanyan , said, "Tamil Nadu is on a growth trajectory, and we are delighted to partner with the Government of Tamil Nadu to propel this growth by building a data center that will further trigger development by attracting investments and generating jobs for the people of Kanchipuram."
L&T will be establishing hyperscale Data Centers at Kanchipuram to provide comprehensive solutions and end to end data center services, with multi-cloud managed and cyber security services, digital transformation integration services and application integration services.
41st Scientific Expedition to Antarctica: India has launched the 41st scientific expedition to Antarctica with the arrival of the first batch of its contingent at the southern white continent.
Key Highlights:
• The first batch comprising of 23 scientists and support staff reached the Indian Antarctica station Maitri last week for scientific expedition.
• Four more batches will land in Antarctica by air using DROMLAN facility. They will land by mid-January 2021, onboard chartered ice-class vessel MV Vasiliy Golovnin.
• The Indian Antarctic programme began in 1981 and has completed 40 scientific expeditions.
Major Programmes of 41st expedition
The 41st expedition has two major programmes.
The first program is "geological exploration of Amery ice shelf" at Bharati station. This programme will help in exploring the link between India and Antarctica in past.
The second program is "reconnaissance surveys and preparatory work" to drill 500 meters of ice core near Maitri. This programme will help in improving the understanding of Antarctic climate, sea-ice, greenhouse gases from a single climate, and westerly winds.
Apart from accomplishing scientific programs, 41st expedition will replenish annual supplies of fuel, food as well as provisions & spares for operation & maintenance of life support systems set up at Maitri & Bharti.
How ice core drilling will be done?
The ice core drilling will be done in association with British Antarctic Survey and Norwegian Polar Institute.
The Indian Antarctic programs
Indian Antarctic program started in 1981. It has completed 40 scientific expeditions. The programs helped in building three permanent research base stations in Antarctica:
Dakshin Gangotri in 1983,
Maitri in 1988 and
Bharati in 2012.
Presently, base stations Maitri and Bharati are fully operational, as of now.
Who manages the Indian Antarctic program?
The entire Indian Antarctic program is managed by "National Centre for Polar and Ocean Research (NCPOR), Goa". NCPOR is an autonomous institute working under Ministry of Earth Sciences.
S-400 Triumf Air Defence System: Russia recently started delivering S-400 Triumf air defence system to India, giving a major boost to Indian defence capabilities.
Key Points
• The S-400 Triumf surface-to-air missile system will boost India's capabilities to take out cruise missiles and enemy fighter aircraft at long range.
• The announcement that Russia has started delivering S-400 systems to India was made ahead of Dubai Air Show.
• The Indian Air Force (IAF) will induct the first unit of S-400 systems at a time when India is locked in a standoff with China in the Ladakh sector.
• First squadron of this system will be deployed near Western border of India. It will help in tackling threats from both Northern as well as Western borders with China and Pakistan.
Missile requirement of India
India will require five squadrons to tackle air threats from up to 400-km. First squadron of the S-400 system is likely to be complete by end of 2021.
India-Russia S-400 system agreement
India inked an Inter-Governmental Agreement (IGA) with Russia in October 2016, during BRICS Summit. A formal agreement was signed in October 2018 for procuring the defence system. The deal is worth Rs 35,000 crores to contract S-400 air defence system from Russia. After several negotiations, India brought down the price of this deal by a billion dollars.
Training of IAF personnel for operating S-400 system
The Indian Air Force officers and personnel were trained in Russia to operate the system.
Significance of S-400 missiles for India
• The S-400 Triumf air defence system will give a major boost to Indian capabilities of taking out enemy cruise missiles and fighter aircraft at long range.
• It will provide India with an edge in South Asian skies.
• India would now be able to take out enemy missiles and aircrafts from a distance of 400-kms.
Components of the system
S-400 missile defence system comprises of four different missiles:
48N6DM: It is capable of destroying airborne targets up to 250 km
40N6: It can reach a distance of 400 km. It makes use of active radar homing for intercepting air targets at great distances.
9M96E: This component can strike moving targets like fighter aircraft with great accuracy.
9M96E2: This component is descended for direct impact. It can reach up to 102 km.
Subsidiary in India: World's richest person Elon Musk-owned SpaceX has incorporated its wholly-owned subsidiary in India to start local broadband operations,
Key Points:
• SpaceX's satellite broadband arm Starlink aims to start broadband services in India from December 2022, with two lakh active terminals subject to permission from the government.
• SpaceX now has a 100 percent owned subsidiary in India. The subsidiary has been named SSCPL – Starlink Satellite Communications Private Limited. The company was incorporated on November 1, 2021.
• Starlink has already received more than 5,000 pre-orders from India.
Data Charges:
SpaceX's subsidiary is charging a deposit of USD 99 or Rs 7,350 per customer and claims to deliver data speeds in the range of 50 to 150 megabit per second in beta stage.
The services of Starlink will compete with the services provided by Bharti Airtel, Reliance Jio, Vodafone Idea in broadband. It will also be a direct competitor of Bharti Group-backed OneWeb.
Space Exploration Technologies Corp. (SpaceX)
Founded in 2002 by entrepreneur Elon Musk , SpaceX is an American aerospace manufacturer, communications corporation and space transportation services.
Headquartered in Hawthorne, California, SpaceX was founded with a view to reducing space transportation costs to provide for colonization of Mars.
It manufactures the Falcon 9 and Falcon Heavy launch vehicles, Dragon cargo, crew spacecraft, several rocket engines and Starlink communications satellites.
About Starlink:
Starlink is a satellite internet constellation operated by SpaceX. It provides satellite Internet access to most part of the Earth. As of now, it comprises of more than 1600 satellites.
Science & Technology Affairs Current Affairs - October 2021
DLX1 Protein:
Researchers at the Indian Institute of Technology (IIT), Kanpur, have recently discovered that a particular gene (DLX1) has an important role to play in the growth and development of prostate cancer.
Key Points:
DLX1 plays an important role in the development of jaws, skeleton, and interneurons in the brain
The DLX1 protein is found at elevated levels in prostate cancer patients, the reason why the DLX1 protein has been used as a urine-based biomarker.
The team of researchers at the institute has now found that the DLX1 protein which is expressed at higher levels in the prostate cancer cells, has a huge role in the growth and development of the tumour and the spread of the cancer to other organs in the body (metastasis).
Using small molecules as inhibitors, the researchers have shown in mice a new therapeutic strategy to treat people with DLX1-positive prostate cancer.
What is Prostate cancer?
Prostate cancer is cancer of the prostate gland.
It is a cancer in a man's prostate which is a small walnut-sized gland that produces seminal fluid.
Most prostate cancers are slow growing.
Factors that increase the risk of prostate cancer include older age, family history and race.
--------------------------------------------------
World Thrombosis Day 2021: World thrombosis day is celebrated on 13th October across the world every year.
Key Points:
The main objective of this day is to raise awareness and educate citizens about the misunderstood disease of thrombosis.
On this day, various events, campaigns, and awareness camps are conducted by the authorities in the world to spreading awareness about the misunderstood disease of thrombosis.
Theme for World Thrombosis Day 2021:
The theme for World Thrombosis day 2021 is 'eyes open to thrombosis'.
This theme focuses on the need to be alert and recognise the early warning signs of thrombosis before they become worse.
History:
In 2014, the International Society on Thrombosis and Haemostasis designated 13 October as the world Thrombosis day to mark the awareness of thrombosis.
This day also highlights the birthday of Rudolf Virchow. Rudolf Virchow was a biologist, physician and pathologist who discovered 'thrombosis'.
About Thrombosis:
Thrombosis occurs when blood clots block veins or arteries.
Categories of Thrombosis:
There are three categories of causes of thrombosis: damage to the blood vessel (catheter or surgery), slowed blood flow (immobility), and/or thrombophilia (if the blood itself is more likely to clot).
Symptoms:
Symptoms include pain and swelling in one leg, chest pain, or numbness on one side of the body.
Complications of thrombosis can be life-threatening, such as a stroke or heart attack.
Treatment:
Treatment includes medicines that thin the blood or prevent clots, and using stents or catheters to open blocked vessels.
Prevention:
Prevention includes being active, quitting smoking, losing weight, and managing other health conditions.
----------------------------------------------
World Osteoporosis Day 2021: Every year, World Osteoporosis day is celebrated on 20 October in the world.
Key Points:
The main objective of this day is to raise global awareness about the prevention, diagnosis, and treatment of the disease.
It also reminds the governments, organizations, and public authorities to take actions related to osteoporosis and fracture-related issues.
Theme for 2021:
The theme World Osteoporosis Day 2021 is 'Serve Up Bone Strength'.
This theme highlights the overall bone health and the harmful effects it can have on your well-being if it is ignored.
History:
In 1996, the United Kingdom's National Osteoporosis Society celebrated the first World Osteoporosis day.
The European Commission also gave its support to the campaign.
In 1988, two major organizations took responsibility to raise global awareness and International Osteoporosis Foundation (IOF) was established.
About Osteoporosis:
The word 'osteoporosis' means 'porous bone.
The body constantly absorbs and replaces bone tissue.
With osteoporosis, new bone creation doesn't keep up with old bone removal.
It causes bones to become weak and fragile so that they break easily – even as a result of a minor fall, a bump, a sneeze, or a sudden movement.
Fractures caused by osteoporosis can be life-threatening and a major cause of pain and long-term disability.
Osteoporosis is a growing global problem worldwide.
------------------------------------------------------------------------
Banni buffalo IVF calf: India's first IVF (in-vitro fertilisation) calf of Banni breed of buffaloes was recently born at a farmer's house in Gir Somnath district of Gujarat.
Key Points:
With the birth of first IVF calf of a Buffalo breed namely Banni in the country, India's OPU - IVF work has reached to next level.
Banni breed of buffalo is found primarily in the Kutch region of Gujarat.This first IVF Banni calf is born out of 6 Banni IVF pregnancies established at the doorsteps of a farmer, Vinay . L. Wala of Sushila Agro farms, located at Dhanej in Somnath district of Gujarat.
This process was carried out by JKBovagenix of NGO JK Trust which is a social initiative of Raymond Group in a bid to enhance the number of genetically superior buffaloes for increasing the milk production.
Background:
Prime MinisterNarendra Modi had talked about the Banni buffalo breed during his visit to Kutch region of Gujarat on December 15, 2020.
The very next day, i.e. December 16, 2020, Ovum Pick-Up (OPU) and aspiration processes for the in vitro fertilization (IVF) of Banni Buffaloes were planned.
About Banni buffalo:
Banni buffalo also known as "Kutchi" or "Kundi" is found primarily in Kutch district of Gujarat.
The word 'Banni' is specific to not only the buffaloes but as well as the pasture grass species which are native to this region
This breed of buffaloes is preserved by a local community of Kutch called the 'Maldharis'.
An average Banni buffalo yields around 12 to 18 litres of milk each day.
It has also become the main source of livelihood for Maldharis, and they are also slowly gaining popularity in other regions such as Mumbai.
Characteristics of Banni Buffalo:
The Banni buffalo has a different genetic makeup as compared to more common breeds.
This genetic makeup allows for longer lactation periods, higher milk production potentials and also makes it disease resistant.
The Banni buffalo is well-adapted to survive the extreme weather conditions such as water scarcity, frequent droughts, low humidity and high temperatures, unlike other commonly found buffaloes such as the 'Jaffarabadi' and 'Murrah'.
It sustains itself in these harsh climatic conditions by consuming the naturally available grasses growing in this belt.
---------------------------------------
Lucy Mission: American Space Agency, NASA, launched the first-of-its kind mission called 'Lucy Mission'to study Jupiter's Trojan asteroids.
Key Highlights:
The Lucy probe was launched on a United Launch Alliance (ULA) Atlas V rocket from Space Launch Complex 41 at Cape Canaveral Space Force Station in Florida on October 16, 2021.
It is sent on a 12 year journey to the Planet Jupiter to study the Trojan Asteroid for initial life traces on Earth.
About the Lucy mission:
Lucy mission is a 12-year expedition which will study a record number of asteroids.
The Lucy mission will study the Trojan Asteroids which are rocky objects orbiting the sun in two swarms that is, ahead of the path of Jupiter and one behind it.
The spacecraft will fly by a total of eight ancient asteroids to study about solar system's evolution.
These include one main-belt asteroid and seven Jupiter Trojan asteroids.
Background:
Lucy Mission was chosen, along with the Psyche mission, on January 4, 2017 as Discovery Program missions 13 and 14 respectively by NASA.
Lucy Mission has been named after Lucy hominin skeleton, because study of Trojans will reveal the "fossils of planet formation".
About Trojan asteroid:
Jupiter Trojans or Trojan asteroids or simply Trojans are a large group of celestial bodies that orbit the Sun in two swarms, one ahead of Jupiter and the other trailing behind it.
These asteroids are named after characters in Greek mythology.
They reside in dynamically stable zones 60° ahead and behind Jupiter.
They are located at the Lagrangian points, L4 and L5, located 60o in front of and behind Jupiter respectively.
These asteroids were formed in the aftermaths of the leftovers of the primordial material from which Jupiter and the other outer planets were formed.
As of now, about 7000 trojans are known.
CRISP M Tool:
The Union Minister of Rural Development & Panchayati Raj Shri Giriraj Singh jointly launched a Climate Resilience Information System and Planning (CRISP M) through a virtual event recently.
Key Points:
CRISP M Tool was launched for integration of climate information in Geographic Information System (GIS) under the MGNREGS.
It is based watershed planning under Mahatma Gandhi NREGA.
This tool has been developed with the help and support of British Government and all the stakeholders.
The pilot project has been initiated in seven states including:
Bihar
Jharkhand
Uttar Pradesh
Madhya Pradesh
Chhattisgarh
Odisha
Rajasthan
Aim:
The main aim of the mission is to reach across India and the remotest parts of the country.
This tool will open up new possibilities for our rural communities to deal with the issues of climate change.
It will also help people get the information about climate change in order to protect them from weather related disasters.
In addition, the impact of the tool is stretched to various other domains including enhanced groundwater recharge, increased forest coverage and increased land productivity in many impact studies of Mahatma Gandhi NREGA across India.
GIS based plans for Panchayats:
In order to fulfill rural aspirations to sustain their growth, well planned strategies have been charted out considering socio economic patterns and demographic areas.
Note: Geospatial Technology has a major role to play in rural development such as water, the provision of electricity, health facilities, education, to resources to store, ship and sell the agricultural produce, everything goes into rural development and therefore requires spatial science and technique.
Ministry of Rural Development has already prepared GIS based plans for 1.82 lacs Gram Panchayats out of a total of 2.69 Lacs Gram Panchayats of India, which is around 68%, with the help of Remote Sensing Technology, based on Ridge to Valley approach.
Indian Space Association (ISpA): Prime Minister Narendra Modi recently launched the Indian Space Association (ISpA) via video conferencing.
Key Points about ISpA:
ISpA is the premier industry association of space and satellite companies in India.
In line with the Prime Minister's vision of Atma Nirbhar Bharat, ISpA will make India self reliant, technologically advanced and a leading player in the Global Space arena.
It will undertake policy advocacy and engage with all stakeholders in the Indian space domain, including the government and its agencies such as NewSpace India Ltd (NSIL) and Indian National Space Promotion and Authorization Centre (IN SPACe), among others.
The reforms in the space sector are based on four pillars:
1. Freedom of innovation to the private sector.
2. The government's role as an enabler.
3. Preparing the youth for the future.
4. Seeing the space sector as a tool for the development of the common man.
ISpA has appointed Jayant Patil, senior executive vice president defence, L&T NxT as its first chairman and Rahul Vatts, chief regulatory officer, Bharti Airtel as vice chairman. Lt Gen AK Bhatt (Retd) has been named as the body's director general.
The founding members of ISpA include Nelco (Tata group), Larsen & Toubro, Bharti Airtel, OneWeb, Mapmyindia, Walchandnagar Industries and Ananth Technology Limited while the core members includes BEL, Godrej, Azista BST Aerospace Private Limited, Hughes India, Centum Electronics and Maxar India.
First Automated & Driverless Train: The German rail operator, Deutsche Bahn and industrial group, Siemens recently launched the first automated & driverless train of the world.
Highlights:
The self driving train was launched in the city of Hamburg.
Dubbed as the world first self driving train is being developed by 'Siemens and Deutsche Bahn'.
The project is part of a 60 million euro modernization of the rapid urban rail system of Hamburg.
This train is more punctual and energy efficient as compared to traditional trains.
Germany has planned to add four such trains to the S Bahn rapid urban rail network of northern city.
These trains will start carrying passengers from December on the existing rail infrastructure.
On the other hand, other cities in Europe such as Paris are already running driverless metros and airports often have automated monorail trains plying terminals. However, these trains run on exclusive single tracks while the Hamburg train will share tracks with other regular trains.
How will the automated train run?
Though the train is controlled by digital technology and is fully automated, but still a driver will sit on the train to supervise journeys of the passengers on board.
Benefits:
These automated trains will offer a reliable service without laying a single kilometre of new track.
These trains can transport "up to 30 percent more passengers".
Besides improving the punctuality, these trains will save more than 30 percent of energy.
About Deutsche Bahn:
It is a German railway company headquartered in Berlin.
It is a private joint stock company and is the second largest transport company in the world.
The Federal Republic of Germany is the only shareholder in the company.
In the year 2015, Deutsche Bahn was the largest railway company of the world by revenue.
Additional Info:
In September 2018, Germany had launched the world's first autonomous tram in Potsdam, west of Berlin.
A team of 50 mathematicians, physicists, computer scientists and engineers at the German engineering company Siemens had developed the tram.
Scientific Advisory Group for the Origins (SAGO): World Health Organization (WHO) has recently announced the establishment of a scientific advisory group to identify the origin of COVID 19 and other future outbreaks.
Key Points:
The WHO's Scientific Advisory Group for the Origins on Novel Pathogens, or SAGO, will include 26 scientists from the US, China and about two dozen other countries to find out the answer the question of how the novel coronavirus first infected humans.
The SAGO will also be responsible for establishing a framework to combat future pandemics.
Additional Info:
The leading Indian epidemiologist, Dr Raman Gangakhedkar, has been named to an expert group launched by the WHO that will examine origins of emerging and re emerging pathogens of epidemic and pandemic potential, including SARS CoV 2, the coronavirus that causes COVID 19.
He is the former head of epidemiology and communicable diseases at the Indian Council of Medical Research (ICMR), is the Dr C.G. Pandit National Chair at the ICMR.
OneWeb: Bharti Group backed OneWeb has entered an arrangement with the commercial arm of the Indian Space Research Organisation (ISRO), NewSpace India Limited (NSIL), to launch its satellite in India from 2022.
Key Points:
OneWeb already has 322 satellites in orbit.
Under this arrangement, OneWeb through a letter of intent (LOI) with NSIL, will use Indian built PSLV (Polar Satellite Launch Vehicle) and the heavier GSLV MkIII (Geosynchronous Satellite Launch Vehicle) as potential platforms to launch its satellites to beam high speed broadband on earth from 2022.
About OneWeb:
OneWeb (legally Network Access Associates Ltd) is a low Earth orbit satellite communications company.
It will work with stakeholders across for the development of India's space ecosystem.
The company is also amongst the founding members of ISpA.
It is headquartered in London.
The company was founded by Greg Wyler in 2012 and launched its first satellites in February 2019.
This company had entered bankruptcy in March 2020.
But it emerged from the bankruptcy proceedings and reorganization in November 2020 with a new ownership group, led by the Government of the United Kingdom and Indian multinational company Bharti Global, each holding 42% of the company equity and board.
MUDRA Toolbox:
The Indian Council of Medical Research (ICMR) recently launched the Multilingual Dementia Research and Assessment (MUDRA) Toolbox.
Key Highlights:
MUDRA Toolbox has been launched in order to expand the care and outreach to people suffering from dementia.
It has been launched in languages including Hindi, Bengali, Telugu, Kannada, and Malayalam.
MUDRA Toolbox is an initiative undertaken by ICMR Neuro Cognitive Tool Box (ICMR NCTB) consortium.
The main aim of this initiative is to transform India's dementia and mild cognitive impairment research and clinical practices.
It is a collective effort by seven leading centres in India NIMHANS (Bengaluru), AIIMS (New Delhi), SCTIMST (Thiruvananthapuram), NIMS (Hyderabad), Apollo Hospital (Kolkata), Manipal Hospital (Bengaluru) and Jawaharlal Nehru Medical College.
Research paper describing the study design 'Standardizing Dementia Diagnosis Across Linguistic and Educational Diversity: Study Design of the Indian Council of Medical Research Neurocognitive Tool Box (ICMR NCTB)' has been published in February 2020 in Journal of International Neuropsychological Society.
Key Points about Mudra Toolbox:
MUDRA Toolbox is a comprehensive tool specifically to diagnose dementia in the Indian population.
The toolbox includes various cognitive tests to assess different domains of cognition such as attention and executive function, memory, language, and visuospatial functions.
It is sensitive to the elements affective cognitive test performance like language, culture and education.
The toolbox is designed to provide detailed neuropsychological profile of a patient and is a standardized measure of diagnosis for mild cognitive impairment (MCI) and dementia."
What is Dementia?
Dementia is a neurological disorder which affects the ability of person to perform activities of daily living.
It creates a loss in memory.
Dementia in India:
As per Alzheimer's and Related Disorders Society of India (ARDSI)'s Dementia India Report 2010, there are approximately 5.29 million people with dementia in India and the number is expected to go up to 7.61 million by 2030.
About ICMR:
The Indian Council of Medical Research (ICMR) is the apex body in India for the formulation, coordination and promotion of biomedical research, is one of the oldest and largest medical research bodies in the world.
The ICMR was founded in 1911.
It is funded by the Government of India (GoI) through the Department of Health Research, Ministry of Health and Family Welfare.
It is headquartered in New Delhi, India.
The current DG is Balram Bhargava.
BCAM 2021: The Breast Cancer Awareness Month (BCAM) is observed in the month of October, from 01 to 31 every year.
Key Facts:
This annual international health campaign aims to increase awareness of the disease and to raise funds for research into its cause, prevention, diagnosis, treatment and cure.
The pink ribbon is an international symbol of breast cancer awareness.
Breast cancer is the most common type of cancer among women, affecting 2.1 million women each year.
It is also responsible for the greatest number of cancer related deaths among women.
About Breast Cancer:
Breast Cancer is a type of cancer that arises in the epithelium (lining cells) of the ducts or lobules in the glandular tissues of the breast.
In 2020 more than 2.3 million women across the globe were diagnosed with breast cancer.
Around 50% of breast cancers develop in women, who do not have identifiable breast cancer risk factors other than gender and age (above 40 years).
RTS,S/AS01: The Geneva based World Health Organization (WHO) recently endorsed the world's first Malaria Vaccine called "RTS,S/AS01.
Key Points:
RTS,S/AS01 is the world's first vaccine against the mosquito borne disease.
This vaccine was first made in 1987 by pharmaceutical company GSK.
WHO has recommended the widespread use of RTS, S/AS01 (RTS,S) among children, especially in sub Saharan Africa and in other regions with moderate and high malaria transmission.
Malaria kills around 400,000 people each year, and most of them are African children.
The RTS,S vaccine has been found to significantly reduces malaria and life threatening severe cases.
The global health body said that WHO's recommendation is based on the outcomes of a pilot programme that has touched over 800,000 children in Ghana, Kenya, and Malawi.
The RTS,S malaria vaccine was introduced as a pilot programme two years ago in 2019.
About the vaccine:
R21/Matric M has been found to be the most effective malaria vaccine discovered so far.
It has the efficacy of 77%.
This is the first vaccine which meets WHO's goal of a malaria vaccine with at least 75% efficacy.
This vaccine acts against plasmodium falciparum, which is one of five malaria parasite and the deadliest among all.
RTS,S vaccine is known by the brand name Mosquirix.
The vaccine is cost effective in areas of moderate to high malaria transmission.
About Malaria:
Malaria is a serious and sometimes a fatal disease.
Malaria is caused by the Plasmodium parasite.
The parasite can be spread to humans through the bites of infected mosquitoes.
There are many different types of plasmodium parasite, but only 5 types cause malaria in humans.
They are:
Plasmodium falciparum,
P. vivax,
P. ovale,
P. malariae.
P. knowlesi, a type of malaria that naturally infects macaques in Southeast Asia, also infects humans, causing malaria that is transmitted from animal to human ("zoonotic" malaria).
The main symptoms of malaria include fever, muscle pain, headaches and cycles of chills, fever and sweating.
Note: Although malaria can be a deadly disease, illness and death from malaria can usually be prevented.
Heli Borne Survey Technology: Union minister of state Jitendra Singh recently launched Heli borne survey technology for groundwater management.
Key Points:
The Heli borne survey technology has been developed by the Centre for Scientific and Industrial Research (CSIR) and the National Geophysical Research Institute (NGRI) Hyderabad, in Jodhpur.
This state of art technology will be used to map the ground water sources in arid regions.
The survey will also help in utilizing groundwater for drinking purposes.
The mega project worth Rs. 150 crores will be implemented in two phases.
In the first phase, survey has already started from Jodhpur in Rajasthan on October 5, 2021 and will soon be followed in the States of Punjab, Gujarat and Haryana.
Implementation of the project:
To implement the project, CSIR has collaborated with the Ministry of Jal Shakti under the "National Aquifer Mapping Project".
This project will bring high visibility to CSIR to implement the Jal Jeevan Mission project.
About Heli Survey Technology:
The Heli Borne Geophysical mapping technique includes studies such as identification of Sites for artificial recharge,, Geophysical Thematic maps, 3D Geophysical model, Aquifer system with relatively fresh and saline zones.
It will also provide a high resolution 3D image of the sub surface up to a depth of 500 meters below the ground.
Aim of the project:
The main aim of the project is to map potential groundwater sources and its management in providing safe drinking water to people in the water scarce arid regions of India.
Significance of the technology:
Arid areas in North Western India spread over parts of the States of Rajasthan, Gujarat, Haryana and Punjab.
This region covers nearly 12% of the total geographical area of India.
It is a home to more than 8 crore people.
The annual rainfall is in the range of less than 100 to 400 mm, so, this area faces an acute shortage of water throughout the year.
Therefore, this project will benefit millions of people across the region and positively contribute to "Har Ghar Nal Se Jal" as well as "doubling farmers income" goals.
Science & Technology Affairs Current Affairs - September 2021
LowC bricks:
Researchers have developed a technology to produce energyefficient walling materials using construction and demolition waste (CDW) and alkaliactivated binders.
Key Points:
Scientists of the Indian Institute of Science developed a technology for producing alkaliactivated bricks/blocks by utilizing fly ash and furnace slag.
These are called low carbon bricks.
These bricks do not require hightemperature firing and avoid the use of highenergy material such as Portland cement.
The technology will also solve the disposal problems associated with construction and demolition waste mitigation.
The researchers developed low embodied carbon bricks from construction and demolition waste through an alkali activation process using fly ash and ground slag and characterizing the thermal, structural, and durability characteristics of LowC bricks and their masonry.
Conventionally, building envelopes consist of masonry walls built with burnt clay bricks, concrete blocks, hollow clay blocks, fly ash bricks and lightweight blocks.
What is fly ash?
Fly ash is a fine powder that is a byproduct of burning pulverized coal in electric generation power plants.
Fly ash or flue ash, coal ash is also known as pulverized fuel ash in the United Kingdom, or coal combustion residuals (CCRs).
When mixed with lime and water, fly ash forms a compound similar to Portland cement.
It is used in concrete and cement products, road base, metal recovery, and mineral filler among others.
However, these particles are toxic air pollutants as they can trigger heart disease, cancer, respiratory diseases and stroke.
Solar DC Cooking System: Central Mechanical Engineering Research Institute (CSIRCMER), recently handed over the CSIRCMERI developed Solar DC Cooking System to the Asansol Braille Academy, West Bengal.
Highlights:
The Solar DC Cooking System has been developed by CSIRCMERI.
This Solar DC Cooking System is a Solar Energy based Cooking System which consists of solar PV panel, charge controller, battery bank and cooking oven.
Benefits:
The technology provides a Clean Cooking Environment, InvertorLess Direct Operation, Fast and Uniform Heating.
The system can also substantially curb carbon dioxide emissions, as even LPG usage emits Carbon Dioxide (CO2). It has a potential to save 1 ton CO2 emissions year/household.
Widespread usage of this system will also play a critical role in achieving the target of 200 GW of Solar energy.
It has 2025% better efficiency and more Economical in comparison with Conventional Solar based Cooking Systems which loses efficiency owing to ACDC conversion.
In addition, its simple design also ensures EaseofManufacturing and ultimately provides substantial Economic Opportunity for the MicroIndustries.
Is Solar Power AC or DC?
· Solar photovoltaic technology works on DC power. Solar panels generate direct current when the sun shines on panels, causing electrons to move and create current, thus, the current is direct as all of the electrons flow in the same direction.
What are AC and DC?
AC:
AC stands for Alternating Current.
AC means that form of voltage or current that changes polarity or direction, respectively, over time.
It is the form in which electric power is delivered to businesses and residences.
This form of electrical energy is typically used by the consumers when they plug kitchen appliances, televisions, fans and electric lamps into a wall socket.
DC:
DC Stands for Direct current.
It flows consistently in one direction.
It is used in any electronic device with a battery for a power source.
It is also used to charge batteries, so rechargeable devices like laptops and cell phones come with an AC adapter that converts alternating current to direct current.
What are the advantages of using Solar Energy?
Household air pollution from cooking fires in the home is a leading cause of respiratory disease.It kills many precious lives each year.
Harnessing free solar energy for cooking will make
Drinking water safe.
Improve health,
Build resilient families,
Break the cycle of poverty,
Empower women and children and
Boost local economies as solar cookers do not produce any smoke.
About CSIRCMER:
The Central Mechanical Engineering Research Institute (also known as CSIRCMERI Durgapur or CMERI Durgapur) is a public engineering research and development institution in Durgapur, West Bengal.
It was founded in February 1958, to develop national mechanical engineering technology, in a bid to help Indian industries.
It is a constituent laboratory of the Indian Council of Scientific and Industrial Research (CSIR).
Hansen Crater: The International Astronomical Union (IAU) has recently named a crater on the South Pole of the Moon after Arctic explorer Dr Matthew Alexander Henson.
Key Points:
The crater has been named the Hansen crater.
Matthew Henson was a Black man who became one of the first people to stand on top of the world, in 1909.
The proposal to name the crater after Henson was put forward by Jordan Bretzfelder, a visiting graduate researcher from the Lunar and Planetary Institute's Exploration Science program.
About Matthew Henson:
Henson (1866–1955) was an experienced explorer and skilled carpenter & craftsman.
He was an experienced explorer and spent 18 years with Peary exploring the Arctic.
He was hired in 1887 by explorer Robert Peary, and he eventually became a key member of Peary's expeditions, including the one that ultimately reached the North Pole.
The final push of that expedition was made by Henson, Peary, and four Inuit companions named Ooqueah, Ootah, Eningwah and Seegloo, all traveling by dog sledge.
Henson was in the lead of the group as they searched for the pole.
However, Henson did receive accolades at the time for his historic achievement because of the racist attitudes and Peary was honored for the accomplishment instead.
Artemis Programme:
The Artemis program studies planetary processes and seeks to create the infrastructure to advance human exploration at the moon and, eventually, Mars.
This programme was launched by the National Aeronautics and Space Administration (NASA).
Note: Henson Crater is located in the Moon's south pole, between Sverdrup and de Gerlache craters, in the region the Artemis program.
The Henson Crater is in the same region where the Artemis program by NASA aims to land the next generation of lunar explorers.
About International Astronomical Union (IAU):
International Astronomical Union (IAU) is a nongovernmental organization set up with the objective of advancing astronomy in all aspects such as promoting astronomical research, outreach, education, and development through global cooperation.
It was founded in 1919.
It is headquartered in Paris, France.
Fire Detection and Protection system: The Ministry of Road Transport & Highways (MoRTH) has issued a Draft Notification on 21st September 2021 for introducing the Fire Alarm System and Fire Protection System in the Passenger (or Occupant) Compartment in buses, through an amendment in AIS (Automotive Industry Standard)135.
Key Points:
Currently, fire detection, alarm and suppression systems are notified for fires originating from the engine compartment only.
The draft notification is intended for fire detection and protection in the passenger compartment for Type III buses.
Note: 'Type III' buses are those designed and constructed for long distance seated passenger transport) and School Buses.
A water mist based active fire protection system has been designed and developed by MoRTH in consultation with various stakeholders, including DRDO alongwith a fire alarm system.
Simulation studies have demonstrated that the designed system is able to manage the temperature in the passenger compartment within 50 degree C centigrade in less than 30 seconds of mist operation.
What is the AIS and TAC certification for India?
About AIS Certification:
The Automotive Industry Standards (India AIS) are issued by the Ministry of Road Transport and Highways (MoRTH), which is the ministry regulating the automotive sector in India.
AIS certification was introduced in 1989 with the adoption of the India Central Motor Vehicles Rules (CMVR).
AIS certification is required for automotive components.
These products all have in common that they are subject to safety or electromagnetic compatibility requirements.
Products Covered by AIS Certification:
Currently it concerns for example the following products:
Automotive Electronics
Tyres
Seat belts
Door locks
Brake Hoses
Lights
Fuel tanks
About TAC:
TAC is the abbreviation for Type Approval Certificate.
TAC is issued for products that need to meet special technical and safety requirements.
TAC approval must be obtained before the product is introduced to the market.
Morth (Ministry of Road Transport and Highways) is responsible for issuing the certification.
About MoRTH:
MoRTH refers to the Ministry of Road Transport and Highways.
The Ministry of Road Transport and Highways is a ministry of the Government of India (GoI).
Morth is the apex body for formulation and administration of the rules, regulations and laws relating to road transport, transport research.
Its task is also to increase the mobility and efficiency of the road transport system in India.
It was founded in July 1942.
The current Union Minister of Morth is Nitin Gadkari .
Chang'e5 probe: China recently presented the earlystage findings of Chang'e5 probe, which use geological mapping to link 'exotic' fragments in the collected samples to features near the landing site.
Background:
On December 16, 2020, China's Chang'e5 lunar mission delivered to Earth nearly 2 kg of rocky fragments and dust from the Moon.
The Chang'e5 landed on the western edge of the nearside of the Moon in the Northern Oceanus Procellarum also known as the Ocean of Storms, on the near side of the moon on December 1.
This is one of the youngest geological areas of the Moon with an age of roughly two billion years.
The materials scraped from the surface comprise a loose soil that results from the fragmentation and powdering of lunar rocks over billions of years due to impacts of various sizes.
Scientists carried out the storage, analysis and research of the country's first samples collected from the extraterrestrial object.
The Findings:
According to the Europlanet Society, the studies presented by Qian are as follows:
90% of the materials collected by Chang'e5 likely derive from the landing site and its immediate surroundings, which are of a type termed 'mare basalts'.
These volcanic rocks are visible to us as the darker grey areas that spilled over much of the nearside of the Moon as ancient eruptions of lava.
Yet 10% percent of the fragments have distinctly different, 'exotic' chemical compositions.
The distinct 10% fragments may preserve records of other parts of the lunar surface as well as hints of the types of space rocks that have impacted the Moon's surface.
About Chang'e5 probe:
It is an unmanned spacecraft by China.
The probe is named after the mythical Chinese moon goddess.
The rocket comprises of the four following parts:
An orbiter,
A returner,
An ascender
A lander
The Chang'e5 mission is expected to realize four "firsts" in China's space history. They are as follow:
The first time for a probe to take off from the surface of the Moon.
The first time to automatically sample the lunar surface.
The first time to conduct unmanned rendezvous and docking in lunar orbit.
The first time to return to Earth with lunar soil samples in escape velocity.
The objective of the mission was to bring back lunar rocks, the first attempt by any nation to retrieve samples from the moon in four decades.
Vishnuonyx: Researchers from the Universities of Tübingen and Zaragoza have recently discovered the fossil of a previously unknown species, which they have named Vishnuonyx neptuni, meaning 'Neptune's Vishnu'.
Key Highlights:
The species was discovered from a 11.4millionyearold strata in the area of Hammerschmiede, which is a fossil site in Bavaria, Germany that has been studied for about 50 years
This is the first discovery of any member of the Vishnuonyx genus in Europe; it is also it's most northern and western record till date.
Fossils of these now extinct otters were first discovered in sediments found in the foothills of the Himalayas.
This newly found fossil indicates that it had travelled as far as Germany.
The discovery has been described in the Journal of Vertebrate Paleontology.
Key Facts:
Vishnuonyx were midsized predators that weighed, on average, 1015 kg.
Between 12.5 million and 14 million years ago, Vishnuonyx, members of a genus of otters, lived in the major rivers of southern Asia.
Before this, the genus was known only in Asia and Africa (recent findings show that Vishnuonyx reached East Africa about 12 million years ago).
pgSIT:
Using Clustered Regularly Interspaced Short Palindromic Repeats (CRISPR)based genetic engineering, the scientists at the University of California San Diego have recently created a new technology for controlling mosquitoes.
Highlights:
pgSIT stands for precisionguided Sterile Insect Technique".
Sterile Insect Technique (SIT) is an environmentally safe and proven technology to suppress wild populations.
Details of the pgSIT have been described in Nature Communications.
Note: Mosquitoes infect millions each year with debilitating diseases such as malaria and dengue.
Key Details:
To advance its utility, a novel CRISPRbased technology is termed as precisionguided sterile insect technique (pgSIT).
The pgSIT is a new scalable genetic control system that uses a CRISPRbased approach to engineer deployable mosquitoes that can suppress populations.
Males don't transmit diseases so the idea is to release more and more sterile males.
Therefore, the population can be suppressed without relying on harmful chemicals and insecticides.
It alters genes linked to male fertility—creating sterile offspring—and female flight in Aedes aegypti, the mosquito species responsible for spreading diseases including dengue fever, chikungunya and Zika.
The pgSIT uses CRISPR to sterilize male mosquitoes and render female mosquitoes (which spread disease) flightless.
According to the release, the system is selflimiting and is not predicted to persist or spread in the environment, two safety features that should enable acceptance for this technology.
The scientists have stated that the pgSIT eggs can be shipped to a location threatened by mosquitoborne disease or developed at an onsite facility that could produce the eggs for nearby deployment.
Once the pgSIT eggs are released in the wild, sterile pgSIT males will emerge and eventually mate with females, driving down the wild population as needed.
About CRISPR:
Clustered Regularly Interspaced Short Palindromic Repeats (CRISPR) is a gene editing technology.
It replicates natural defence mechanisms in bacteria to fight virus attacks, using a special protein called Cas9.
CRISPRCas9 technology behaves like a cutandpaste mechanism on DNA strands that contain genetic information.
The specific location of the genetic codes that need to be changed, or edited, is identified on the DNA strand, and then, using the Cas9 protein, which acts like a pair of scissors, that location is cut off from the strand.
A DNA strand, when broken, has a natural tendency to repair itself.
Scientists intervene during this autorepair process, supplying the desired sequence of genetic codes that binds itself with the broken DNA strand.
CRISPRCas9 is a simple, effective, and incredibly precise technology with potential to revolutionize human existence in future.
Imp Info: Emmanuelle Charpentier of France and Jennifer A Doudna of the USA were awarded the 2020 Nobel Prize in Chemistry for developing CRISPR/Cas9 genetic scissors.
Source: IE & SD
Transparent Ceramics: Indian researchers, for the first time in India, have recently developed transparent ceramics, reaching theoretical transparency through a technique called colloidal processing followed by simultaneous application of temperature and pressure.
Key Details:
The material can be used for thermal imaging applications, especially in harsh service conditions and personal protection systems such as face shields, goggles and helmets.
These transparent ceramics is a new class of advanced materials with unique transparency and excellent mechanical properties.
The materials can be designed not only for transparent to visible light but also for ultraviolet (UV), Infrared (IR), and Radiofrequency (RF), giving opportunity for diverse applications.
Though produced by different countries globally, transparent ceramics are restricted in supply as they can be used for strategic applications.
This research has been published in the journal 'Materials Chemistry and Physics' recently.
With potential applications in infantry personal protection systems involving thermal imaging such as helmets, face shields, and goggles, these transparent ceramics developed in India is a step towards Atmanirbhar Bharat.
Strophodus jaisalmerensis: In a rare discovery, teeth of new species of hybodontshark of Jurassic age have been reported for the first time from Jaisalmer in Rajasthan.
Highlights:
As per a statement released on September 15, 2021 by the mines ministry of India, the "rare" and newly discovered crushing teeth represent a new species named by the research team as Strophodusjaisalmerensis.
The discovery was made by a team of officers from the Geological Survey of India (GSI), Western Region, Jaipur.
This finding has been published in Historical Biology, Journal of Palaeontology of International repute
Hybodont sharks have been reported for the first time from the Jurassic rocks (approximately, between 160 and 168 millionyearsold) of the Jaisalmer region of Rajasthan.
Key Points about Hybodonts:
Hybodonts, an extinct group of sharks, was a dominant group of fishes in both marine and fluvial environments during the Triassic and early Jurassic time.
However, hybodont sharks started to decline in marine environments from the Middle Jurassic onwards until they formed a relatively minor component of openmarine shark assemblages.
Hybodonts finally became extinct at the end of the Cretaceous time 65 million years ago.
Significantly, the newly discovered crushing teeth from Jaisalmer represent a new species named by the research team as Strophodus jaisalmerensis.
The genus Strophodus has been identified for the first time from the Indian subcontinent and is only the third such record from Asia, the other two being from Japan and Thailand.
The new species has recently been included in the Shark references.com, an international platform operating in association with International Union for Conservation of Nature (IUCN), Species Survival Commission (SSC), and Germany.
Significance:
This discovery marks an important milestone in the study of Jurassic vertebrate fossils in the Jaisalmer region of Rajasthan, and it opens a new window for further research in the domain of vertebrate fossils.
About Geological Survey of India (GSI):
The Geological Survey of India (GSI) is a scientific agency of India.
The GSI was set up on 4 March 1851 primarily to find coal deposits for the Railways.
Over the years, GSI has not only grown into a repository of geoscience information required in various fields in the country but has also attained the status of a geoscientific organisation of international repute.
Its main functions relate to creating and updating of national geoscientific information and mineral resource assessment.
BRICS Young Scientists Forum: The 6th BRICS Young Scientist Forum was conducted on September 17, 2021 in India by Science and Technology (DST), in collaboration with National institute of Advanced Studies, Bengaluru (NIAS).
Highlights:
The Secretary Department of Science and Technology Dr Renu Swarup, highlighted the importance of cooperation, collaboration and connections for science to move forward, at the BRICS Young Scientists Forum.
Background:
India at the 6th BRICS Summit in Fortaleza Brazil (July 2014) had came up with the idea of creation of BRICS Young Scientists Forum.
The proposal was put forward to develop an engaging and innovative mechanism to network and connect the BRICS youth.
About BRICSYSF:
The BRICSYSF summits were first hosted by India in Bengaluru in 2016, followed by China in 2017, South Africa in 2018, Brazil in 2019, and Russia in 2020.
This year the fourday conclave started on 13 September 2021 would end on 16 September.
The best young scientist with an idea on innovation would be awarded at the BRICSYSF 2021.
Young innovator prize has been one of the focuses of the BRICSYSF and the award is supported by the DST, Government of India (GoI).
The next conclave would be organized by China in 2022.
BRICSYoung Innovator Prize:
India's first BRICSYoung Innovator Prize was started in 2016.
It was aimed at recognizing and rewarding the best innovation projects representing technological innovation and a potential contribution to the science and technology sector for the benefit of the BRICS countries.
In this the winner gets award money of USD 25000. China hosted the 2nd BRICS YSF in 2017.
Private EarthCircling Trip: SpaceX recently launched four amateurs on its first ever private flight.
Key Highlights:
It was for the first time that a spacecraft circled Earth with an allamateur crew and no professional astronauts.
Earthcircling trip was started onboarding two contest winners, a health care worker as well as their rich sponsor.
The four amateur astronauts are travelling to an altitude of 357 miles (575 kilometres) above the surface of the Earth.
They will be encircling the Earth in the private flight which is much further and deeper into space than the International Space Station (ISS), for three days.
Their flight will splash down off the Florida coast by September 19th.
Who is leading the flight?
The trip is being sponsored by Jared Isaacman, a 38yearold billionaire and philanthropist with pilot training. He is the founder and chief executive officer (CEO) of payment processor Shift4 Payments Inc, and also the mission commander of the spaceflight, having chosen the rest of the crew himself through a competition.
Isaacman is the third billionaire to launch so far, following the brief spaceskimming flights of Virgin Galactic's Richard Branson and Blue Origin's Jeff Bezos in July 2021.
Apart from this, Arceneaux is flying who is set to become the youngest American in space as well as the first person with prosthesis, a titanium rod in her left leg, to travel space.
Chris Sembroski, a US Air Force veteran who now works as an aerospace data engineer for Lockheed Martin in Seattle is also part of the crew.
The other member is Sian Proctor, a 51yearold geoscientist in Phoenix who was almost selected to become an astronaut for NASA in 2009.
Space Tourism:
This flight is the first entry in the competition for space tourism dollars by SpaceX founder Elon Musk.
About Space Exploration Technologies Corp. (SpaceX):
Space Exploration Technologies Corp., trading as SpaceX, is an American aerospace manufacturer and space transportation services company.
It was founded on 6 May 2002 by Elon Musk with the goal of reducing space transportation costs to enable the colonization of Mars.
This privately held company is headquartered in Hawthorne, California, United States.
SpaceX manufactures Falcon 9 and Falcon Heavy launch vehicles, rocket engines, crew spacecraft, Dragon cargo, and Starlink communications satellites.
INSPIRESat1 CubeSa:
The Indian Institute of Space Science and Technology (IIST) recently stated that INSPIRESat1 CubeSat, which was developed under the International Satellite Program in Research and Education (INSPIRE), is set for launch.
Key points:
This small satellite weighs less than 10 kg.
The satellite equipped with a Compact Ionosphere Probe for studying the earth's ionosphere will be placed in a low earth orbit.
It will be launched aboard an upcoming Polar Satellite Launch Vehicle (PSLV) mission of the Indian Space Research Organization (ISRO).
The onboard computer and electrical power supply of INSPIRESat1 were designed and developed by students of IIST.
INSPIRESat1 is a collaborative effort by the Laboratory for Atmospheric and Space Physics (LASP) at the University of Colorado Boulder in the U.S., the National Central University, Taiwan, and the Nanyang Technological University in Singapore, apart from the IIST.
Aim:
The INSPIRE programme aims to provide a constellation of Earth and space Weather.
About Ionosphere:
The ionosphere is where Earth's atmosphere meets space.
It is a very active part of the atmosphere, and it grows and shrinks depending on the energy it absorbs from the Sun.
The name ionosphere comes from the fact that gases in these layers are excited by solar radiation to form ions, which have an electrical charge.
The ionosphere stretches roughly 50 to 400 miles above Earth's surface, right at the edge of space.
Along with the neutral upper atmosphere, the ionosphere forms the boundary between Earth's lower atmosphere where we live and breathe and the vacuum of space.
Importance of Ionosphere:
The ionosphere is the part of the atmosphere that is ionized by solar radiation.
It plays an important role in atmospheric electricity and forms the inner edge of the magnetosphere.
It has practical importance because, among other functions, it influences radio propagation to distant places on the Earth.
GPS and Radio signals travel through this layer of the atmosphere or rely on bouncing off the ionosphere to reach their destinations.
However, in both cases, changes in the ionosphere's density and composition can disrupt these signals.
Note:
This boundary to space is right where many of our Earthorbiting satellites hang out, including the International Space Station.
That means these satellites can be affected by the constantly changing conditions in the ionosphere — including sudden swells of charged particles that increase drag on satellites and shorten their orbital lifetimes, or how long they can continue orbiting Earth.
Dinosaurs in India: In a major discovery, footprints of three species of dinosaurs have been found in the Thar Desert in Rajasthan's Jaisalmer district.
They were found near Jaisalmer's Thaiat village.
Key Points:
The discovery of these footprints is proving the presence of the giant reptiles in the western part of the State, which formed the seashore to the Tethys Ocean during the Mesozoic era.
The footprints, made in the sediment or silt of the seashore, later become permanently stonelike.
They belong to three species of dinosaurs Eubrontes cf. giganteys, Eubrontes glenrosensis and Grallator tenuis.
The Giganteus and Glenrosensis species have 35 cm footprints while the footprint of the third species was found to be 5.5 cm.
The footprints were 200 million years old.
The dinosaur species are considered to be of the theropod type, with the distinguishing features of hollow bones and feet with three digits.
Eubrontes could have been 12 to 15 m long and weighed between 500 kg and 700 kg, while the height of the Grallator is estimated to have been 2 m, as much as a human, with a length of up to three meters.
GSITI's 24x7 Website: The Geological Survey of India Training Institute (GSITI), Hyderaba, has recently launched its 24×7 website (https://training.gsiti.gsi.gov.in/) for round-the-clock accessibility of various online training courses on Earth Sciences to its stakeholders.
Note: GSITI is the training and capacity building wing of the Geological Survey of India (GSI)under the Ministry of Mines.
This is in tune with the Digital India Campaign of the Government of India.
About Geological Survey of India Training Institute (GSITI):
The GSITI is the third oldest survey organization in the World.

It promotes capacity building by turning out thorough-bred professionals, specialists and fundamental researchers in all fields of Geosciences and allied areas both within the department and outside.

It was established in 1976.

GSITI has expanded its operation across different geological terrains of the country by diversifying its activities over last three decades by establishing Field Training Centers (FTC), and in the process has shifted its Headquarters (HQ) to Hyderabad.

Hyderabad Centre, with a full-fledged campus of its own, is designated as headquarters for all other eight centres.

Over the last 45 years, GSITI has expanded to nine (09) training sites of GSITI located at Hyderabad, Nagpur, Lucknow, Kolkata, Shillong, Raipur, Zawar (Rajasthan), Chitradurga (Karnataka), and Kuju (Jharkhand).
Gaganyaan Service Module Propulsion System: The Indian Space Research Organization (ISRO) recently conducted a hot test on its Gaganyaan Service Module (SM) Propulsion System.
Key Points:
The test was conducted in the ISRO Propulsion Complex (IPRC), Mahendragiri, Tamil Nadu.

This was the first hot test of the System Demonstration Model (SDM) of the Gaganyaan SM Propulsion System which differs from the hot test the agency conducted on the Vikas engine.

The test was conducted for duration of 450 seconds.

The system performance was successful in meeting the test objectives and matched the pre-test predictions.

ISRO has Further plans to a series of hot tests are planned to simulate various mission conditions as well as off-nominal conditions.
About Service Module (SM):
The Service Module (SM) is part of the Gaganyaan Orbital module.

It is located below the crew module and remains connected to it until re-entry.

The SM Propulsion System consists of a unified bipropellant system consisting of five numbers of 440 N thrust engines and 16 numbers of 100 N Reaction Control systems (RCS) thrusters with MON-3 and MMH as Oxidizer and Fuel respectively.

The SDM, consisting of five numbers of 440 N engines and eight numbers of 100 N thrusters, was realised to qualify the propulsion system performance in ground.
A new test facility is established at IPRC, Mahendragiri for testing the SDM
About Gaganyaan Mission:
The Gaganyaan Mission is an ambitious space programme by the Indian Space Research Organization (ISRO).

This mission was announced by Prime Minister Narendra Modi on August 15, 2018 during his Independence Day speech.

The mission aims to send India's first human spaceflight mission.

As a part of the programme, four Indian astronaut-candidates have undergone generic space flight training in Russia.

Human Space Flight Centre which functions under ISRO is responsible for the implementation of this mission.

With the success of the Gaganyaan mission, India will become the 4th nation to launch a crewed mission into space after USSR/Russia, the US, and China.
Tests conducted by ISRO:
ISRO on July 14, 2021, successfully conducted the third long-duration hot test of the liquid propellant Vikas Engine for the GSLV MkIII launch vehicle for the Gaganyaan Mission.

Before sending humans on the spacecraft under the mission, ISRO will send two uncrewed GSLV-Mk III rockets into space.
GSLV-Mk III Rockets:
The Geosynchronous Satellite Launch Vehicle (GSLV-Mk III) will be used as the launch vehicle.

It consists of a service module and a crew module.

The service module is known as the Orbital Module which will be powered by two liquid-propellant engines.
About ISRO:
Indian Space Research Organization (ISRO) is the space agency of the Government of India (GoI) and was formed in 15 august 1969.

It superseded the erstwhile "Indian National Committee For Space Research" (INCOSPAR) which was established in 1962 by the efforts of Independent India's first prime minister' Jawaharlal Nehru' and his close aide and scientist Vikram Sarabhai.

In 1972, the GoI had set up a Space Commission and the Department of Space (DOS), bringing ISRO under the DOS.

ISRO then embarked on its mission to provide the Nation space based services and to develop the technologies to achieve the same independently.

Its vision is to "harness space technology for natural development while pursuing space science research & planetary exploration".

ISRO built India's first Satellite Aryabhata.

It is headquartered in Bangalore, India.

The current Chairman of ISRO is K sivan.
Scrub Typhus: A mystery fever was recently reported from parts of Uttar Pradesh which claimed about 40 lives, mostly children in one week.
Key highlights:
This viral fever was identified as Scrub typhus.

Scrub typhus was reported mainly from Firozabad, Agra, Mainpuri, Etah and Kasganj districts of Uttar Pradesh.
About Scrub typhus:
Scrub typhus, also known as bush typhus, is a disease caused by a bacteria called Orientia tsutsugamushi (formerly Rickettsia tsutsugamushi).
Note: The name of the bacterium is of Japanese origin. The word "tsutsuga" means illness and "mushi" means insect.
Scrub typhus is spread to people through bites of infected chiggers (larval mites).

Bite marks are found on the armpit, genitalia or neck.
It is a rare zoonotic disease (which can be transmitted from animals to humans) with symptoms similar to any viral fever.

Doxycycline, an antibiotic, is the most common drug used for its treatment.
Symptoms of scrub typhus:
Symptoms of scrub typhus usually begin within 10 days of being bitten.

Signs and symptoms may include:
Fever and chills

Headache

Body aches and muscle pain

A dark, scab-like region at the site of the chigger bite (also known as eschar)

Mental changes, ranging from confusion to coma

Enlarged lymph nodes

Rash
In complicated cases, it could lead to pneumonia, meningo-encephalitis, gastro-intestinal bleeding, acute renal failure, and acute respiratory distress syndrome (ARDS) which can be fatal if left untreated.
Is scrub typhus curable?
According to the doctors, this disease is curable using antibiotics, but it can get out of hand when diagnosis is delayed.
History:
This disease has been named "scrub" after the type of vegetation that harbours the vector.
Note: Typhus is a Greek word meaning "fever with stupor" or smoke.
This disease took the form of an epidemic during World War II in some countries while during the Second World War; it emerged as the most dreaded disease among soldiers of the Far East.

In India, this fever broke out in an epidemic form during Second World War in West Bengal and Assam.
Different types of Typhus:
Typhus is a group of bacterial infectious diseases that include Scrub typhus, Epidemic typhus, and Murine typhus.
Scrub typhus is due to Orientia tsutsugamushi spread by chiggers.

Epidemic typhus is due to Rickettsia prowazekii spread by body lice.

Murine typhus is due to Rickettsia typhi spread by fleas.
Ubreathe Life: Indian Institutes of Technology (IIT), Ropar and Kanpur and Faculty of Management Studies of Delhi University have jointly launched a living-plant based air purifier named "Ubreathe Life".
Key Highlights:
Ubreathe Life is a living plant-based smart air-purifier that amplifies the air purification process in indoor spaces like hospitals, schools, offices or homes.

This product which has been developed by Urban Air Laboratory, a start-up company of IIT Ropar is being claimed as world's first, state-of-the-art 'Smart Bio-Filter', which can make breathing fresh.
Note: IIT Ropar is a designated iHub – AWaDH (Agriculture and Water Technology Development Hub) by the Department of Science and Technology (DST) of Government of India (GoI).
How does Ubreathe Life work?
The technology works through the air-purifying natural leafy plant.

The room air interacts with leaves and goes to the soil-root zone where maximum pollutants are purified.

The technology used in this product is the 'Urban Munnar Effect' along with patent-pending "Breathing Roots" to exponentially amplify the phytoremediation process of the plants.
What is Phytoremediation Process?
Phytoremediation is a process by which plants effectively remove pollutants from the air.
Features and Significance:
The air purifier 'Ubreathe Life' effectively improves indoor air quality by removing particulate, gaseous, and biological contaminants while increasing the oxygen levels in the indoor space through specific plants, UV disinfection and a stack of Pre-filter, Charcoal filter.

It also comprises HEPA (high-efficiency particulate air) filter which is fitted in a specially designed wooden box.

It creates a suction pressure inside the purifier and releases purified air.

The company has claimed that the specific plants tested for air-purification include Peace Lily, Snake Plant, Spider plant etc. and all have given good results in purifying indoor-air.
China's Prototype Miniature Helicopter: China has recently developed a prototype miniature helicopter for surveillance work on future Mars missions, following the historic landing of a robotic rover on the red planet a few months ago.
Key Details:
The prototype helicopter is similar to the robotic helicopter Ingenuity in appearance, which was developed by NASA for its Perseverance mission.

Chinese prototype helicopter also comprise of two rotor blades, a sensor & camera base and four thin legs. However, it does not comprise of solar panel at the top like in Ingenuity.

China has planned its first crewed mission to the Mars in 2033.
Background:
China landed a Mars rover in May in its first-ever mission to the planet, becoming the second country after the United States to do so.

NASA's most advanced rover, Perseverance, landed on the planet in February.
Perseverance Mission:
NASA's rover, Ingenuity made its inaugural flight in April, rising about 3 metres above the surface.

This was humankind's first successful deployment of a powered aircraft in a world other than Earth.

The challenge for the 1.8 kg (4 pounds) Ingenuity was the planet's thin atmosphere, which is just 1% as dense as Earth's.

To compensate for the lack of aerodynamic lift, Ingenuity was equipped with rotor blades that are larger (1.2 metres tip to tip) and spin more rapidly than for an aircraft of its size on Earth.
Fossil-Free Steel:
The first fossil free steel in the world had been manufactured in Sweden.
Key Points:
The first delivery of 'green steel' was done in Sweden by Hybrit to truck-manufacturer Volvo AB as a trial run.

SSAB, which accounts for 10% of Sweden's and 7% of Finland's carbon dioxide emissions, said the trial delivery was an "important step towards a completely fossil-free value chain".

The full-scale production of the material will begin from 2026 as Volvo plans to start production of prototype vehicles using green steel by the end of this year.
Note: The steel industry is one of the major contributors to greenhouse emissions, accounting for up to 8% of global greenhouse gas emissions.
About Fossil Free Steel:
The steel was made using Hydrogen Breakthrough Iron making Technology, which uses 100% fossil-free hydrogen instead of coal and coke.

The development for the Hybrit project, which was set up in 2016 is owned by SSAB, energy firm Vattenfall and LKAB, a mining and minerals group.

Both Vattenfall and LKAB are owned by the Swedish state.

The idea underpinning Hybrit is to use "100% fossil-free hydrogen" rather than coal and coke in steel production.

HYBRIT started test operations at its pilot plant for fossil-free steel in Lulea, northern Sweden, a year ago.

The company aims to replace coking coal, traditionally needed for ore-based steel making, with fossil-free electricity and hydrogen.

Hydrogen is a key part of the EU's plan to reach net zero greenhouse gas emissions by 2050.
NeoBolt:
Indian Institute of Technology (IIT) Madras has developed India's first indigenous motorised wheelchair vehicle called NeoBolt.
Key Details:
The researchers collaborated extensively with organizations and hospitals working for people with locomotor disabilities and built the products after factoring in their experiences and making constant design adjustments.

It has been developed to empower wheelchair users with a convenient, safe and low-cost mode of outdoor mobility as compared to cars, auto rickshaws and modified scooters.

According to IIT Madras, the wheelchair will be available to users at an approximate price of ₹55,000.
About NeoBolt:
NeoBolt can be used not only on roads but even on uneven terrains.

It has a maximum speed of 25 kmph.

It is powered by a Lithium-Ion Battery.

It can travel up to 25 km per charge.

It is a motor-powered attachment that converts the wheelchair into a safe, road-worthy vehicle that can navigate any kind of terrain that we may normally encounter — drive through unpaved streets or climb a steep gradient. And do this comfortably as it has suspensions to absorb the shocks.
Who developed the wheelchair?
NeoBolt was developed by a team led by Prof. Sujatha Srinivasan, Department of Mechanical Engineering, IIT Madras.
Note: Prof. Sujatha Srinivasan also led the team that developed India's first indigenously-designed Standing Wheelchair called 'Arise,' which enables a wheelchair user to shift from sitting to standing position.
It has been commercialized through a startup called 'NeoMotion'.
The Startup has been co-founded by Prof. Sujatha Srinivasan and an IIT Madras Alumnus Swostik Sourav Dash, who is the CEO of NeoMotion.
Significance:
It is estimated that around three lakh wheelchairs are sold annually in India, of which 2.5 lakh are imported.

Nearly 95% of all wheelchairs sold in India are 'one-size-fits-all,' which restricts mobility, damages health, and lowers self-confidence.

Products with features comparable to NeoBolt are also available in the global market but are at least three to five times more expensive.

NeoFly and NeoBolt developed by the IIT Madras Team are intended at addressing these issues.
Yuktdhara:
The Union Minister of State (Independent Charge) for the Ministry of Science and Technology, Jitendra Singh recently launched a new Geospatial Planning Portal under Bhuvan named "Yuktdhara" under Bhuvan.
Yuktdhara has been launched to enable the planning of new MGNREGA (Mahatma Gandhi National Rural Employment Guarantee Act) assets using Remote Sensing and GIS-based information.
Key points about Yuktdhara:
The Yuktdhara portal has been jointly developed by ISRO and the Ministry of Rural Development.

The portal will serve as a repository of assets (Geotags) created under various national rural development programmes such as MGNREGA, Integrated Watershed Management Programme, Per Drop More Crop and Rashtriya Krishi Vikas Yojana etc., along with field photographs.

It would ensure the quality of the plan, enable a long term monitoring of the assets created over the years for relevance, and facilitate identification of new works for resource allocation.
Additional Info:
Shri Jitendra Singh also holds the portfolio of the Ministry of Earth Sciences and Union Minister of State for Prime Minister's Office; Ministry of Personnel, Public Grievances and Pensions; Department of Atomic Energy and Department of Space.
About Ministry of Rural Development:
Ministry of Rural Development: The Ministry of Rural Development is a branch of the Government of India (GoI).

It was founded in June 2011.

It is entrusted with the task of accelerating the socio-economic development of rural India.

Its focus is on health, education, drinking water, housing and roads.

The ministry has two departments which are
Department of Rural Development and

Department of Land Resources.
Note: On July 7, 2021, during the first cabinet reshuffle of the second Modi Ministry, Narendra Singh was replaced by Giriraj singh as the Union Minister of Rural Development.
Havana Syndrome:
Recently, US Vice-President Kamala Harris's flight to Vietnam was delayed by several hours due to an "anomalous health incident" with similarities to so-called Havana syndrome.
About Havana Syndrome:
The mysterious syndrome first affected people at the US and Canadian embassies in Havana in 2016 and 2017.

This mysterious illness came to be called the "Havana Syndrome".

Some officials called it anomalous health incidents while some called attacks.

In 2018, U.S. diplomats in China reported problems similar to those reported in Cuba, as did undercover CIA agents working in other countries with partner agencies to counter Russian covert operations.

Most recent cases were reported in Asia in 2018 and in central Europe in 2021.
Causes:
The cause of Havana syndrome has sparked several theories — from a 'microwave attack' to weapons that focused on ultrasound, poison, and even a reaction to crickets.

However, in December 2020, a report by the National Academies of Sciences (NAS) found "directed energy beams" as a "plausible" cause of the Havana Syndrome.
Symptoms:
The patients said they heard strange sounds and experienced odd physical sensations in their hotel rooms or homes.

They said they had symptoms of nausea, severe headaches, fatigue, dizziness, sleep problems and hearing loss.
What action has been taken by the US Government?
In 2017, Donald Trump accused Cuba of perpetrating unspecified attacks causing these symptoms.

However, Havana denied this accusation.

The U.S. reduced staff at their embassy to a minimum in response.

Now, State Department and the Central Intelligence Agency have established an internal task force to investigate the matter. Helping American Victims Afflicted by Neurological Attacks (HAVANA) Act was also passed unanimously in Congress.

It will authorize additional medical and financial support to the intelligence officers and diplomats affected by the bill. Bill has also been introduced in the House.
Science & Technology Affairs Current Affairs - August 2021
MoU between India and USA:
The Union Cabinet chaired by Shri Narendra Modi, on 18th august 2021, approved a pact between India and the United States on cooperation in the field of geology.
The approval was given for the signing the Memorandum of Understanding (MoU) between Geological Survey of India (GSI), Ministry of Mines, the Government of the Republic of India, and the Florida International University (FIU) board of trustees on behalf of its Department of Earth and Environment, College of Arts, Sciences and Education, United States of America on cooperation in field of Geology.
Key Details:
The identified area of cooperation between the two Participants will be as follows:
Development of the geological knowledge, research regarding geologic and tectonic environment of post collisions magmatism in India-Asia collisional margin, geologic history and tectonics of the Eastern Himalayan Syntaxis.

Developing cooperative projects in the fields of regional geological, geochemical, petrological and multi-isotopic studies related to the evolution of post collisional magmatic belts (Ladakh Plutons).

Exchange of information on technology and geoscientific data.

The cooperation will also be for the exchange of information on technology and geoscientific data and other areas of mutual interest to be decided upon by the parties.
Benefits:
The MoU will provide an institutional mechanism between GSI and the FIU on cooperation in the field of Geology.
About GSI:
The Geological Survey of India (GSI) is a scientific agency of India.

It was founded in 1851.

It is a Government of India (GoI) Ministry of Mines organization.

It is one of the oldest of such organizations in the world and the second oldest survey in India after Survey of India (founded in 1767), for conducting geological surveys and studies of India.

It is also the prime provider of basic earth science information to government, industry and general public, as well as the official participant in steel, coal, metals, cement, power industries and international geoscientific forums.
Tomato leaf curl New Delhi virus (ToLCNDV):
Scientists of the National Institute of Plant Genomics Research (NIPGR) have unraveled an effective defense strategy deployed by a resistant tomato cultivar against Tomato leaf curl New Delhi virus.
Key Points:
Tomato leaf curl New Delhi virus (ToLCNDV) infection causes severe losses in tomato yield worldwide.

Lack of information on resistance (R) genes against ToLCNDV has considerably retarded the pace of crop improvement against this rapidly spreading pathogen.

Several attempts have been made to identify antiviral genes against ToLCNDV and related viruses.

Scientists from DBT Autonomous Institution, National Institute of Plant Genomics Research (NIPGR) report an effective defense strategy deployed by a resistant tomato cultivar against ToLCNDV.

It employs Sw5a (R gene) that recognizes AC4 protein (viral effector) of ToLCNDV to restrict virus spread.

These findings could be translated into development of resistance in susceptible cultivars of tomato through modern breeding or molecular approaches.
About Tomato leaf curl New Delhi virus (ToLCNDV):
Tomato leaf curl New Delhi virus (ToLCNDV) is a bipartite, single-stranded DNA virus transmitted by the whitefly, Bemisia tabaci.

It was first described on tomatoes in India in 1995 (initially as ToLCV-India).

ToLCNDV was initially found on Solanum lycopersicum (tomato), and then on other Solanaceae such as Solanum melongena (aubergine), chili pepper (Capsicum spp.) and Solanum tuberosum (potato).

Following its discovery in India, other Asian countries also reported the occurrence of ToLCNDV on a rather wide range of crops.

ToLCNDV was first detected in Europe in 2012, affecting zucchini squash crops in Spain, with subsequent detections in Tunisia, Italy and Morocco.
ToLCNDV a Threat:
ToLCNDV is responsible for severe outbreaks of disease in cucurbit crops in the Mediterranean basin and represents a serious threat to economically important solanaceous crops in the region.
About NIPGR:
The National Institute of Plant Genome Research (NIPGR) (formerly known as National Centre for Plant Genome

Research) is an autonomous institution aided by the Department of Biotechnology, Government of India (GoI).

The Institute's establishment coincides with the 50th anniversary of India's independence as well as the birth anniversary of Prof. (Dr.) J. C. Bose.

The formal announcement was made on November 30th 1997.

The Institute started to function in the year 1998 with the mandate to undertake, promote and co-ordinate research, train workers and to serve as information resource in identified aspects of plant genomics to build a frontline institution.
Visceral Leishmaniasis:
Indian researchers have developed a non-invasive, easy to administer, cost-effective, and patient compliant potential therapeutic strategy against Visceral Leishmaniasis.
Key Highlights:
A team led by Dr. Shyam Lal from the Institute of Nano Science and Technology (INST), an autonomous institute of the Department of Science and Technology (DST), Government of India (GoI) has developed a smart and intelligent nanocarrier.

This nanocarrier has been developed utilizing the natural intrinsic Vitamin B12 pathway present in human body that can mitigate stability challenges and drug-associated toxicity.

The research was supported under the DST-SERB Early Career Research Award and published in Materials Science & Engineering C'.
Their strategy based on nano carrier-based oral drugs coated with Vitamin B12 enhanced oral bioavailability and efficacy of the therapy by more than 90%.
About Visceral Leishmaniasis:
Visceral Leishmaniasis (VL) is a complex infectious disease transmitted by the bite of female Phlebotomine sandflies.
It is a neglected tropical disease that affects millions annually, making it the second most common parasitic killer after malaria.
World Mosquito Day:
The World Mosquito Day is observed on 20 August annually across the globe.
Why is World Mosquito Day observed?
The day is observed for the following reasons:
To raise awareness about the causes of malaria and how it can be prevented.

To highlight the efforts of healthcare officials, NGOs, and others in fighting diseases caused by malaria.

This day is a global commemoration of Sir Ronald Ross' discovery in 1897 that female Anopheles mosquitoes transmit malaria between humans.

On this day, every year, awareness is created around diseases caused by mosquitoes.
Note:
The method of transmission begins with introducing the parasite into the human's blood through the bite of a mosquito.

There are several different mosquitoes that act as vectors for different diseases.

Aedes mosquitoes cause chikungunya, dengue fever, yellow fever, lymphatic filariasis, rift valley fever, and zika.

Anopheles causes malaria, lymphatic filariasis (in Africa).

This transmission of diseases from animals to humans is a process called Zoonosis.
Theme of 2021:
This year amid the coronavirus pandemic, the theme of World Mosquito Day 2021 is "Reaching the zero-malaria target".
History:
On 20th August 1897, Sir Ronald Ross discovered that Anopheles mosquitoes were responsible for the transmission of the malaria parasite.

This discovery by the British doctor brought a significant impact on the health industry, ensuring humans are safeguarded or prevented by all means.

To mark this breakthrough discovery in the fight against malaria, 20 August was established and observed to celebrate the discovery of the link between mosquitoes, humans, and malaria.
About Malaria:
Malaria is a preventable and treatable infectious disease transmitted by mosquitoes.

However, it is a life-threatening disease if left untreated.

It's typically transmitted through the bite of an infected Anopheles mosquito.

Infected mosquitoes carry the Plasmodium parasite.

When this mosquito bites a human, the parasite is released into their bloodstream.
What causes malaria?
There are four kinds of malaria parasites that can infect humans:
Plasmodium vivax

P. ovale

P. malariae

P. falciparum
P. falciparum causes a more severe form of the disease and those who contract this form of malaria have a higher risk of death. An infected mother can also pass the disease to her baby at birth. This is known as congenital malaria.
Malaria is transmitted by blood, so it can also be transmitted through:
An organ transplant

A transfusion

Use of shared needles or syringes
Symptoms of Malaria:
The symptoms of malaria typically develop within 10 days to 4 weeks following the infection. In some cases, symptoms may not develop for several months. Some malarial parasites can enter the body but will be dormant for long periods of time.
Common symptoms of malaria include:
Shaking chills that can range from moderate to severe

High fever

Profuse sweating

Headache

Nausea

Vomiting

Abdominal pain

Diarrhea

Anemia

Muscle pain

Convulsions

Coma

Bloody stools
Diagnoses of Malaria:
A malaria blood test is done using a microscope to examine the blood for signs of the malaria parasite* or via malaria Rapid Diagnostic Tests that permit reliable detection of malaria infections particularly in remote areas with limited access to good quality microscopy services.
Treatment:
Medication is used for malaria treatment, with Artemisinin Combination Therapy being the recommended first-line treatment.
Significance:
Malaria is typically found in tropical and subtropical climates where the parasites can live.

Malaria kills more than one million people each year.

Most of the affected are in sub-Saharan Africa, where malaria is the leading cause of death for children under five.

Among the many nations, India too has become a favourable breeding place for many mosquito species making it the hotspot for diseases like dengue, yellow fever, malaria, and others.

Malaria is a global emergency that affects mostly poor women and children, malaria perpetuates a vicious cycle of poverty in the developing world.
IIGF - 2021: Shri Anil Kumar Jain, the CEO, National Internet Exchange of India (NIXI), Ministry of Electronics & Information Technology (MeitY) and the Chairman of Coordination Committee, India Internet Governance Forum 2021 (IGF), announced the launch of India Internet Governance Forum (IIGF) - 2021.
Highlights:
The Ministry of Electronics and Information and Technology (MeitY) informed that India's first IIGF will be held for three days starting from October 20, 2021.

The launch of IIGF - 2021 was announced on 9th August 2021 in a Press Conference, organized at Electronics Niketan, New Delhi.

The theme of this year's meeting is "Inclusive Internet for Digital India".

With this announcement, the Indian chapter of the United Nations based forum namely Internet Governance Forum has begun.

Pre-IIGF engagement events will also start from August 2021 across colleges and universities.

Pre-events will be organized with the aim of engaging students and youth to participate in main event in October.
About IIGF:
Full form of IIGF is 'India Internet Governance Forum.'

IIGF is an Indian version of Internet Governance Forum under the United Nations.

It is an Internet Governance policy discussion platform to bring representatives together from various groups, considering all at par to discuss public policy issues related to the Internet.

This mode of engagement is referred to as the multi-stakeholder model of Internet Governance, which has been the key feature for the Internet's success.

The multi-stakeholder concept is well adopted by IGF (Internet Governance Forum) under United Nations and by Internet Corporation for Assigned Names and Numbers (ICANN).
IIG Coordination Committee:
Among the key members of the India Internet Governance coordination committee include Anil Kumar Jain who is named chairman, TV Ramchandran as Vice-Chairman, Jaijeet Bhattacharya as Vice Chairman, Rajat Moona as Vice-Chairman.

There are also about 12 members representing the government, civil society, industries, trusts as members.
About Internet Governance Forum (IGF):
The IGF is a multistakeholder governance group for policy dialogue on issues of Internet governance.

It brings together all stakeholders in the Internet governance debate, whether they represent governments, the private sector or civil society, including the technical and academic community, on an equal basis and through an open and inclusive process.

The establishment of the IGF was formally announced by the United Nations Secretary-General in July 2006.

It was first convened in October–November 2006 and has held an annual meeting since then.
Marburg Disease: The World Health Organization (WHO) recently said that Guinea has confirmd West Africa's first case of Marburg disease.
Key Points:
Marburg disease is a lethal virus that's related to Ebola and, like Covid-19, passed from animal hosts to humans.

This virus, which is carried by bats has a fatality rate of up to 88 %.

The virus was found in samples taken from a patient who died on August 2 in southern Gueckedou prefecture.

The discovery comes just two months after the WHO declared an end to Guinea's second outbreak of Ebola, which started last year and claimed 12 lives.

Dr Matshidiso Moeti, WHO Regional Director for Africa said that the potential for the Marburg virus to spread far and wide needed to stop it in its tracks.

WHO considers the threat "high" at the national and regional level, but "low" globally.

Previous outbreaks and sporadic cases have been reported in South Africa, Angola, Kenya, Uganda, and the Democratic Republic of the Congo.

But this is the first time the virus has been detected in West Africa.
About Marburg Virus:
Marburg virus is a hemorrhagic fever virus of the Filoviridae family of viruses.

It is a member of the species Marburg marburgvirus, genus Marburgvirus.

Marburg virus causes Marburg virus disease in humans and other primates, a form of viral hemorrhagic fever.
The Marburg virus is usually associated with exposure to caves or mines housing colonies of Rousettus bats.
The virus is considered to be extremely dangerous.
Once caught by a human, it is spread through contact with bodily fluids of infected people, or with contaminated surfaces and materials.

The disease begins suddenly, with a high fever, severe headache and discomfort.

Although there are no approved vaccines or antiviral treatments, oral or intravenous rehydration and treatment of specific symptoms improve survival rates.
World Biofuel Day: World Biofuel Day is observed on August 10 every year.
Key Points:
The day is celebrated to raise awareness about the importance of non-fossil fuels as an alternative to conventional fossil fuels and highlight the various efforts made by Government in the biofuel sector.

The development of biofuels is in sync with schemes such as Swach Bharat Abhiyan and Atmanirbhar Bharat Abhiyan.

World Biofuel Day was first observed by the Ministry of Petroleum and Gas in August 2015.
Theme of 2021:
The theme of 2021 has been announced to be "promotion of biofuels for a better environment".

The focus will be squarely on using biofuels in an optimum manner while ensuring that their adverse effects on the environment are kept at a minimum.

Raising awareness of the availability of biofuels as effective replacements for traditional fuels will also be another important objective.
Background:
In June 2021, PM Modi joined the World Environment Day event via video conferencing and declared "biofuels for a better environment" as the theme for this year's World Environment Day.
History:
In India, it is being observed by the Ministry of Petroleum & Natural Gas since 2015.

The day honours the research experiments by Sir Rudolf Diesel (inventor of the diesel engine).

It was just one day before, on August 9 in 1893, he ran an engine with peanut oil.

His experiments predicted that vegetable oil would replace fossil fuels in the subsequent century to fuel various mechanical engines.

To commemorate this achievement, the date was chosen to observe World Biofuel Day.
What is Biofuel?
Biofuels are environmentally friendly fuels whose use would go a long way in reducing carbon emissions.

They are created through renewable biomass resources (plant, or algae material, or animal waste) and therefore make a strong case for sustainable development.

They are renewable, biodegradable, and sustainable sources of energy.

As such biofuels will help meet the energy requirements of the 21st-century world without damaging the environment in the process.

Broadly Biofuels are of two types-
Primary Biofuels: The organic materials which are used in an unprocessed form such as fuelwood, wood chips and pellets, primarily for heating, cooking, electricity production.

Secondary Biofuels: The materials which result from the processing of biomass such as liquid fuels such as ethanol and biodiesel.
Biofuels are generally classified into three categories. They are
First-generation biofuels – First-generation biofuels are made from sugar, starch, vegetable oil, or animal fats using conventional technology. Common first-generation biofuels include Bioalcohols, Biodiesel, Vegetable oil, Bioethers, Biogas.

Second-generation biofuels – These are produced from non-food crops, such as cellulosic biofuels and waste biomass (stalks of wheat and corn, and wood). Examples include advanced biofuels like biohydrogen, bioethanol.

Third-generation biofuels – These are produced from microorganisms like algae.
Benefits of Biofuel:
Cleaner environment

Employment generation

Reduction of import dependence

Additional income to farmers
Indo-Bhutan Space odyssey: Indian Space Research Organization (ISRO) is set to launch a Bhutanese satellite in December 2021.
Key Details:
The development of the INS-2B satellite of Bhutan is being underway by four Bhutanese engineers who are being trained by ISRO.

The space engineers from Bhutan's department of information technology and telecom were trained from December 28 to February 25, 2021 at ISRO's UR Rao Satellite Centre in Bengaluru.
About the Training:
The training covered theoretical and technical aspects and included visits to laboratories and test facilities.

With the first phase of the satellite development already done, the second phase of training will focus on finishing touches of the satellite.
About Indo-Bhutan Space odyssey:
Space odyssey is an event showcasing India's achievements in space technology.

The event was organized by the Indian embassy in Bhutan as part of India's 75th year of Independence – 'Azadi Ka Amrit Mahotsav'.

ISRO's Scientific Secretary R Umamaheswaran, who was the keynote speaker at the event, said that ISRO plans to fly the satellite by end of this 2021 in the Polar Satellite Launch Vehicle (PSLV) mission.
Background:
Indo-Bhutan Space Cooperation:
India and Bhutan have been engaged in space cooperation with a ground Earth station for South Asia Satellite (SAS) that was inaugurated in Thimphu, Bhutan during Prime Minister Narendra Modi's visit in August 2019.

The SAS was launched by India in 2017 as a gift to the countries in the South Asia region, including Bhutan.

Under the project, New Delhi has offered increased bandwidth on an additional transponder on the satellite for Bhutan as a gift as per the country's requirement.
About ISRO:
ISRO is an abbreviation for the Indian Space Research Organization.

It is the space agency of the Government of India (GoI) and was formed in 15 august 1969.

It superseded the erstwhile "Indian National Committe For Space Research" (INCOSPAR) which was established in 1962 by the efforts of Independent India's first prime minister' Jawaharlal Nehru' and his close aide and scientist Vikram Sarabhai. In 1972, the Government of India had set up a Space Commission and the Department of Space (DOS), bringing ISRO under the DOS.

ISRO then embarked on its mission to provide the Nation space based services and to develop the technologies to achieve the same independently. Its vision is to "harness space technology for natural development while pursuing space science research & planetary exploration".

ISRO built India's first Satellite Aryabhata.

It is headquartered in Bangalore, India.

The current Chairman of ISRO is K Sivan.
ISRO's Odyssey:
Over 342 satellites of foreign countries sent to space by ISRO.

India scripted history, as the total number of customer satellites from foreign countries placed in orbit by PSLV reached 342 from more than 34 countries.

On 28th February 2021, India's Polar Satellite Launch Vehicle PSLV-C51 successfully launched Amazonia-1 along with 18 co-passenger satellites from Satish Dhawan Space Centre SHAR, Sriharikota in Andhra Pradesh.

After a flight of about 17 minutes, the vehicle injected the Amazonia-1 into its intended orbit, and in the succeeding 1 hour 38 minutes other 18 co-passenger satellites were injected in a predetermined sequence.
Note: The Aryabhata spacecraft, named after the famous Indian astronomer, was India's first satellite. It was completely designed and fabricated in India and launched by a Soviet Kosmos-3M rocket from Kapustin Yar on April 19, 1975.
Starliner Orbital Flight Test-2 (OFT-2): The launch of Boeing's uncrewed Starliner Orbital Flight Test-2 (OFT-2) has been postponed once again.
It was supposed to lift off from the Space Launch Complex-41 on Cape Canaveral Space Force Station in Florida on Tuesday.
About CST-100 Starliner:
The spacecraft is called the Crew Space Transportation-100 (CST-100).

It is part of an uncrewed test flight to the International Space Station (ISS).

The mission is part of NASA's Commercial Crew Program.
Objective:
Its objective is to make access to space easier in terms of its cost, so that cargo and crew can be easily transported to and from the ISS, enabling greater scientific research.
Features of the Starliner:
The Starliner is supposed to carry more than 400 pounds of NASA cargo and crew supplies.

It will take roughly 24 hours to reach the ISS, after which it will dock there.

The spacecraft has been designed to accommodate seven passengers or a mix of crew and cargo for missions to low-Earth orbit.

The Starliner has an innovative, weldless structure.

It is reusable up to 10 times with a six-month turnaround time.

It also features wireless internet and tablet technology for crew interfaces.
AICTE Translation Automation Artificial Intelligence Tool: The Vice President of India Shri Venkaiah Naidu recently witnessed a demonstration by the AICTE officials on a unique tool that translates English language content into 11 different Indian languages.
Key Points:
The presentation on the 'AICTE Translation Automation Artificial Intelligence Tool' was made by AICTE Chairman, Prof. Anil D. Sahasrabudhe and AICTE Chief Coordinating Officer, Dr. Buddha Chandrasekhar at Upa-Rashtrapati Nivas

The 'AICTE Translation Automation Artificial Intelligence Tool' translates English language online courses into eleven different languages. They are as follows:
Bengali

Marathi

Telugu

Tamil

Gujarati

Kannada

Malayalam

Punjabi

Assamese

Odia

Hindi
The tool is also capable of translating complex formulae, English books, research journals, Government documents and English videos.
Plastic-mixed Handmade Paper: Khadi and Village Industries Commission (KVIC) recently secured Patent registration for its innovative Plastic-mixed Handmade Paper developed to reduce plastic menace from nature.
Highlights:
The Controller of Patent, Intellectual Property of India, on on 2nd August 2021, issued the patent certificate to KVIC's Kumarappa National Handmade Paper Institute (KNHPI), Jaipur .

The plastic-mixed handmade paper was developed under Project REPLAN (REducing PLAstic from Nature).
Key Points:
This is the first of its kind project in India, where plastic waste is de-structured, degraded, diluted and used with paper pulp while making handmade paper and thus reduces plastic waste from nature.

The invention is aligned with the Prime Minister's call for fighting the menace of single-use plastic.

The technology has been developed by KVIC.

This technology uses both high & low density waste polythene.

It not only adds extra strength to the paper but also reduces the cost by up to 34%.

The product is recyclable and eco-friendly.
Eutelsat Quantum: European Space Agency (ESA) has launched the world's 1st commercial reprogrammable satellite into space aboard Ariane 5 rocket named 'Eutelsat Quantum'.
Key Details:
Eutelsat Quantum satellite was launched from French Guiana and is a fully flexible software-defined satellite.

The satellite was developed under a ESA partnership project with satellite operator Eutelsat, Airbus & Surrey Satellite Technology.

It is a sophisticated telecommunications satellite that can be completely repurposed while in space.

It will allow the user to repurpose and the satellite could be reprogrammed in real-time to suit the changing purposes of the user.

It is also capable of responding to changing demands for data transmission and secure communication during its lifespan of 15 years and will cover the areas from West Africa to Asia.

The satellite will remain in geostationary orbit for its 15-year lifespan, after which it will be safely placed in a graveyard orbit away from Earth to avoid becoming a risk to other satellites.
About Eutelsat Quantum:
Eutelsat Quantum is a UK flagship project with most of the satellite developed and manufactured by British industry.

Airbus is the prime contractor and was responsible for building the satellite's innovative payload.

Surrey Satellite Technology Ltd manufactured the new platform.

The innovative phase array antenna was developed by Airbus in Spain.
About ESA:
The European Space Agency (ESA) is an intergovernmental organization of 22 member states dedicated to the exploration of space.

ESA was founded on 30 May 1975 from the merger of the European Launcher Development Organization (ELDO) and the European Space Research Organization (ESRO), both established in 1964.

It is headquartered in Paris, France.

Its mission is to shape the development of Europe's space capability and ensure that investment in space continues to deliver benefits to the citizens of Europe and the world.

The current CEO of ESA is Johann-Dietrich Worner.
Chicken Waste Bio Diesel: John Abraham, a veterinary-doctor-turned-inventor, on July 7, 2021, finally received the patents for inventing biodiesel from slaughtered chicken waste.
Highlights:
The Indian Patent Office finally granted him the patent for inventing "biodiesel produced from rendered chicken oil" after seven-and-a-half years.

Mr Abraham works as an associate professor at the Wayanad veterinary college under the Kerala Veterinary and Animal Sciences University.

The patent was delayed as permission from the National Biodiversity Authority was needed because the key raw material going into the patented invention was a biological material locally sourced.

At present, Mr Abraham and three of his students are working on developing biodiesel from pig waste.
Background:
During 2009-12, Mr. Abraham pioneered research on producing biodiesel from the slaughter waste of broiler chicken and dead poultry birds.

He completed the research under the guidance of the late Prof Ramesh Saravanakumar (passed away awaiting the patent in November 2020), who had filed for the patents in 2014 on behalf of the Tamil Nadu Veterinary & Animal Sciences University.

After his research, Mr Abraham joined the Pookode Veterinary College, near Kalpetta in Wayanad, and in 2014 he set a ₹ 18-lakh pilot plant at the college campus with funding from the Indian Council for Agricultural Research.

In 2015, the Kochi Refinery of Bharat Petroleum's had issued a quality certificate for the biodiesel that was invented by him and since then the vehicle of the college was running on this biodiesel.
Why chicken waste was used to invent this biodiesel?
The chicken waste was used to invent this biodiesel as because birds and pigs have single stomach which offers higher fat saturation and this is easy to render oil under room temperature.
Benefits of Chicken waste biodiesel:
1 liter of biodiesel can be produced from 100 kg of chicken waste.

It offers over 38 kmpl and can be sold at 40 percent of the diesel price.

The higher mileage and lower pollution is due to the fact that chicken waste contains 62 per cent fat, offering the key energy content of Cetane at 72, while in normal diesel it is only 64.

It also increases engine efficiency by 11 per cent due to the presence of more oxygen, and reduces smoke levels by over 47 per cent.

The high Cetane value of 72 in animal fat bio-diesel leads to shorter ignition delays, providing more time for fuel combustion, leading to more efficiency and less exhaust emission

On blending side, he said, for old diesel engines his biodiesel can be blended at a ratio of 80:20, while for new CDREi engines, it the reverse--20:80.
Ganymede: The first evidence of water vapor has been discovered by the scientists in the atmosphere of Jupiter's icy moon Ganymede with the help of the Hubble Space Telescope.
Highlights:
Thermal water vapors were discovered from the icy surface, which further pointed to a sublimated water atmosphere.

Scientists used new and archival datasets from NASA's Hubble Space Telescope to make the discovery.

The results were published in the Nature Astronomy journal.
About Ganymede:
Jupiter's moon Ganymede is the largest moon and the ninth-largest celestial body in our Solar System.

Ganymede is located half a billion miles (over 600 million km) away.

Previous research has offered circumstantial evidence that Ganymede, the largest moon in the solar system, contains more water than all of Earth's oceans.

However, temperatures there are so cold that water on the surface is frozen solid.

Ganymede's ocean would reside roughly 100 miles below the crust; therefore, the water vapor would not represent the evaporation of this ocean.
How did they find this?
In 1998, the Space Telescope Imaging Spectrograph (STIS) of Hubble took the first ultraviolet pictures of Ganymede.

The images revealed a pattern in the observed emissions from the moon's atmosphere. Ganymede displayed auroral bands similar to the auroral ovals observed on the Earth and other planets with magnetic fields.

The images revealed a pattern in the observed emissions from the moon's atmosphere. Ganymede displayed auroral bands similar to the auroral ovals observed on the Earth and other planets with magnetic fields.

These images served as evidence that the icy moon has a permanent magnetic field.

The researchers deemed the similarities between the two ultraviolet observations to be due to the presence of molecular oxygen, O2.

The differences between the two ultraviolet observations were explained by the presence of atomic oxygen- O, which produces a signal that affects one UV colour more than the other.

In 2018, Lorenz Roth, a researcher at the KTH Royal Institute of Technology in Stockholm, Sweden, led a team of researchers who set out to capture UV spectra of Ganymede using Hubble's Cosmic Origins Spectrograph (COS) instrument to measure atomic oxygen presence.

The research was a part of a large observing programme to support NASA's Juno mission.

The study team combined data from 1998, 2010 and 2018 and to their surprise noted some contrast to the original findings.

The scientists discovered that there was hardly any atomic oxygen in Ganymede's atmosphere, in contrast to the original interpretations of the data from 1998.

This meant that there must be a whole new explanation for the difference between the UV aurora images.

Roth along with his team uncovered the explanation in the relative distribution of the aurorae in the two images.

The researchers discovered that the surface temperature of the icy moon varies strongly throughout the day and becomes sufficiently warm around noon, which leads the icy surface to release small amounts of water molecules.

The differences between the UV images were directly correlated with where the water molecules would be expected in Ganymede's atmosphere.

The researchers discovered that the water vapour originates from ice sublimation caused by the thermal escape of H2O vapour from warm icy regions.
About the JUICE Mission:
This discovery has enhanced the significance of ESA's upcoming JUpiter ICy moons Explorer (JUICE) mission, which is the first large-class mission in ESA's Cosmic Vision 2015–2025 programme.

JUICE mission is expected to be launched in 2022 and will arrive at Jupiter in 2029. The three-year long mission aims to make detailed observations of Jupiter and three of its largest moons including Ganymede

Jupiter's moon Ganymede was selected for more detailed investigation, as it provides a natural laboratory for the analysis of evolution, nature and potential habitability of icy worlds.

Ganymede is also significant given its unique magnetic and plasma interactions with Jupiter and its environment and may give an insight into the role it plays within the system of Galilean satellites.
Chandrayaan-3: Indian Space Research Organization (ISRO) is likely to launch India's third lunar mission 'Chandrayaan-3' in the third quarter of 2022.
Highlights:
The Union Minister of State (Independent Charge) Science & Technology; Minister of State (Independent Charge) Earth Sciences; MoS PMO, Personnel, Public Grievances, Pensions, Atomic Energy and Space, Dr Jitendra Singh, in a written reply in Lok Sabha said that Chandrayaan-3 is likely to be launched during the third quarter of next year on the assumption that work will proceed apace and normally henceforth.

The work on Chandrayaa-2's successor was affected due to the coronavirus pandemic and the impending lockdown.
Decoding Chandrayaan-3:
Chandrayaan-3 is a lander-and rover-specific mission.

It will demonstrate India's capability of soft landing on a celestial body, with the rover then communicating with Earth via the existing orbiter from Chandrayaan-2 and taking images 100 km from Moon's orbit.

The orbiter has an estimated lifespan of seven years.
Aim:
The unique exploration of Chandrayaan-3 aims at studying not just one area of the Moon but all the areas combining the exosphere, the surface as well as the sub-surface in a single mission.
Why exploring the Moon is imperative?
The Moon is the closest cosmic body at which space discovery can be attempted and documented.

Furthermore, the Moon is a promising testbed to showcase technologies required for deep-space missions.

Exploring the Moon will enhance the understanding of the celestial body clearly, stimulating the advancement of technology, promoting global alliances and inspiring future generations of explorers and scientists.
Why Lunar South Pole of the Moon is targeted for exploration?
The Lunar South pole is especially interesting because the lunar surface area that remains in shadow is much larger than that at the North Pole.

Further, there could be a possibility of the presence of water in permanently shadowed areas around it.

In addition, the South Pole region has craters that are cold traps and contain a fossil record of the early Solar System.
EOS-03: Union Minister of Science & Technology informed Rajya Sabha that Geo-imaging satellite "EOS-03" is scheduled for launch in third quarter of 2021.
About EOS-03:
The technology is developed by the Indian Space Research Organization (ISRO).

EOS-03 is a geo-imaging satellite for earth observation.

The satellite is capable of imaging the whole country four-five times daily.

The satellite would enable near real-time monitoring of natural disasters like floods and cyclones.

In addition to natural disasters, the satellite would also enable monitoring of water bodies, crops, vegetation conditions, and forest cover changes.
Additional Info:
Moreover, in the fourth quarter, the development of Small Satellite Launch Vehicle (SSLV) is also scheduled to launch and it has proved to be ideal for on-demand, quick turn-around launch of small satellites.
About Small Satellite Launch Vehicle(SSLV):
SSLV is a small-lift launch vehicle being developed by the Indian Space Research Organisation (ISRO).

Features: They are cost-effective, three-stage, all-solid launch vehicles with a payload capability of 500 kg to 500 km planar orbit or 300 kg to Sun-Synchronous Polar Orbit.
Benefits:
SSLV is ideal for the on-demand, quick turn-around launch of small satellites.
Launch Date: The first developmental flight of SSLV is scheduled for the fourth quarter of 2021 from Satish Dhawan Space Centre, Sriharikota.
Science & Technology Affairs Current Affairs - July 2021
NBDriver: Researchers at Indian Institute of Technology Madras (IIT-M) have developed an AI tool called NBDriver (neighbourhood driver) for use in analysing cancer-causing mutations in cells.
Key points:
IIT Madras researchers have developed an Artificial Intelligence-based Mathematical Model to identify cancer-causing alterations in cells.

This research was led by Prof. B. Ravindran, Head, RBCDSAI, and Mindtree Faculty Fellow IIT Madras and Dr Karthik Raman, Faculty Member, Robert Bosch Centre for Data Science and AI (RBCDSAI), IIT Madras, and also the Coordinator, Centre for Integrative Biology and Systems Medicine (IBSE), IIT Madras. Shayantan Banerjee, a Master's Student at IIT Madras, performed the experiments and analysed the data.

The results have been recently published in the reputed peer-reviewed International Journal Cancers.
About NBDriver:
Using simple AI techniques, the researchers from this institute have developed a new prediction algorithm called NBDriver (NEIGHBOURHOOD Driver), and then tested its performance on various open-source datasets of cancers.

This AI algorithm studies the DNA structures and characterizes the genetic changes which are responsible for causing cancer.

By looking at the neighbourhood, or context, of a mutation in the genome, it can look at harmful "driver" mutations and distinguish them from neutral "passenger" mutations.
Note:
Driver Mutation: Cancer is caused by mutation or growth of cells in the body. While cell mutation is a common phenomenon, only some mutations cause cancer. They are called driver mutations.
Passenger Mutation: Other mutations, which are a majority of all mutations, are benign and are called passengers.
This technique of looking at the genomic neighbourhood to make out the nature of the mutation is a novel and largely unexplored one.

This technique will tackle the complexity and size of DNA sequencing datasets and can greatly help in pinpointing key alternations in the genomes of cancer patients, which is difficult using present methodologies.
Significance:
Cancer is caused due to the uncontrolled growth of cells driven mainly by genetic alterations.

In recent years, high-throughput DNA Sequencing has revolutionized the area of cancer research by enabling the measurement of these alterations.

However, due to the complexity and size of these sequencing datasets, pinpointing the exact changes from the genomes of cancer patients is notoriously difficult.

NBDriver uses a relatively unexplored technique of leveraging DNA composition to pinpoint genetic alterations responsible for cancer progression, which is difficult using present methodologies.

The model will help in identifying the most appropriate treatment strategy for a patient through an approach known as "precision oncology" and "tailoring treatments" not only to a specific illness but also to a person's genetic make-up is challenging and requires extensive cataloguing of the 'driver' variants of interest.
About IIT-M:
Indian Institute of Technology Madras (IIT- M) is situated in Chennai.

It was founded in the year 1959 with financial and technical assistance from the former government of West Germany.

IIT-M was the third IIT to be established by the Government of India (GoI).
Pegasus scandal: The Pegasus scandal has recently resurfaced and revived a massive political row.
Key Details:
The scandal has resurfaced again nearly two years after it first came to light that a sophisticated spyware developed by an Israeli firm could take over the control of mobile phones without the knowledge of the owner.

This time, the scandal has grown in proportion ensnaring heavyweight politicians and influential figures.

Recently, a number of prominent news websites, including the Guardian and the Washington Post, published details of what they called global surveillance operations using Pegasus.

The surveillance reportedly targets journalists, including over 40 journalists in India, activists and other key public figures.

The reports say that over 10 governments, including India, are involved in surveillance of people using Pegasus spyware.
Who has been targeted in India?
In India, more than 40 journalists, three opposition leaders and two ministers in Prime Minister Narendra Modi's government were reported to be on the list.

This included the key opposition figure Rahul Gandhi, with two mobile phone numbers belonging to him found in the list.

However, India's government has denied using unauthorised surveillance.
What is Pegasus?
Pegasus is a type of malicious software or malware classified as a spyware.

It is military-grade spyware developed, marketed and licensed to governments across countries by NSO Group, a private Israeli company.

It can be used to infiltrate smartphones that run on both iOS abd Android operating systems and turn them int surveillance devises.

Those operating the software can even turn on a phone's camera and microphone to capture activity in the phone's vicinity.

The spyware Pegasus is apparently sold to governments around the world by NSO group, an Israeli company.
How Pegasus allegedly hacks phone?
Pegasus method of attack is called zero-click attacks that do not require any interaction from the phone's owner. The spyware can hack a device simply by giving a missed WhatsApp call.

It will change call logs without the knowledge of the user.

Once the spyware enters the device, it installs a module to track call logs, read messages, emails, calendars, internet history and gather location data to send information to the attacker.

It can also be installed manually on the device or over a wireless transceiver.

If it fails to connect with its command and control server for more than 60 days or if it si installed on the wrong device or SIM card it can self destruct and remove all traces.

An example of such an attack was revealed by WhatsApp in May 2019 when the spyware targeted vulnerability in its VoIP stack. Simply by placing a WhatsApp call to a target device, Pegasus could be installed on the phone, irrespective of whether the target answered the call or not.

Most of these attacks exploit vulnerabilities in an operating system that the phone's manufacturer may not yet know about and so has not been able to fix.
How can a user stay safe from such spyware attacks?
To stay safe a user must following the following:

Ensure that the software in a device is updated

All apps are installed directly through the official stores

No suspicious email or text should be clicked.
About NSO Group Technologies:
NSO Group Technologies (NSO standing for Niv, Shalev and Omri, the names of the company's founders) is an Israeli technology firm.

This company's spyware called Pegasus enables the remote surveillance of smartphones.

It was founded in 2010 by Niv Carmi, Omri Lavie, and Shalev Hulio.

It employed almost 500 people as of 2017, and is based in Herzliya, near Tel Aviv, Israel.
NEA Scout: National Aeronautics and Space Administration (NASA) has recently announced that its new spacecraft, named Near-Earth Asteroid Scout or NEA Scout, has completed all required tests and has been safely tucked inside the Space Launch System (SLS) rocket.
About NEA Scout:
Near-Earth Asteroid Scout, or NEA Scout, is a miniaturized spacecraft, known as a CubeSat, developed under NASA's Advanced Exploration Systems (AES) Program.

NEA Scout is one of several payloads that will hitch a ride on Artemis I, which is expected to be launched in November 2021.

It is a small spacecraft, about the size of a big shoebox.

Its main mission is to fly by and collect data from a near-Earth asteroid.

It will also be America's first interplanetary mission using special solar sail propulsion.

So far, spacecraft have been using solar energy to power them and execute critical functions.

This will be the first time that a spacecraft uses it as wind to generate thrust and move forward.

NEA Scout will use stainless steel alloy booms and deploy an aluminium-coated sail measuring 925 square feet.

The large-area sail will generate thrust by reflecting sunlight.

Energetic particles of sunlight bounce off the solar sail to give it a gentle, yet constant push.

The spacecraft will take about two years to cruise to the asteroid and will be about 93 million miles away from Earth during the asteroid encounter.
Artemis programme:
Artemis I will be an uncrewed test-flight of the Orion spacecraft and SLS rocket.

Under the Artemis programme, NASA aims to land the first woman on the Moon in 2024.

NASA also aims to establish sustainable lunar exploration programs by 2030.
Why is the study of the near-Earth asteroids important?
Despite their size, some of these small asteroids could pose a great threat to Earth.

Understanding their properties could help in developing strategies for reducing the potential damage caused in the event of an impact.

Scientists will use this data to determine what is required to reduce risk, increase effectiveness, and improve the design and operations of robotic and human space exploration.
About Near-Earth Objects (NEOs):
NEOs are comets and asteroids pushed by the gravitational attraction of nearby planets into orbits which allow them to enter the Earth's neighbourhood.

These objects are composed mostly of water ice with embedded dust particles.

NEOs occasionally approach close to the Earth as they orbit the Sun.

NASA's Center for Near-Earth Object Study (CNEOS) determines the time and distances of these objects, when their approach to the Earth is close, through the Asteroid Watch Widget.
About NASA:
It is an acronym for National Aeronautics and Space Administration.

NASA is an independent agency of the United States Federal Government responsible for the civilian space program, as well as aeronautics and aerospace research.

NASA was established in 1958, succeeding the National Advisory Committee for Aeronautics (NACA).

It is headquartered in Washington, D.C., United States.

The 14th Administrator of NASA is Senator Bill Nelson.
Pi Approximation Day: Pi Approximation Day is observed on 22 July reach year to celebrate the usage of the mathematical constant π (pi).
Key Highlights:
Pi Approximation Day is also known as Casual Pi Day.

The value of Pi is 3.14, which is a result of the fraction 22/7 - the date.

However, some people also celebrate the Pi Approximation Day on 14 March, as the simplified value of the fraction is 3.14, which turns to be 14/3 in the date format.
Significance:
Pi plays a significant role in the calculation of the circumference of a circle and even NASA uses it for calculating spacecraft trajectories. The value of Pi is 22/7 or 3.14, which makes the number constant and an irrational number.

Pi is used in several mathematical problems consisting of the lengths of arcs or other surfaces like the areas of ellipses, sectors, and other curved surfaces, and the volumes of various solids.

Pi is also used in several formulas of physics and engineering to describe such periodic phenomena as the motion of pendulums, the vibrations of strings, and alternating electric currents.
Note: The legendary Indian Mathematician Srinivasa Ramanujan early in the 20th century developed exceptionally efficient ways of calculating Pi and was later incorporated into computer alogrithms.
History of Pi Approximation day:
The importance of Pi was recognised 4000 years ago.

Babylonians used approximated values of Pi to calculate the dimensions of circles. It's indicated by the Rhind papyrus that ancient Egyptians used a value of 256/81 or about 3.16045.

Archimedes of Syracuse (287–212 BC), one of the greatest mathematicians of the ancient world, in 250 B.C. was the first person to do the calculation of π.

Archimedes tried to show that the value π is between 3 1/7 and 3 10/71.

Pi is sometimes referred to as the 'Archimedes' Constant.'

It is dedicated to the infinite constant.
Pi Approximation Day depends upon the format of the Date:
Pi Approximation day is observed annually to celebrate the usage of the mathematical constant π (pi).

Pie day is observed on March 14 and Pi Approximation Day is observed on July 22.

Pie day was founded by Larry Shaw in the year 1988 at the San Fransisco Exploratorium, USA.

Note: The day also marks the birth anniversary of Albert Einstein.

On November 2019 United Nations designated Pi day as the International Day of Mathematics.
What is Pi (π)?
Pi (π) is defined as the ratio of the circumference of a circle divided by the distance across the circle, i.e., the diameter of the circle.

The value of Pi is 22/7 or 3.14.

It is an irrational number, which implies that it is not possible to calculate Pi by dividing an integer by some other integer.

Pi is an endless and never-repeating number.

The most exact calculation of Pi is to ten trillion digits.
Few More Important Facts About Pi:
π symbol was devised by British mathematician William Jones in 1706 to represent the ratio and later it was popularized by the Swiss mathematician Leonhard Euler.

The number π (/paɪ/) is a mathematical constant.

It is defined as the ratio of a circle's circumference to its diameter

It is approximately equal to 3.14159.

It is also referred to as Archimedes' constant.

Fractions such as 22/7 are commonly used to approximate it.

Its decimal representation never ends and never settles into a permanently repeating pattern.

It is known that π is a transcendental number:
There is no zero in the first 31 digits of Pi

At position 763 which is also known as Feynman Point, there are six nines in a row
Johann Lambert proved Pi is irrational in 1768

As the exact value of pi cannot be calculated, we can never find the accurate area or circumference of a circle.

The Welsh mathematician William Jones began using the symbol for pi in 1706.
Fun Fact:
In 2005, Lu Chao of China recited 67,890 digits of pi.
In 2015, Suresh Kumar Sharma, a former vegetable vendor from Jaipur, India now a memory coach, set a world record when he successfully recited more than 70,030 digits of pi. It took 17 hours to complete the memorization.
Norovirus Infection: Amidst the coronavirus pandemic, a highly contagious group of the virus, Norovirus has been reported in England.
Key Details:
So far, around 154 cases of norovirus cases have been reported.

The Public Health England (PHE) recently issued a warning over the outbreak of Norovirus as it fears that most of the cases of Norovirus have been found in educational institutions, especially in nursery and childcare facilities.
What is norovirus?
As per the Central for Disease Control and Prevention, norovirus is a contagious infection.

It is a group of highly contagious viruses that cause vomiting and diarrhoea.

It is also called the winter vomiting bug.

People infected with norovirus can shed billions of virus particles, but only a few of them can make people sick.
Symptoms:
The symptoms of Norovirus emerge within 24-48 hours of getting infected.

The common symptoms of norovirus include diarrhoea, vomiting, nausea, stomach pain, High temperature and sore limbs.
How does this virus spread?
Norovirus is highly contagious.

It spreads through direct contact with others who have it or contaminated surfaces.

Consuming contaminated water or food

The virus spreads in the same way as human viruses enter the human body.
Treatment:
Norovirus does not have a specific treatment.

You can usually treat it at home, with rest and lots of fluids to avoid dehydration.

However, doctors recommend consuming a lot of fluids to replace the ones lost from diarrhea and vomiting.

Consuming liquids with salts can help in the prevention of dehydration.

Additionally, doctors will prescribe pain medication to manage stomach pain, fever, and body pain.

It may be extremely unpleasant, but usually goes away in about two days.
How to prevent the spread of Norovirus?
Washing hands thoroughly and frequently with soap and water.

Wash all contaminated clothes or beddings with soap or detergent.

Bleach in water does work to clean contaminated surfaces, such as toilets and taps.

If infected, avoid cooking meals until 48 hours after recovering from infection.

Disinfect the exposed areas with bleach-based cleaner and hot water.

Also wipe clean objects such as telephones, toilets, door handles, taps, and other exposed areas.
New Shepard: Billionaire Jeff Bezos recently made a short journey to space, in the first crewed flight of his rocket ship, New Shepard.
New Shepard is built by Bezos' company Blue Origin.

It is designed to serve the burgeoning market for space tourism.
Key Highlights
The spacecraft lifted off from a private launch site near Van Horn, Texas.

The capsule reached a maximum altitude of around 107km.

Then it started its descent, parachuting down to a soft landing in the West Texas desert 11 minutes later.

Richard Branson, his fellow billionare too recently flew into space aboard his Virgin Galactic rocketplane July 11, 2021.

Bezos blasted off with his brother Mark and two history-making passengers. They were:
82-year-old aviation pioneer Wally Funk, the oldest person to fly in space, and

Oliver Daemen, an 18-year-old Dutch student who is the youngest ever to fly in space.
AMLEX: The Indian Institute of Technology (IIT), Ropar has recently developed a first-of-its-kind Oxygen Rationing Device called "AMLEX" to increase the life of medical oxygen cylinders three fold.
Key Details:
This device has been developed to save the oxygen which otherwise gets wasted unnecessarily.

As during exhalation, the oxygen in the oxygen cylinder and pipe is pushed out along with the exhaled CO2 by the user.

This leads to wastage of a large volume of oxygen in long run.

Furthermore, a large volume of oxygen also escapes from the openings of the mask to the environment in the resting period (between inhalation and exhalation) due to continuous flow of life saving gas in the mask.
About AMLEX:
AMLEX on the other hand is a system developed specifically for oxygen cylinders synchronizing the flow of oxygen with inhalation and exhalation of the patient.

This device supplies a required volume of oxygen to the patient during inhalation and trips when the patient exhales CO2.

This process saves oxygen which otherwise unnecessarily get wasted.
Virgin Galactic: On 11th July 2021, British Billionaire, Philanthropist, Business Tycoon Richard Branson wrote a new chapter in the space age by becoming the first billionaire to fly into space after Historic Space Flight on board a Virgin Galactic spacecraft called 'VSS Unity' from New Mexico in the US.
Highlights:
The space baron made the flight aboard his rocket venture, Virgin Galactic, nine days before Amazon founder Jeff Bezos makes his own trip to the fringes of outer space.

The Business Tycoon was accompanied in space by the vehicle's two pilots, Dave Mackay and Michael Masucci, and three Galactic employees – Beth Moses, Colin Bennett, and Sirisha Bandla.

Along with Branson, Aeronautical engineer Sirisha Bandla also created history on Sunday.
Note: Bandla became the third Indian-origin woman to fly into space on Sunday Virgin Galactic's first fully crewed suborbital test flight from New Mexico. She currently holds the position of Vice President of Government Affairs and Research Operations at Virgin Galatic.
About the space flight:
VSS Unity space plane was hauled aloft by a carrier aircraft up to a height of 45000 feet or 13,700 meters where it detached from it. Thereafter, the space plane's rocket engine came to life helping the team ascend to about 290,000 feet or a peak altitude of around 53 miles (85 kilometers), beyond the boundary of space.

The 1.5-hour flight allowed the passengers to experience a few minutes of weightlessness while admiring the curvature of Earth from the ship's 17 windows.

The 6-member crew aboard the VSS unity spent around an hour in space before returning back to earth.
About Virgin Galactic:
Virgin Galactic is a British-American spaceflight company that operates in the United States. It was founded by Richard Branson and his Virgin Group retains a 24% stake.
It is developing commercial spacecraft and aims to provide suborbital spaceflights to space tourists.
The race towards Space Tourism:
Billionaires of the 21st Century are in a race to gain an advantage in the niche Space Tourism market.

Both companies i.e. Branson's Virgin Galactic and Bezos's Blue One, visualize businesses catering to wealthy tourists who are willing to pay for a short period of weightlessness and an unforgettable view of the Earth and heavens.

As per media reports, Tesla Founder Elon Musk, the owner of SpaceX also plans to launch commercial operations as part of his space venture soon.
National Plastic Surgery Day: National Plastic Surgery Day celebrated on 15 July every year will now be celebrated as World Plastic Surgery Day.
Highlights:
The announcement was made in a statement released on July 13, 2021 by the Association of Plastic Surgeons in India (APSI).

Starting from 2021, 15 July every year will be observed as World Plastic Surgery Day.

The decision comes after the current President of the APSI, Dr Rakesh Khazanchi, spoke about the National Plastic Surgery Day's success in India at the World Council of Leaders.

World Council of Leaders is a meeting of the Presidents of Plastic Surgery Associations of various countries, organized by the American Society of Plastic Surgeons.

Appreciating the concept, all presidents agreed to celebrate July 15 as World Plastic Surgery Day.
Background:
In 2011, the concept of National Plastic Surgery Day was first introduced by Dr S Raja Sabapathy, the President of the APSI.

He conceptualized the idea of celebrating the day and chose July 15 as the appropriate date. On the day of the inauguration in 2011, all the plastic surgeons in the country did one free surgery to help countless people.

The first National Plastic Surgery Day was observed on 15 July 2011.

Since then, every year on this day, plastic surgeons across the country commemorate the day by doing free operations, conducting camps and awareness meetings, writing their experiences or starting new services.

Every Plastic Surgeon on that day does something to increase awareness about the speciality.
History:
Origin of Plastic Surgery:
Plastic surgery originated in India.

Sushruta or Susruta (c. 7th or 6th century BCE), an ancient Indian Physician and Surgeon is known as the Father of Indian surgery and Father of Plastic Surgery.

He is known for his pioneering operations and techniques and for his influential treatise Sushruta-samhita (Sushruta's Compendium), the main source of knowledge about surgery in ancient India.

Sushruta Samhita is considered the oldest text in the world on plastic surgery and is highly regarded as one of the Great Trilogy of Ayurvedic Medicine; the other two being the Charaka Samhita, which preceded it, and the Astanga Hridaya, which followed it.
About ASPI:
Association of Plastic Surgeons in India (APSI) is a section of the Association of Surgeons of India (ASI).

The ASPI was inaugurated by Sir Harold Gillies at Nagpur, in December 1957.

The current President of ASPI is Dr. Rakesh k. Khanzanchi.
Soberana 2: Cuba recently announced that it has developed world's first conjugate Covid-19 vaccine Soberana 2 (Sovereign 2).
Key Points:
When the Soberana 2 vaccine is delivered with booster shot of Soberana Plus, it is 91 percent effective against symptomatic Covid-19 cases.

If this vaccine is approved, Cuba will become first Latin American country to manufacture and produce vaccine against Covid-19.

Soberana 2 is one of the three vaccines in Soberana series.

It was developed by Finlay Institute in collaboration with Centre for Molecular Immunology and National Biopreparations Centre.

Four other vaccines are also being developed in Cuba.
How is Soberana 2 administered?
Soberana 2 vaccine is administered in three dose regimens.

It comprises of two shots of Soberana 2 and one shot of Soberana Plus.

It is administered in 0-28-56-day regimen.
About the Vaccines:
All the five vaccines in Cuba, are protein vaccines.

These vaccines were developed using the protein derived from SARS-CoV-2 virus.

This virus binds to human cells and trigger an immune response.

Soberana 2 is unique among Cuban vaccines as it only kind of "conjugate vaccine" combining receptor-binding domain of virus with deactivated form of tetanus.
Vaccine Production in Cuba:
Cuba produces 60-70 percent of medicines which are consumed domestically and vaccinates against 13 diseases with 11 vaccines.

8 of the vaccines are produced in Cuba itself.
What is a conjugate vaccine?
The type of vaccine combining weak antigen with strong antigen as a carrier so that an immune system strongly response to a weak antigen, is called as conjugate vaccine.

Such vaccines are used to prevent diseases by building an immune response to antigen (foreign part of virus or bacteria) recognized by immune system.
About Cuba:
Cuba, officially the Republic of Cuba, is a country comprising the island of Cuba, as well as Isla de la Juventud and several minor archipelagos.

Cuba is located in the northern Caribbean where the Caribbean Sea, Gulf of Mexico and Atlantic Ocean meet.

Havana is the largest city and capital.

The currencies used here are Cuban peso, Cuban convertible peso.

The current President of Cuba is Miguel Díaz-Canel.
Hubble telescope: NASA was able to successfully switch to a backup computer on the Hubble observatory following weeks of computer problems.
Key Points:
NASA has returned the science instruments on the Hubble Space Telescope to operational status, and the collection of science data will now resume.

This will be the first science data collected since the payload computer experienced a problem on June 13, which placed the instruments in a safe configuration and suspended science operations.

The Hubble team has been investigating the cause of the payload computer problem since it first occurred.

On July 15, 2021, the team switched the spacecraft to backup hardware.
Background:
On June 13, Hubble shut down after a payload computer from the 1980s that handles the telescope's science instruments suffered a glitch.
About the Hubble Space Telescope:
The Hubble Space Telescope is a large telescope in space.

NASA launched Hubble in 1990.

It was built by the United States space agency NASA, with contributions from the European Space Agency.

Hubble is the only telescope designed to be serviced in space by astronauts.

Expanding the frontiers of the visible Universe, the Hubble Space Telescope looks deep into space with cameras that can see across the entire optical spectrum from infrared to ultraviolet.

The Hubble Space Telescope makes one orbit around Earth every 95 minutes.
Achievements:
Hubble has been observing the universe for over 31 years.

It has taken over 1.5 million observations of the universe, and over 18,000 scientific papers have been published with its data.

It has contributed to some of the most significant discoveries of our cosmos, including the accelerating expansion of the universe, the evolution of galaxies over time, and the first atmospheric studies of planets beyond our solar system.

It has helped in discovering the moons around Pluto.

Evidence regarding the existence of black holes has emerged based on the observations through Hubble.

The birth of stars through turbulent clouds of gas and dust has also been observed.

The hubble telescope made observations of six galaxies merging together.

On Februry 11, 2021, the Hubble made observations of small concentrations of black holes.
Tandem Spacewalk: Chinese astronauts successfully performed the country's first tandem spacewalk on 4 July 2021.
Highlights:
They worked for seven hours on the outside of the new Tiangong station in orbit around the Earth.

Tiangong's construction is a major step in China's ambitious space programme, which has seen the nation land a rover on Mars and sends probes to the Moon.

Three astronauts - Nie Haisheng, Liu Boming and Tang Hongbo were blasted off in June 2021 to become station's first crew where they will remain for three months which is China's longest crewed mission to date.

Liu Boming and Tang Hongbo exited the station for some seven hours of work in first spacewalk at Tiangong.

The safe return of these two astronauts to the Tianhe core module marks the complete success of the first spacewalk in space station constructed by China.
What did task did they perform during their spacewalk?
Their tasks involved elevating a panoramic camera outside the Tianhe core module, as well as testing the station's robotic arm which will be used to transfer future modules around the station, state media said.

They installed foot stops on the robotic arm and, with its support, carried out other assembly work.

They were supported from inside the station by the mission commander Nie Haisheng, a decorated air force pilot who is on his third space mission.
Matter of Pride for China:
This is China's first crewed mission in nearly five years, and a matter of huge prestige as the country marks the 100th anniversary of the ruling Communist Party.

It is also the first time since 2008 that Chinese astronauts went outside their spacecraft.

Back then, Zhai Zhigang made China the third country to complete a spacewalk after the Soviet Union and the United States.
About Tiangong Space Station:
The Tiangong Space Stationis placed in low Earth orbit at the distance between 340 and 450 km above the surface.

This space station, once completed, will be roughly one-fifth the mass of the International Space Station and about the size of the decommissioned Russian Mir space station.

It is expected to have a mass between 80 and 100 t (180,000 and 220,000 lb).

Operations will be controlled from the Beijing Aerospace Flight Control Center in China.

The core module, the Tianhe ("Harmony of the Heavens"), was launched on 29 April 2021.
Sirisha Bandla: India-origin woman Sirisha Bandla is all set to head to space as a member of the Virgin SpaceShip Unity on July 11.
Key Points:
Born in Andhra Pradesh, Bandla will be the third Indian-origin woman, after Kalpana Chawla and Sunita williams and the fourth Indian to fly into space.

Rakesh Sharma, the first Indian to travel to space, Kalpana Chawla and Indian-American Astronaut Sunita Williams, precede her.

She will be one of the five people alongside Virgin Galactic's billionaire founder Richard Branson to travel to space.

She will take care of the researcher experience of the Unity22 mission.

The crewed test spaceflight is scheduled to blast off on July 11 from New Mexico.
About Sirisha Bandla
Sirisha Bandla, who was born in Guntur, Andhra Pradesh and grew up in Houston, Texas.

She is a graduate in aeronautical engineering from Purdue University and also holds a Master of Business Administration degree from Georgetown University.

She started working at Virgin Galactic in 2015.

She is currently vice president of government affairs at the company.

She has also worked for a space policy job at the Commercial Spaceflight Federation (CSF) and L-3 Communications in Greenville, Texas, as an aerospace engineer.
World Zoonoses Day: The World Zoonoses Day takes place on 6 July each year.
Key Points:
World Zoonoses Day commemorates the work of French Biologist Louis Pasteur, who successfully administered the first-ever vaccine against rabies, a zoonotic disease, on 6 July 1885.

The day presents an opportunity to educate the masses and raise awareness of diseases that can spread between animals and people.

In Zoonoses the first infected human transmits the infectious agent to at least one other human, who, in turn, infects others.
Theme of World Zoonoses Day 2021:
The theme of World Zoonoses Day 2021 is "Let's Break the Chain of Zoonotic Transmission."
Background:
Louis Pasteur administered the first-ever vaccine to Joseph Meister, who was mauled by a rabid dog.

The jab was given on 6 July 1885.

Since then, the day is remembered to thank the creator of the first-ever vaccine.
Significance during pandemic times:
The significance of the day is perhaps now far greater than ever before due to the ongoing pandemic.

A new report titled "Preventing the Next Pandemic: Zoonotic diseases and how to break the chain of transmission" was launched on World Zoonoses Day, 2020.

The report was created by the United Nations Environment Programme (UNEP) and the International Livestock Research Institute (ILRI).

The report warned that further outbreaks will emerge unless governments around the world take measures to prevent zoonotic diseases from infecting the human population.

Besides warning governments about future pandemics, it also identifies trends driving the increasing emergence of zoonotic diseases in the world.

In addition, the report set out ten recommendations to prevent future pandemics.
Some of the recommendations were as follows:
Raising awareness of zoonotic diseases

Improving cost-benefit analyses of interventions to include full-cost accounting of societal impacts of disease

Improving biosecurity and control, identifying key drivers of emerging diseases in animal husbandry, and encouraging proven management and zoonotic disease control measures

Strengthening monitoring and regulation practices associated with zoonotic diseases, including food systems

Operationalizing the One Health approach in land-use and sustainable development planning, implementation, and monitoring, among other fields.
About Zoonosis:
Zoonoses are infectious diseases (viruses, bacteria, and parasites) that can be spread from animals to humans, and vice versa.

Zoonotic Diseases are caused by viruses, bacteria, fungus, parasites, and Mosquitos.

Zoonoses may propagate by direct interaction with animals, or indirectly, by vectors, or by food.

Example: Tick-borne encephalitis and borreliosis are very popular zoonotic diseases.

Yet even zoonoses include other foodborne infectious diseases such as salmonella, yersinia, EHEC, botulism, or campylobacter.
Common zoonotic disease:
The most common zoonotic diseases are Plague, Tuberculosis, Cat Scratch Fever, Tick Paralysis, Hantavirus, Ringworm, Salmonellosis, Leptospirosis, Lyme disease, Cryptosporidium infection, Roundworms, Hookworms, Campylobacter infection, Giardia infection, Scabies, Harvest mites, Rabies, etc.
How to avoid zoonotic diseases?
Hand and face hygiene, Cover your face while traveling in crowded places, and sanitize your hands regularly.

Keep your place clean and hygienic.

Don't eat uncooked food.

If you have animals then take care of them, get their routine check-up regularly.
About Louis Pasteur:
Louis Pasteur ForMemRS (27 December 1822 – 28 September 1895)) was a French chemist and microbiologist renowned for his discoveries of the principles of vaccination, microbial fermentation, and pasteurization.

His research in chemistry led to remarkable breakthroughs in the understanding of the causes and preventions of diseases, which laid down the foundations of hygiene, public health and much of modern medicine.

His works are credited to saving millions of lives through the developments of vaccines for rabies and anthrax.

He is regarded as one of the founders of modern bacteriology and has been honoured as the "father of bacteriology" and as the "father of microbiology" together with Robert Koch, and the latter epithet also attributed to Antonie van Leeuwenhoek.
NS-BH Merger: Scientists have detected gravitational waves produced by collision of neutron star and black hole for the first time.
This ground breaking discovery detection of a neutron star-black hole (NS-BH) collision was published in the Astrophysical Journal Letters
Key Details:
Gravitational waves ripples were detected in fabric of space-time.

This finding shows that there are neutron star-black hole systems. This system will help in answering several questions regarding cosmos ranging from star formation to expansion rate of universe.
How Gravitational waves are produced?
Gravitational waves are produced when celestial objects collide. After collision, ensuing energy creates ripples in fabric of space-time which carry to detectors on Earth.
How waves were detected?
As the two compact and massive bodies orbit around each other, they come closer, and finally merge, due to the energy lost in the form of gravitational waves.

Waves from two celestial objects were picked up with the help of global network of gravitational wave detectors called LIGO. Advanced LIGO detector in US and Advanced Virgo detector in Italy picked up final throes of death spiral between a neutron star and a black hole on January 5, 2021 when they circled closer and merged together.

Following it, the second signal was picked up on these detectors from final orbits and smashing together of another neutron star and black hole pair.
Significance of the study:
Detection of gravitational waves confirm that there are populations of binary systems comprising of a neutron star and a black hole.

Such astrophysical systems will help in answering many big questions regarding universe.

These observations will help to understand the formation and relative abundance of such binaries.

Neutron stars are the densest objects in the Universe, so these findings can also help to understand the behaviour of matter at extreme densities.

Neutron stars are also the most precise 'clocks' in the Universe, if they emit extremely periodic pulses.

The discovery of pulsars going around Black Holes could help scientists probe effects under extreme gravity
Background:
First ever direct gravitational waves were detected in 2015.

Since then, astronomers have predicted the system of black hole & neutron star merger could exist.

Until now, the LIGO-Virgo collaboration (LVC) of gravitational waves detectors has only been able to observe collisions between pairs of black holes or neutron stars.

For the first time, in January 2020, the network of detectors made the discovery of gravitational waves from a pair of NS-BH mergers.

However, observational evidences were detected in 2021.
Discrete Auroras: The United Arab Emirates' (UAE) Hope spacecraft, which is orbiting Mars since February 2021, has captured images of glowing atmospheric lights in the Red Planet's night sky, known as discrete auroras.
Key Points:
Previous Mars orbiters have also observed the auroras, but Hope, with a high-altitude orbit that varies from 12,400 miles to 27,000 miles above the surface, can take in a global view of the night side of Mars.

The data gathered by the oribter include far and extreme ultraviolet auroral emissions which have never been imaged before at Mars.

Unlike auroras on Earth, which are seen only near the north and south poles, discrete auroras on Mars are seen all around the planet at night time.

There it is not just the northern lights and southern lights, but also the equatorial lights, mid-latitude lights, eastern lights, western lights — all around the planet.
Objective of UAE's Mission Mars:
The Hope Probe, the Arab world's first mission to Mars, took off from Earth in July 2020, and has been orbiting the Red Planet since February.

The primary objective of the mission is to study Martian weather dynamics.

The mission is trying to study dynamics of the Martian atmosphere near the surface that influence how fast the atmosphere of Mars is leaking into space.

Though, taking pictures of auroras was not part of the core science observations planned for the Hope spacecraft, the scientists, even before the probe was launched realized that one of the instruments, which makes observations in the far-ultraviolet part of the spectrum to measure levels of oxygen and hydrogen in the upper atmosphere, might be able to pick out the auroras as well.
dbGENVOC: The Department of Biotechnology (DBT) and National Institute of Biomedical Genomics (NIBMG), Kalyani has created world's first database of genomic variants of oral cancer.
The NIBMG, an institute under the DBT, has made this database publicly-accessible.
Database is being called as dbGENVOC.
About dbGENVOC:
dbGENVOC is a browsable online database of GENomic Variants of Oral Cancer and is a free resource.

First release of dbGENVOC contains the following:
24 million somatic and germline variants derived from whole exome sequences of 100 Indian oral cancer patients and whole genome sequences of 5 oral cancer patients from India.

Somatic variation data from 220 patient samples drawn from the USA and analyzed by TCGA-HNSCC project

Manually curated variation data of 118 patients from recently published peer-reviewed publications.
Variants were identified by community approved best practice protocol and were annotated with the help of multiple analytic pipelines.

dbGENVOC is not just a catalogue of genomic variants, it has a built-in powerful search engine.

It allows a reasonable extent of statistical and bioinformatic analysis to be carried out such as identification of variants in associated altered pathways in oral cancer.

The repository will be updated annually with variation data of new oral cancer patients from India Southeast Asia.
Oral Cancer in India:
Oral cancer is the most prevalent form of cancer among men in India, largely fuelled by tobacco-chewing.

Tobacco-chewing causes changes in the genetic material of cells in the oral cavity. These changes (mutations) precipitate oral cancer.
About NIBMG:
The National Institute of Biomedical Genomics (NIBMG) has been established as an autonomous institution by the Government of India, under the aegis of the Department of Biotechnology.

This is the first institution in India explicitly devoted to research, training, translation & service and capacity-building in Biomedical Genomics.

It is located in Kalyani, West Bengal, India.
About DBT:
The Department of Biotechnology (DBT), Ministry of Science and Technology, boosts and augments the development of the biotechnology ecosystem in India through its expansion and application in agriculture, healthcare, animal sciences, environment, and industry.
Gravelyia boro and Dexippus kleini: Two species of spiders have been found in Jharbari range of western Assam's Chirang Reserve Forest.
Key Details:
Gravelyia boro is a newly discovered burrow spider while Dexippus kleini is an oriental jumping spider.

Both the spiders were discovered from Bodoland Territorial Region.

They have been described in latest issue of Acta Arachnologica published by Arachnological Society of Japan.

Both the species have been sharing same space. One spider burrows, and the other jumps.

It has been recorded for the first time after it was originally described 129 years ago by Swedish arachnologist, Tord Tamerlan Teodor Thorell.

The spider was discovered by Thorell about 2,600 km away in Sumatra.
About these Spider species:
Gravelyia boro belongs to Nemesiidae family that comprises of 184 species worldwide while the Dexippus kleini belongs to Salticidae family which is the largest family of all spiders on earth.

Name of burrow spider has been derived from Bodo community which is one of the largest ethnolinguistic groups in Assam.

Burrow spider lives underground some 10-15 cm below sandy-loamy surface.Burrow with opening up to 1 cm wide were under cover of some herbs and shrubs.

Jumping spider is a slow mover but it is capable of jumping up to 25 mm in length in search of prey.

Jharbari Jumper is among few salticids that was recently rediscovered in India after a century.
Inclusion of snake:
A non-venomous snake was also added to India's herpetofauna by the team of researchers from Mizoram University.

It is about 50 cm long, dark brown & yellow in colour.

They are found in dried-up area of Tuinghaleng riverbed in Aizawl.

It is the third species of Stoliczkia genus from India.

Snake was named as Stoliczkia vanhnuailianai, in honour of Vanhnuailiana who was a Mizo warrior.

Common name of snake is Lushai Hills dragon snake.
Dragon Man: Researchers from China have recently claimed that they have found a massive fossilized ancient human skull that could belong to an altogether new species of humans.
The researchers have published their findings in the journal 'The Innovation'.
One of the UK's leading experts in human evolution, Prof Chris Stringer from London's Natural History Museum, was also a member of the research team.
Key Details:
The researchers note that the cranium (the portion that encloses the brain) could be over 146,000 years old.
The skull was found in the Songhua River in north-east China's Harbin city.
The cranium has been dubbed the "Dragon Man" or Homo longi, a name that has been derived from the Long Jiang or Dragon River in the Heilongjiang province of China where the city of Harbin is located.
Some members of the team have suggested that it be declared a part of a new species of the genus Homo because of the distinctive shape of the skull, which was found almost complete.
Nesher Ramla Homo:
Separate news came recently where the researchers working in Israel where they also identified a previously unknown type of ancient human that lived alongside our species more than 100,000 years ago.
The scientists named the newly discovered lineage the "Nesher Ramla Homo" that co-existed with Homo sapiens nearly 100,000 years ago when several species of humans co-existed in Asia, Europe and Africa.
These include Homo sapiens, the Neanderthals, and the Denisovans.
About Human Species:
Modern humans are the only human species that exist in the world today.
As per the Smithsonian National Museum of Natural History, there are over 21 human species. These are:
Sahelanthropus tchadensis is believed to be the oldest member of the human family tree. According to the Smithsonian National Museum of Natural History, this species lived about 7-6 million years ago somewhere around present day Chad in Africa. Researchers only have cranial material as evidence that this species existed, from which they have deciphered that it had both ape-like and human-like features and was bipedalled, an ability that may have increased its chances of survival.
Orrorin tugenensis lived about 6.2-5.8 million years ago in Eastern Africa. As per the Smithsonian Museum, this species is the oldest early human on the family tree and members from this species were approximately the size of a chimpanzee.
Ardipithecus kadabba lived 5.8-5.2 million years ago, in Eastern Africa. They were bipedalled, and are believed to have had a body size similar to that of modern chimpanzees.
Ardipithecus ramidus lived about 4.4 million years ago in Eastern Africa, and was first reported in 1994. It is not clear if this species was bipedalled.
Australopithecus anamensis lived about 4.2-3.8 million years ago. A skull belonging to this species was discovered in Ethiopia in 2016 at a palaeontological site. Two studies published in 2019 analysed this skull and determined that it was older than Lucy, the name for another specimen belonging to the species Australopithecus afarensis, which was previously thought to be the oldest ancestor of modern humans. The new research also indicated that the two species (Lucy and her ancestors) co-existed for at least 100,000 years.
Australopithecus afarensis (members from Lucy's species) existed 3.85-2.95 million years ago in Africa. Paleontologists have discovered remains from over 300 individuals belonging to this species over the years.
Kenyanthropus platyops lived about 3.5 million years ago in Kenya. The Smithsonian Museum notes that the species inhabited Africa at the same time as Lucy's species did, which could mean that there is a closer branch to modern humans than Lucy's on the evolutionary tree.
Australopithecus africanus lived about 3.3-2.1 million years ago in Southern Africa. This species had a combination of human and ape-like features.
Paranthropus aethiopicus lived about 2.7-2.3 million years ago in Eastern Africa and members of this species are defined by their strongly protruding face, large teeth, and a powerful jaw.
Australopithecus garhi lived about 2.5 million years ago in Eastern Africa, and is characterised by their long, powerful arms. The Smithsonian museum notes that the arms could mean the longer strides needed during bipedal walking.
Paranthropus boisei lived about 2.3-1.2 million years ago in Eastern Africa, and were characterised by a skull that was specialized for heavy chewing.
Paranthropus robustus lived about 1.8-1.2 million years ago in Southern Africa and were characterised by their wide, deep-dished faces.
Australopithecus sediba lived about 1.9 million years ago in Southern Africa. Members of this species had facial features similar to the later specimens of Homo.
Homo habilis lived about 2.4-1.4 million years ago in Eastern and Southern Africa, and is one of the earliest members of the genus Homo. Members of this species still retained some of the ape-like features, however.
Homo erectus lived about 1.89 million-110,000 years ago, in Northern, Eastern, and Southern Africa and Western and East Asia. 'Turkana Boy' is the most complete fossil belonging to this species and is dated to be around 1.6 million years old.
Homo floresiensis lived around 100,000-50,000 years ago, in Asia. One of the most recently discovered early human species has been nicknamed the "Hobbit". Specimens have so far only been found on an Indonesian island.
Homo heidelbergensis lived about 700,000-200,000 years ago in Europe, some parts of Asia and Africa. As per the Smithsonian museum, this was the first early human species to live in colder climes.
Neanderthals (Homo neanderthalensis) are believed to be the closest extinct human relatives and lived about 400,000-40,000 years ago in Europe and southwestern to central Asia.
Homo sapiens, the species to which all existing humans belong, evolved in Africa nearly 300,000 years ago as a result of some dramatic climate change events.
International Asteroid Day 2021: International Asteroid Day or Asteroid Day is observed on 30th June every year across the globe.
Highlights:
The Day aims to raise public awareness about the asteroid impact hazard and to inform the public about the crisis communication actions to be taken at the global level in case of a credible near-Earth object threat.
This year Asteroid Day celebrates the 25th launch anniversary of NASA's NEAR-Shoemaker spacecraft, and the 2021 launch of three new asteroid missions, NASA's Lucy, NEA Scout, and DART.
These are the world's first missions to test an asteroid deflection technique and much more.
Background:
On December 2016 the United Nations General Assembly adopted resolution A/RES/71/90 and declared June 30 as International Asteroid Day.
The day marks the anniversary of Earth's most massive asteroid impact in history, the 1908 Tunguska event.
Note: On June 30th, 1908, a mysterious cosmic impact occurred in Siberia. Tunguska explosion was the most harmful recorded asteroid-related event on Earth as it damaged local plants and animals.
The decision by UNGA was made on the basis of a proposal made by the Association of Space Explorers, which was endorsed by the Committee on the Peaceful Uses of Outer Space (COPUOS).
Asteroid Day was co-founded by Stephen Hawking, filmmaker Grigorij Richters, B612 Foundation President, Danica Remy, Apollo 9 astronaut Rusty Schweickart and Brian May, Queen guitarist and astrophysicist.
Significance of International Asteroid Day:
United Nations officially decided this day for global awareness about the opportunities and challenges that asteroids present.
It also tells about the devastating impact an asteroid has when it crashes to Earth.
It also highlights the importance of discovering the objects that pose a threat to our planet and make people aware of what to do if such a situation arises.
What are Asteroids?
Asteroids are the small rocky body that orbits around the sun consisting of rock, metals, and other elements.
They are rocky, airless remnants left over from the early formation of our solar system about 4.6 billion years ago.
They are sometimes called minor planets.
Asteroids range in size from Vesta – the largest at about 329 miles (530 kilometers) in diameter – to bodies that are less than 33 feet (10 meters) across.
The total mass of all the asteroids combined is less than that of Earth's Moon.
Some asteroids even have a companion moon.
Most of this ancient space rubble can be found orbiting the Sun between Mars and Jupiter within the main asteroid belt.
Scientists refer to this area as the asteroid belt. There are three classes of asteroids. They are as follows:
C-type (chondrite) – This most common type of asteroid consists of clay and silicate rocks.
S-type (stony) – This asteroid consists of silicate rocks and nickel-iron.
M-type (metallic) – Nickel-iron composes these asteroids.
Impact of Asteroid collision:
The impact of asteroid collision with Earth would be very disastrous.
The collision would cause environmental impacts, such as shock waves, heat radiation, earthquakes, and tsunamis.
The currently known asteroid count is 958,915.
Louisiana Delta System: NASA Scientists and scientists from other universities from Boston to California decided to create computer models to protect the delta system.
Key Points:
NASA is using high-tech airborne systems comprising of boats and mud-slogging work on islands at the cost of $15 million.
They are aiming to create computer models which can be used with satellite data to learn which parts of their dwindling deltas can be shored up and which deltas are past hope.
Scientists felt the need to create computer models because in the backdrop of erosion, sinking land and sea rise due to climate change have killed Louisiana woods near the Mississippi River delta system.
NASA is using high-tech airborne systems comprising of boats and mud-slogging work on islands at the cost of $15 million.
About Louisiana:
It is a state in south-central regions of United States.
It is 19th-smallest by area and 25th most populous among 50 U.S. states.
It shares its border with state of Texas in west, Arkansas in north, Mississippi in east, and Gulf of Mexico in south.
Its eastern boundary is demarcated by Mississippi River.
It is the only state in U.S. with political subdivisions termed parishes.
It, along with Alaska, are two U.S. states which are not subdivided into counties.
Baton Rouge is its capital while New Orleans is its largest city.
About Mississippi River:
It is the second-longest river in North American continent after the Hudson Bay drainage system.
Lake Itasca in northern Minnesota is the source of river.
It flows generally south for 2,320 miles to form Mississippi River Delta in Gulf of Mexico. Mississippi's watershed drains about 32 U.S. states and two Canadian provinces.
Main stem of the river is entirely within United States.
It is the fourteenth-largest river by discharge worldwide.
Triboelectric Nanogenerator(TENG): A team of Indian scientists have developed a transparent Triboelectric Nanogenerator(TENG) device.
Highlights:
Dr Shankar Rao and his team from the Centre for Nano and Soft Matter Sciences, Bengaluru, an autonomous institute under the department of science and technology, Government of India (GoI), have designed the TENG.
The results were published in the Journal of Nanoscience and Nanotechnology.
About Triboelectric Nanogenerator(TENG):
TENG was developed using thermoplastic polyurethanes (TPU) either in the form of electrospun nanofibers or as a flat film using the simpler doctor's blade technique, along with polyethylene terephthalate (PET) as tribo layers.
Note: Doctor's blade technique is one of the widely used techniques for producing thin films on large area surfaces.
TENG is a self-powered device that makes use of mechanical energy in the form of vibrations present everywhere in different forms to generate electricity.
It is capable of generating electricity from vibrations all around for use in optoelectronics, self-powered devices, and other biomedical applications
TENG uses mechanical energy in the form of vibrations present everywhere in different forms to generate electricity.
It works on the principle of creation of electrostatic charges via instantaneous physical contact of two dissimilar materials followed by generation of potential difference when a mismatch is introduced between the two contacted surfaces through a mechanical force.
This mechanism drives the electrons to move back and forth between the conducting films coated on the back of the tribo layers.
Significance:
The device could light up 11 LEDs by gentle hand tapping and could be a potential candidate for use in optoelectronics, self-powered devices and other biomedical applications.
Note: Optoelectronics is the field of technology concerned with electronic device application to the sourcing, detection and control of light.
This technique is cost effective compared to currently available fabrication techniques being easily available, and owing to the simplicity of the procedure.
The resulting device is also highly efficient, robust, and gives reproducible output over long hours of operation.
Icius Tukarami: A group of scientists recently discovered two new species of jumping spiders from the Thane-Kalyan region.
Key Points:
One of the newly discovered spider specie has been named Icius Tukarami after assistant sub-inspector Tukaram Omble who laid down his life to help capture terrorist Ajmal Kasab during the 26/11 terror attacks.
The second new species of jumping spider is Phintella cholkei in the memory of a friend Kamlesh Cholke.
The paper citing the discovery of the new species was published in the Russian science journal Anthropoda Selecta.
It was published by researchers Dhruv A. Prajapati, John Caleb, Somnath B. Kumbhar and Rajesh Sanap.
About Tukaram Omble:
Tukaram Omble was a Mumbai police officer and army soldier, who served as assistant sub-inspector (ASI) of the Mumbai Police.
He was martyred in action while fighting terrorists during the 2008 Mumbai attacks at Girgaum Chowpatty Mumbai.
He played an instrumental role in apprehending Ajmal Kasab alive, the lone surviving terrorist who was later convicted and hanged.
The martyred police officer was posthumously honoured by the Indian government with the Ashoka Chakra on January 26, 2009.
Note:The Ashoka Chakra is the nation's highest peace-time gallantry award for extraordinary bravery and valour in the line of duty.
Former Mumbai police commissioner Rakesh Maria wrote in his memoir that Omble's actions that led to Kasab's capture were key to foiling Lashkar-e-Taiba's plans.
Science & Technology Affairs Current Affairs - June 2021
CAR-T Cell Therapy: The first Chimeric Antigen Receptor T-cell (CAR-T) was recently done in India.
It is a type of gene therapy that was done at the Tata Memorial Hospital in Mumbai.
The Chimeric Antigen Receptor T-cell (CAR-T) therapy has emerged as a breakthrough in cancer treatment especially in patients suffering from Acute Lymphocytic Leukemia.
However, till now this technology was not available in India. Each patient's CAR-T cell therapy costs 3-4 crore (INR).
What are the challenges?
CAR-T cell therapy costs rupees 3-4 crore for each patient.
Thus, biggest challenge is to develop this technology in cost-effective manner and make it available patients. Manufacturing of this technology is complex which increases the cost.
Key details:
The CAR-T cells were designed and manufactured at Bioscience and Bioengineering (BSBE) department of IIT Bombay with support from DBT/BIRAC, through National Biopharma Mission.
Now, this therapy will undergo Phase I and II trial of their CAR-T product through National Biopharma Mission.
About:
Biotechnology Industry Research Assistance Council (BIRAC) is a not-for-profit Section 8, Schedule B, Public Sector Enterprise, set up by Department of Biotechnology (DBT), Ministry of Science & Technology.
Background:
BIRAC and DBT have initiated and launched specialized calls and invitation to promote and support development of CAR-T cell technology against cancer and other diseases.
itat e-dwar: The Union Minister for Law & Justice, Communications and Electronics & IT, Shri Ravi Shankar Prasad, recently launched a e-filing portal of Income Tax Appellate Tribunal (ITAT) called 'itat e-dwar.'
Key Details:
While launching the portal, Minister highlighted the power of Digital India.
According to him, Digital India means empowering ordinary Indian with power of technology in order to bridge the digital divide between digital haves and digital have nots.
As per the minister, data of more than 18 crore cases are available in National Judicial Data Grid (NJDG). He suggested integrating cases of ITAT with NJDG.
About itat e-dwar:
itat e-dwar is a larger narrative of transformation that India is undergoing through digital medium.
It will enable innovation & empowerment and open new avenues for growth.
This e-filing portal will enhance accessibility, accountability and transparency in working of ITAT.
It will result into economization of use of paper, savings in costs and rationalization of fixation of cases which in turn help in quicker disposal of cases.
It would help parties to file their Appeals, Miscellaneous Applications, documents, etc electronically.
T478K: An analysis of more than one million SARS-CoV-2 genome sequences has led to the identification of a new variant that, over the past weeks, has been spreading mostly in Mexico but has also been found in Europe.
Key Points:
The scientific name of new variant is T478K.
Like other strains, this presents a mutation in the spike protein.
This variant has been increasingly spreading among people in North America, particularly in Mexico.
Their paper published in the Journal of Medical Virology presented the so-called "Mexican variant," whose scientific name is T478K.
CEOS COAST: The UN body has recently endorsed a multinational project called "Committee on Earth Observation Satellites Coastal Observations, Applications, Services, and Tools (CEOS COAST)".
About CEOS COAST:
The CEOS COAST programme is co-led by Indian Space Research Organization (ISRO) and National Oceanic & Atmospheric Administration (NOAA) from US.
This programme aims to improve accuracy of coastal data on the basis of satellite and land-based observations.
It also seeks to foster trust and collaboration among scientists.
This pilot projects are uniquely capable of using Earth Observation technologies to meet 17 UN-designated sustainable development goals for Ocean Decade initiative.
Themes of these projects are disaster risk reduction & coastal resilience among continental shorelines & small island nations.
The CEOS COAST has been working in collaboration with stakeholders in industries such as construction, agriculture and commercial/recreational fishing to support all forms of decision-makers from parents deciding which beach to take their kids to, to sailors navigating the coast, to policymakers taking action on climate change and more.
About NOAA:
NOAA (National Oceanic & Atmospheric Administration) is an American scientific agency working under the United States Department of Commerce.
It focuses on conditions of oceans, major waterways, and atmosphere.
It warns about the dangerous weather, charts seas and guides on use & protection of ocean & coastal resources.
It also conducts research to provide understanding and improve stewardship of environment.
About ISRO:
It is an abbreviation for the Indian Space Research Organization.
ISRO is the space agency of the Government of India (GoI) and was formed in 15 august 1969.
It superseded the erstwhile "Indian National Committe For Space Research" (INCOSPAR) which was established in 1962 by the efforts of Independent India's first prime minister' Jawaharlal Nehru' and his close aide and scientist Vikram Sarabhai.
In 1972, GoI had set up a Space Commission and the Department of Space (DOS), bringing ISRO under the DOS.
ISRO then embarked on its mission to provide the Nation space based services and to develop the technologies to achieve the same independently.
Its vision is to "harness space technology for natural development while pursuing space science research & planetary exploration".
ISRO built India's first Satellite Aryabhata.
It is headquartered in Bangalore, India.
The current Chairman of ISRO is K sivan.
Monoclonal Antibody: Monoclonal antibody treatment has emerged as a relatively effective and safer alternative in treating COVID-19 patients.
Key Points:
As per the statement of the doctors, as with any other drug, timing is very important for the administration of the therapy that's touted as a game changer.
Monoclonal antibodies have previously been used to treat infections such as Ebola and HIV.
The therapy is now said to help avoid hospitalization in high-risk groups, progression to severe disease, and to reduce the usage of steroids.
However, doctors claim that though the method does not cure the infection. tThe treatment helps in preventing the development of Covid-19 severity among mild to moderately infected patients with severe comorbidities, if administered within seven days of the infection.
Immune response of antibodies in human beings:
Antibodies produced naturally in bodies fight against diseases.
The body's immune system generates antibodies as a defense mechanism against unfamiliar molecules from bacteria and viruses, termed antigens.
Antibodies bind to antigens and kill the invading pathogen.
Monoclonal antibody treatment:
Monoclonal antibody therapy is a form of immunotherapy that uses monoclonal antibodies (mAb) to bind monospecifically to certain cells or proteins.
Monoclonal antibodies too, work similarly as the naturally produced antibodies in a human body, but these are made artificially in a laboratory that helps in defending against the disease.
The Monoclonal antibodies help in reducing the symptoms and disease progression.
These antibodies have previously been used to treat viral infections such as Ebola and HIV.
Two of the Monoclonal antibodies being used in India include the REGCov2 (Casirivimab and Imdevimab).
In these drugs, antibodies for COVID target specific proteins and destroy them before they initiate inflammation.
What are Monoclonal antibodies?
Monoclonal antibodies are identical copies of an antibody that targets one specific antigen.
Scientists can make monoclonal antibodies by exposing white blood cells to a particular antigen.
Each monoclonal antibody is specific to its matching antigen.
Scientists select a single white blood cell or clone and use this as the basis to produce many identical cells, making many identical copies of the monoclonal antibody.
Imaging Objects Through Fog: Researchers have recently found a method that can improve the images captured on such days. The imaging of objects in foggy weather conditions may now be clearer.
Highlights:
The team from the Raman Research Institute (RRI), Bengaluru, an autonomous institute of the Department of Science and Technology; Space Applications Centre, Indian Space Research Organisation, Ahmedabad; Shiv Nadar University, Gautam Buddha Nagar; and Université Rennes and Université Paris-Saclay, CNRS, France, modulated the light source and demodulated them at the observer's end to achieve sharper images.
The research was published in the journal 'OSA Continuum'.
Research by a team has offered a solution for improving the image quality without heavy computations.
The study was partially funded by the Department of Science and Technology, Ministry of Science and Technology, Government of India.
Key Points:
The researchers demonstrated the technique by conducting extensive experiments on foggy winter mornings at Shiv Nadar University, Gautam Buddha Nagar, Uttar Pradesh.
With this technique, imaging of objects during foggy weather may now be clearer, as this method can improve images captured on foggy days.
This technique involves modulation of light source and demodulation at observer's end.
About the Technique:
Researchers selected ten red LED lights as source of light.
They modulated this source of light by varying current flowing through LEDs at a rate of about 15 cycles per second.
A camera was installed at a distance of 150 metres from the LEDs, which captured image and transmitted it to desktop computer.
Then, computer algorithms used knowledge of modulation frequency to extract characteristics of the source.
This process is dubbed as 'demodulation'.
Significance of technique:
This technique is cost effective as it requires only a few LEDs and an ordinary desktop computer.
It can improve landing techniques of aeroplanes by providing pilot with a good view of beacons across the runway.
It is better than relying only on reflected radio waves.
This method can also reveal obstacles in path which are otherwise hidden by fog in rail, sea, and road transportation.
It can help in identifying lighthouse beacons.
Background:
Researchers have long attempted to use physics of scattering and computer algorithms to process resulting data and improve quality of images.
But computer algorithms require processing of large volumes of data increasing storage and processing time.
Tiangong space Station: China has successfully launched the first three men crew to the country's Tiangong space station in its first crewed mission in five years on June 17, 2021.
Highlights:
Shenzhou-12 spaceship was launched by a Long March-2F Y12 rocket which blasted off shortly after the target time of 9.22 am from the Jiuquan launch center in Northwestern China.
The last human spaceflight by China was launched in 2016.
Shenzhou-12, meaning 'Divine Vessel', will be the third of the 11 missions required to complete China's Space Station by 2022.
The astronauts are being sent for a three-month stay aboard the core module, to see how the men handle their relatively long time in orbit.
The planned three months stay of the astronauts during the Shenzhou-12 mission will also break China's record of 30 days which was set by the 2016 mission. It was China's last crewed flight carrying Jing Haipeng and Chen Dong to a prototype station.
The mission is the latest stage in China's ambitious plans to be the only country to own and run its own space station, expected to be completed less than two years from now.
Details:
The three astronauts - Nie Haisheng, 56, Liu Boming 54, and Tang Hongbo, 45, travelled in Shenzhou-12 spaceship which was launched by a Long March-2F Y12 rocket.
Shenzhou-12 spacecraft docked with Tianhe, the main section of the Tiangong station, hours after blasting off from the Gobi Desert in northwest China.
The team expected to be on Tiangong for three months.
The astronauts will carry out experiments; they will test equipment, conduct maintenance, and will prepare the station for receiving two additional modules in 2022.
About Shenzhou-12:
The Shenzhou-12 is made up of three sections – an orbiter module, a return module, and a propelling module, and has 14 sub-systems onboard.
Chinese Women in Space:
In 2011, two women, Wang Yaping and Liu Yang were selected among China's second cohort, after the first batch of 14 men in the mid-1990s.
Liu Yang became China's first woman in space in 2012, while Wang Yaping became the youngest to go into space at the age of 33 in 2013.
China's ambitious space station:
China aims at becoming a major space faring power by 2030.
China began building its space station in April 2021 with the launch of Tianhe, the first and the largest of its three modules.
The country aims at sending a robotic cargo resupply spacecraft and three more astronauts for a six-month stay.
In May 2021 became the second country to put a rover on Mars, 2 years after landing the first spacecraft on the far side of the moon.
The Chinese Space Agency also plans to put astronauts on the moon.
Important Info:
Chinese astronauts have had a comparatively low international profile.
US legislation bars NASA from any cooperation with China, and Chinese astronauts have not been to the more than two-decade-old International Space Station (ISS), which has been visited by more than 240 men and women of various nationalities.
The ISS may be decommissioned in 2024 if the project does not receive new funding, and China could end up being the operator of the only space station in Earth's orbit.
EnVision Mission: Following NASA's footsteps, the European Space Agency (ESA), recently announced that it has selected EnVision as its next orbiter that will visit Venus sometime in the 2030s.
About EnVision Mission:
EnVision is an ESA led mission with contributions from NASA.
It is likely to be launched sometime in the 2030s.
The earliest launch opportunity for EnVision is 2031, followed by 2032 and 2033.
Once launched on an Ariane 6 rocket, the spacecraft will take about 15 months to reach Venus and will take 16 more months to achieve orbit circularisation.
The spacecraft will carry a range of instruments to study the planet's atmosphere and surface, monitor trace gases in the atmosphere and analyse its surface composition.
A radar provided by NASA will help to image and map the surface.
At the core of the ESA's mission is the question of how Earth and Venus evolved so differently from each other considering that they are roughly of the same size and composition.
About Venus:
For those on Earth, Venus is the second-brightest object in the sky after the moon.
It appears bright because of its thick cloud cover that reflects and scatters light.
One day on Venus is equivalent to 243 Earth days because of its backward spinning, opposite to that of the Earth's and most other planets.
But while Venus, which is the second closest planet to the Sun, is called the Earth's twin because of their similar sizes, the two planets have significant differences between them.
For one, the planet's thick atmosphere traps heat and is the reason that it is the hottest planet in the solar system, despite coming after Mercury, the closest planet to the Sun.
Surface temperatures on Venus can go up to 471 degrees Celsius, which is hot enough to melt lead, NASA notes.
Venus also does not have a moon and no rings.
Further, Venus moves forward on its orbit around the Sun but spins backwards around its axis slowly.
This means on Venus the Sun rises in the west and sets in the East.
Why are scientists curious about studying Venus?
At the core of the ESA's mission is that the question of how Earth and Venus evolved so differently from one another considering that they're rough of equivalent size and composition.
Venus is that the hottest planet within the system due to the warmth that's trapped by its thick cloudiness.
Jivan Vayu: It is India's first power-free CPAP device named 'Jivan Vayu' that has been developed by IIT Ropar.
Note: Continuous Positive Airway Pressure (CPAP) is a treatment method for patients having breathing problems during sleep called sleep apnea.
About Jivan Vayu:
The device is a substitute of Continuous Positive Airway Pressure (CPAP) machine.
It can function even without electricity.
It has been designed for a 22mm CPAP closed-circuit tube.
It can even be customized as per size of the tube.
It has been manufactured using 3D printing and has been tested mechanically.
It is adapted to both kinds of oxygen generation units like O2 cylinders and oxygen pipelines in hospitals.
These provisions are not available in otherwise existing CPAP machines.
The machine uses mild air pressure to keep the airways open for easy breathing.
It is also used to treat infants whose lungs have not fully developed.
The machine blows air into the baby's nose to help inflate his or her lungs.
The treatment is all the more necessary during early stages of the Covid-19 infection.
It reduces lung damage and allows patients to recover from the inflammatory effects.
Wooden Satellite: The European Space Agency (ESA) has planned to launch the world's first wooden satellite.
Highlights:
It is going to be launched from from a Rocket Lab Electron rocket in New Zealand.
It will be launched by the end of 2021.
The satellite is the brainchild of Jari Makinen.
About the Satellite:
The satellite, WISA Woodsat, is a nanosatellite.
It is 10cm on each side, length, height, and width.
The sensors of the satellite have been developed by the ESA.
The designers have placed the wood in a thermal vacuum chamber to keep it dry.
A very thin aluminium oxide layer has been used to minimize the vapour coming from the wood and to protect it from the erosive effects of atomic oxygen.
The non-wooden external parts are made up of aluminium rails.
About ESA:
The European Space Agency (ESA) is an intergovernmental organization of 22 member states dedicated to the exploration of space.
ESA is founded on 30 May 1975 from the merger of the European Launcher Development Organisation (ELDO) and the European Space Research Organisation (ESRO), both established in 1964.
It is headquartered in Paris, France.
Its mission is to shape the development of Europe's space capability and ensure that investment in space continues to deliver benefits to the citizens of Europe and the world.
The current CEO of ESA is Johann-Dietrich Worner.
Rare Earth Minerals: The U.S. Senate passed a law aimed at improving American competitiveness that includes provisions to improve critical minerals supply chain.
Key Points:
America and other countries are taking measrues to reduce import dependency on China for rare earth minerals (REM).
US also aims to boost production and processing of rare earths and lithium, another key mineral component while "working with allies to increase sustainable global supply and reduce reliance on competitors"
According to the U.S. Geological Survey, in 2019, the U.S. imported 80% of its rare earth minerals from China.
What are rare earth minerals?
The rare earths minerals (REM) are a set of seventeen metallic elements. These include the fifteen lanthanides on the periodic table in addition to scandium (Atomic Number 21) and Yttrium (Atomic Number 39) that show similar physical and chemical properties to the lanthanides.
Lanthanide series comprises the 15 metallic chemical elements with atomic numbers 57 through 71, from lanthanum through lutetium.
Scandium and yttrium are considered rare-earth elements because they tend to occur in the same ore deposits as the lanthanides and exhibit similar chemical properties, but have different electronic and magnetic properties.
Cerium (AN 58) is the most abundant rare earth metal.
Properties of REM:
The REMs have unique catalytic, metallurgical, nuclear, electrical, magnetic and luminescent properties.
Their colour ranges from Shiny Silver to Iron Gray.
They are soft, malleable, ductile and usually reactive, especially at elevated temperatures or when finely divided.
Strategic importance of REM:
Its application ranges from daily use like lighter flints, glass polishing mediums, car alternators, smartphones, laptops, petroleum, to high-end technology such as lasers, magnets, batteries, fibre-optic telecommunication cables, to military including nuclear applications.
Rare earth minerals, with names like neodymium, praseodymium and dysprosium, are crucial to the manufacture of magnets used in industries of the future, such as wind turbines, drones and electric cars.
Even futuristic technologies need these REMs, for example- high-temperature superconductivity, safe storage and transport of hydrogen for a post-hydrocarbon economy, environmental global warming and energy efficiency issues.
Due to their unique magnetic, luminescent, and electrochemical properties, they help in technologies perform with reduced weight, reduced emissions, and energy consumption, therefore give them greater efficiency, performance, miniaturization, speed, durability, and thermal stability.
Rare Earth Minerals Reserve:
China has the largest reserve (37 percent), followed by Brazil and Vietnam (18 percent each), Russia (15 percent), and the remaining countries (12 percent).
Deng Xiaoping said once, The Middle East has oil and China has rare earth.
REM in India:
India has the world's fifth-largest reserves of rare earth elements, nearly twice as much as Australia, but it imports most of its rare earth needs in finished form from its geopolitical rival, China
Commercial Resupply Services Mission: SpaceX recently launched its 22nd commercial resupply services mission to the International Space Station (ISS).
SpaceX rocket carried supplies for scientific experiments including squids, microorganisms to ISS so scientists can study the effect of zero gravity on the interactions between bacteria and their host organisms.
Key Highlights:
This is the second mission under new CRS contract of SpaceX with NASA and fifth capsule in last 12 months which SpaceX sent to ISS.
The mission was launched from NASA's Kennedy space Station in Florida.
The Dragon capsule was launched with Falcon 9 rocket.
The rocket is expected to reach the space station on 12 June 2021.
Falcon 9 Rocket launch vehicle is carrying the following:
7,300 pounds of research materials, supplies, hardware and new solar arrays.
The re-supply process which also includes cotton, a portable ultrasonic device called Butterfly IQ Ultrasound, Pilote ESA, a kidney cell model will help to evaluate kidney stone formation in space and much more.
Oral bacteria to test germ growth with Colgate toothpaste.
Young specimens of species Euprymna scolopes called as bobtail squid.
The species were sent to study the effect of zero gravity on interactions between bacteria and their host organisms.
The Squids will be exposed to bacteria once they reach ISS.
After 12 hours, specimens will be preserved until their return to Earth.
Also on board the SpaceX rocket are Tardigrades, also known as "water bears or Moss Piglets." These are microscopic organisms that can withstand extreme radiation, sizzling heat, the coldest temperatures of the universe and decades without food.
What are the reasons for Sending squids, microorganisms to ISS?
A number of research experiments which will be conducted on ISS.
The experiment could help scientists in the future to develop techniques to protect the health of astronauts participating in long-duration missions in space.
One such space study is Understanding of Microgravity on Animal-Microbe Interactions (UMAMI). It is known, microbes play an important role in life, including helping humans stay healthy.
In addition, NASA wanted to understand whether there would be any effect if spaceflight contained these beneficial microbes and, how flight can affect their role in helping to sustain life.
Furthermore, the research could also shed light on how interactions between microbes and animals could help promote and protect such relationships on Earth.
About SpaceX:
Space Exploration Technologies Corp., trading as SpaceX, is an American aerospace manufacturer and space transportation services company.
It was founded on 6 May 2002 by Elon Musk with the goal of reducing space transportation costs to enable the colonization of Mars.
This privately held company is headquartered in Hawthorne, California, United States.
The current SpaceX president & COO is Gwynne Shotwell.
Electricity from Carbon Nanotubes: Engineers at the Massachusetts Institute of Technology (MIT) have discovered a new way of generating electricity using tiny carbon particles that can create a current simply by interacting with liquid surrounding them.
How electricity is generated?
A new material made from carbon nanotubes can generate electricity by scavenging energy from its environment.
The liquid, an organic solvent, draws electrons out of the particles and generates current.
This current can be used to drive chemical reactions or to power micro or nanoscale robots.
In a new study describing this phenomenon, this electric current can also be used to drive a reaction known as alcohol oxidation.
Note: Alcohol oxidation is an organic chemical reaction that is important in the chemical industry.
Unique properties:
The new discovery grew out of Strano's research on carbon nanotubes.
Carbon nanotubes are hollow tubes made of lattice of carbon atoms which have unique electrical properties.
The potential of carbon nanotubes to generate thermopower waves was demonstrated way back in 2010.
When Carbon nanotube is coated with layer of fuel, moving pulses of heat or thermopower waves travelling along tube generates electrical current.
Feature of carbon nanotubes:
When part of carbon nanotube is coated with Teflon-like polymer, it creates an asymmetry.
This makes it possible for electrons to flow from coated to uncoated part of tube, which generates an electrical current.
Current version of particles can generate about 0.7 volts of electricity per particle.
About Carbon nanotubes (CNTs):
CNTs are tubes made of carbon having diameter in nanometres.
They are referred as single-wall carbon nanotubes and are one of the allotropes of carbon.
They are intermediate between two allotropes of carbon- fullerene cages and flat graphene.
Early Cyclone Detection Technique: Indian Institute of Technology (IIT) Kharagpur has recently developed an early cyclone detection technique.
The research was published in the journal 'Atmospheric Research' recently.
This technique seeks to help in early detection of development or strengthening of tropical cyclones in North Indian Ocean region.
About Cyclone Detection Technique:
IIT developed this technique by using Eddy detection technique to investigate the formative stages and advance detection time of tropical cyclogenesis in the region.
The study was conducted under the Climate Change Program (CCP) with the support from Department of Science and Technology (DST), Government of India (GoI).
The technique was developed with the aim of identifying initial traces of pre-cyclonic eddy vortices in atmospheric column.
They used a coarser grid resolution of 27 km for identification and finer resolution of 9 km to evaluate the characteristics of eddy vortices.
It also seeks to track its spatio-temporal evolution.
How was the study conducted?
The study was conducted with cases of four post-monsoon severe cyclones — Phailin (2013), Vardah (2013), Gaja (2018), Madi (2013), and two pre-monsoon cyclones Mora (2017) and Aila (2009) that developed over North Indian Ocean.
Observation of the study:
They observed that this technique was able to prediction with a minimum of four days lead time for cyclones developed during the pre-and post-monsoon seasons.
Initiation mechanisms of genesis of tropical cyclones occur at upper atmospheric levels and are also detected at higher lead time for pre-monsoon cases, unlike the post-monsoon cases.
The study made a comprehensive investigation on the behavior of eddies in an atmospheric column for non-developing cases and compared these findings with developing cases.
How is this new technique different from the earlier technique?
Earlier, remote sensing techniques that were used to detect cyclones earliest was possible only after development low-pressure system over warm ocean surface.
But this new technique is based on cyclonic eddies which are prominent features of vertical atmospheric column inducing and developing into a cyclonic depression over warm ocean surface. They could be used to detect prediction of cyclones at early stage. Thus, larger time gap between detection and impact of cyclone could help in preparation activities.
CHIME: Researchers from the Pune-based Tata Institute for Fundamental Research (TIFR) and the National Centre for Radio Astrophysics (NCRA), have assembled the largest collection of Fast Radio Bursts (FRBs) catalogue.
The data is from Canadian Hydrogen Intensity Mapping Experiment (CHIME).
FRBs Catalogue & Findings:
The new catalogue significantly expands the current library of known FRBs, and is already yielding clues as to their properties.
For instance, the newly discovered bursts appear to fall in two distinct classes: those that repeat, and those that don't.
Scientists identified 18 FRB sources that burst repeatedly, while the rest appear to be one-offs.
The repeaters also look different, with each burst lasting slightly longer and emitting more focused radio frequencies than bursts from single, nonrepeating FRBs.
These differences strongly suggest that emission from repeaters and non-repeaters is generated either by different physical mechanisms or in different astrophysical environments.
These observations strongly suggest that repeaters and one-offs arise from separate mechanisms and astrophysical sources.
With more observations, astronomers hope soon to pin down the extreme origins of these curiously bright signals.
Note: NASA (National Aeronautics and Space Administration), in 2020 had spotted FRB for the first time in the Milky Way.
About CHIME :
CHIME is an interferometric radio telescope.
It is located at the Dominion Radio Astrophysical Observatory in British Columbia, Canada.
The telescope receives radio signals each day from half of the sky as the Earth rotates.
It consists of four antennas consisting of 100 x 20 metre cylindrical parabolic reflectors with 1024 dual-polarization radio receivers suspended on a support above them.
The antenna receives radio waves from hydrogen in space at frequencies in the 400–800 MHz range.
What are FRBs?
FRBs are oddly bright flashes of light, registering in the radio band of the electromagnetic spectrum, which blaze for a few milliseconds before vanishing without a trace.
They can glow anytime.
These brief and mysterious beacons have been spotted in various and distant parts of the universe, as well as in our own galaxy.
Their origins are unknown and their appearance is highly unpredictable.
But the advent of the CHIME project has nearly quadrupled the number of fast radio bursts discovered to date.
With more observations, astronomers hope soon to pin down the extreme origins of these curiously bright signals.
SPAG9: India's First Indigenous Tumor Antigen SPAG9 developed by the National Institute of Immunology (NII) has received the ASPAGNIITM trademark.
Key Points:
The Indigenous Tumor Antigen SPAG9, discovered in dendritic cell based immunotherapy in cervical, ovarian cancer and will also be used in breast cancer.
It was discovered in 1998 by Dr. Anil Suri who heads the Cancer Research Programme at the National Institute of Immunology, a DBT Institute.
Currently, ASPAGNIITM is being used in dendritic cell based immunotherapy is cervical, ovarian cancer.
DC-based immunotherapy is safe, affordable and can promote anti-tumor immune responses and prolonged survival of cancer patients.
These dendritic cells are primed with ASPAGNIITM and are injected back to the patient to help the 'fighter' cells, or T-cells, in the body to kill the cancer cells.
Cancer research in India:
Cancer kills 8.51 lakh people in India every year.
According to the World Health Organization (WHO), one in 10 Indians will develop cancer during their lifetime, and one in 15 will die of cancer.
It is all the more critical to make extraordinary breakthroughs and innovations for this deadly disease.
What is an Immunotherapy approach?
It is a new approach that exploits the inner capability of the body to put up a fight against cancer.
With the Immunotherapy approach, either the immune system is given a boost, or the T-Cells are being trained to identify recalcitrant cancer cells and kill them.
SPAG9:
SPAG9 is a novel tumor associated antigen, expressed in variety of malignancies.
However, its role in ovarian cancer remains unexplored.
SPAG9 expression was validated in ovarian cancer cells by real time PCR and Western blot.
Nano Urea Liquid: Indian Farmers Fertilizer Cooperative Limited (IFFCO), the premier farmers' cooperative, on May 31, 2021, introduced the world's first Nano Urea Liquid fertilizer.
Highlights:
The world's first Nano Urea Liquid was unveiled in IFFCO's 50th annual general body meeting held in the online-offline mode in India.
The 'Nano-technology' based product has been researched and developed at the IFFCO Nano Biotechnology Research Centre (NBRC), an advanced research and development centre based at Kalol Unit.
This new Nano Urea Liquid that has been indigenously developed through a proprietary technology is in line with 'Atmanirbhar Bharat' and 'Atmanirbhar Krishi'.
Production and Rollout:
IFFCO has informed that the production of Nano Urea Liquid will commence by June 2021.
The commercial rollout will start soon thereafter.
IFFCO has planned a massive countrywide campaign exercise to demonstrate and train the farmers about its usage and application.
Nano urea will be primarily available to farmers through its cooperative sales and marketing channel apart from its sale on IFFCO's e-commerce platform.
The liquid is now included in Fertiliser Control Order (FCO, 1985) on the basis of multi- location and multi-crop trials undertaken under National Agriculture Research System (NARS) at 20 ICAR research institutes, State Agriculture Universities and KVKs on 43 crops.
Benefits of Nano Urea Liquid:
The following are the benefits of Nano Urea Liquid.
These nanostructured formulations have been found effective and efficient for plant nutrition which increases the production with improved nutritional quality.
The products are meant to:-
Improve soil health,
Reduce emission greenhouse gases
Ensure upto 15-30% increase in crop production
Reduce the requirement of conventional chemical fertilizer by 50%
Boost the plants immunity against harmful pathogens
Help increase the activity of plant growth hormone and improves overall plant growth and development.
It will also have a huge positive impact on the quality of underground water, very significant reduction in the global warming with an impact on climate change and sustainable development.
The effectiveness of Nano Urea Liquid has been tested in over 11,000 farmers' fields for 94 crops like rice and wheat.
It is more effective than the conventional granular urea which when used the excess urea causes environmental pollution, harms soil health, and makes plants more susceptible to disease and insect infestation, delayed maturity of the crop and production loss.
It will prove very beneficial for farmers. The benefits are as follows:
It will be cost-effective as it is cheaper and it will help in increasing farmers' income.
Nano urea contains 40,000 ppm of Nitrogen in a 500 ml bottle, which is equal to nitrogen nutrient impact provided by one bag of conventional Urea.
This will reduce the input cost of farmers and due to its small size, it will also significantly bring down the cost of logistics and warehousing too.
The 500 ml bottle of Nano Urea will be priced at Rs 240 for the farmers, which is 10% cheaper than the cost of a bag of conventional Urea.
What is Nano urea?
Urea that is produced from nano-technology to improve the efficiency of the nutrients of the crops is called as nano urea.
The nano urea liquid seeks to replace conventional Urea and can curtail its requirement by at least 50 percent.
About IFFCO:
Indian Farmers Fertilizer Cooperative Limited, also known as IFFCO is a Multi-state cooperative society engaged in the business of manufacturing and marketing of fertilizers headquartered in New Delhi, India.
It was founded on 3 November 1967 with 57 member cooperatives it is today the biggest co-op in the world by turnover on GDP per capita with around 35,000 member cooperatives reaching over 50 million Indian farmers.
It is headquartered in New Delhi, India.
The current chairman and CEO/MD are B.S Nakai and Dr. U.S Awasthi respectively.
Space Agreement: New Zealand recently became the latest country to sign "space agreement with NASA".
Key Points:
New Zealand became the eleventh signatory to the Artemis Accords.
Artemis Accords is a blueprint for space cooperation and supporting the U.S. space agency's plans to return humans to the moon by 2024 and also to launch a historic human mission to Mars.
Note: The other signatories to the accords are the US, Australia, Britain, Canada, Italy, Japan, Luxembourg, South Korea, the United Arab Emirates, and Ukraine.
Objective:
The agreement was signed with an objective to boost the nascent space industry of New Zealand.
The country wants to ensure the next phase of space exploration is conducted in a safe, sustainable and transparent manner and in full compliance with international law,".
It is particularly interested in making sure that minerals taken from the moon or elsewhere in space are used sustainably.
New Zealand Space industry:
California-based company Rocket Lab, which specializes in putting small satellites into orbit began commercial launches in 2018.
It made history in New Zealand four years ago when it launched a test rocket into space from the remote Mahia Peninsula.
Artemis Accords:
Artemis accords are an international agreement and American-led effort which seeks to relaunch humans to Moon by 2024.
The Agreement was signed by governments participating in Artemis programme with the objective of expanding and deepening space exploration.
It was drafted under the aegis of NASA.
It provides a framework for cooperation in civil exploration and peaceful use of Mars, Moon and other astronomical objects.
The accord was signed on October 13, 2020.
AmbiTAG: Indian Institute of Technology (IIT) Ropar in Punjab has developed "AmbiTAG" which is India's first indigenous temperature data logger developed for cold chain management.
Ambitag has been developed under Technology Innovation Hub – AWaDH (Agriculture and Water Technology Development Hub) and its Startup ScratchNest.
About AmbiTAG:
AmbiTAG is shaped as USB device.
It continuously records temperature of its immediate surroundings.
The recorded data can be retrieved by connecting the USB with any computer.
It can detect temperatures "from -40 to +80 degrees" in any time zone for 90 days on a single charge unlike other devices available in market that record data only for duration of 30- 60 days.
Significance:
AmbiTag records real-time ambient temperature during the transportation of perishable products, vaccines and even body organs and blood.
That recorded temperature further helps to know whether that particular item transported from anywhere in the world is still usable or perished because of temperature variation.
This information is particularly critical for vaccines including Covid-19 vaccine, organs and blood transportation.
Apart from perishable items like met, vegetables, and dairy products it can monitor temperature of animal semen during transit.
About AWaDH:
AWaDH is a research center at IIT Ropar.
It was established with support of Department of Science & Technology (DST) and Science & Engineering Research Board (SERB).
It carries out extensive research in agriculture and water.
Asia-Pacific Cybersecurity Council: Microsoft has recently launched its first ever "Asia Pacific Public Sector Cyber Security Executive Council".
It was launched with the aim of building strong communications channel to address cyber threats and to share best practices among participating countries.
About the Council:
Cybersecurity Council comprises of policy makers and influencers from countries like Indonesia, Korea, Brunei, Malaysia, Singapore, Philippines, and Thailand.
It is supported by cybersecurity professionals. Council was set up with the aim of accelerating public-private partnerships in cybersecurity, and share threat intelligence.
Reason for setting up the Council:
Council was set up to build strong coalition and to strengthen cyber security defense.
It was launched in the view that the above mentioned countries experience higher-than-average encounter rate of malware and ransomware attacks.
They experience 1.6 times higher malware attacks and 1.7 times higher ransomware attacks as compared to other countries.
What are the functions of Council?
The following are the functions of the Council.
The Council will meet virtually on a quarterly basis so as to continuously exchange information on cyber threats and related cybersecurity solutions.
They will learn from Microsoft security certification trainings, hands on lab sessions and dedicated workshops to improve digital skills of workforce.
It will in turn help in reducing talent gap in cybersecurity.
About Microsoft:
Microsoft Corporation is an American multinational technology company.
Microsoft was founded by Bill Gates and Paul Allen on 4 April 1975 in Albuquerque, New Mexico, United States.
It is headquartered in Redmond, Washington.
It is considered one of the Big Five companies in the U.S. information technology industry, along with Google, Apple, Amazon, and Facebook.
It develops, manufactures, licenses, supports, and sells computer software, consumer electronics, personal computers, and related services.
NASA"s Robotic Mission to Venus: The National Aeronautics and Space Agency (NASA) recently announced its plans of launching two new scientific missions to Venus between 2028 and 2030.
About the Mission:
The missions have been awarded about $500 million under NASA's Discovery Program.
Each one is expected to launch in the 2028-2030 timeframe.
The two new robotic missions are dubbed as Davinci+ and Veritas.
Both the mission to Venus are aimed at examining atmosphere and geological features on the planet.
The two missions to the Earth's sister planet by NASA which will be it's first one in decades aims to understand how Venus became an inferno-like world capable of melting lead at the surface.
These two missions were selected after a peer-review process.
They were chosen on the basis of their potential scientific value and feasibility of their development plans.
About Davinci+ Mission:
The first mission Davinci+ is an acronym for "Deep Atmosphere Venus Investigation of Noble gases, Chemistry, and Imaging".
It will measure atmosphere of Venus to gain insight into how it formed and evolved.
It also seeks to determine whether Venus ever had an ocean.
DAVINCI+ will also consist of a fly-by spacecraft and an atmospheric descent probe.
It is expected to return the first high-resolution images of the unique geological characteristics on Venus called 'tesserae'.
Scientists have believed that those features may be comparable to the continents of Earth and suggest that Venus has plate tectonics.
Veritas Mission:
The second mission, Veritas (Venus Emissivity, Radio Science, InSAR, Topography, and Spectroscopy) will map surface of Venus to understand its geologic history.
It will also investigate how it developed differently than Earth.
It will use a form of radar to investigate surface elevations and will discover if volcanoes and earthquakes are still happening.
Background:
The US and the former Soviet Union sent multiple spacecraft to Venus in the early days of space exploration.
In 1962, NASA's Mariner 2 performed the first successful flyby.
In 1970, the Soviets' Venera 7 made the first successful landing.
In 1990, NASA used a space shuttle to send its Magellan spacecraft into orbit around Venus.
The European Space Agency put a spacecraft around Venus in 2006.
About Venus:
Venus is the hottest planet of solar system and second planet from the sun.
It is Earth's closest planetary neighbor.
It is similar in structure to Earth but slightly smaller, with a diameter of about 12,000 kilometres (7,500 miles).
Its surface temperature is 500 degree Celsius which is hot enough to melt lead.
Science & Technology Affairs Current Affairs - May 2021
Lunar Eclipse 2021: The First lunar eclipse of 2021 will take place on May 26, 2021.
Highlights:
The moon on its journey around the earth will be passing through the earth's shadow and will be totally eclipsed
On May 26 evening, a rare celestial event will unfold its mesmerizing act when a Super Blood Moon will be seen in the eastern sky, just after a total lunar eclipse.
It will be a super lunar phenomenon because three major events will be taking place all at once, namely 'Supermoon', 'Red Blood Moon' and a Lunar Eclipse.
In India, the eclipse will only be visible partially at a few places in the eastern parts of the country while it will be best seen from Australia, parts of the United States, western South America, the Pacific and South-East Asia.
What's a super moon?
A super moon occurs when a full or new moon coincides with the moon's closest approach to the Earth.
The Moon's orbit around Earth is not perfectly circular.
This means the Moon's distance from Earth varies as it goes around the planet.
When full or new moon coincides with perigee of Moon to the Earth, super moon event occurs.
Note: The closest point in the orbit, called the perigee.
A full moon that happens near the perigee is called a super moon because close proximity of moon makes it bigger and brighter in appearance than usual. Though, difference between super and normal moon is hard to notice.
What is lunar eclipse?
A lunar eclipse happens when the Earth's shadow covers all or part of the Moon.
This event only happens during full moon.
Lunar eclipse happens twice a year during which, moon comes in same horizontal plane as the Earth and Sun.
What is a full moon?
When Moon and Sun are on opposite sides of Earth, full moon happens.
This makes it possible to observe entire lit-up side of the moon.
What is a blood moon?
When moon gets completely covered by Earth's shadow, it appears dark.
It does not get completely black but appears red. Because of this red colour, total lunar eclipses are called as red or blood moons.
Why does the moon appear red?
Sunlight contains all colors of visible light.
The particles of gas that make up Earth's atmosphere are more likely to scatter blue wavelengths of light while redder wavelengths pass through.
This is called Rayleigh scattering, and it's why the sky is blue and sunrises and sunsets are often red.
In the case of a lunar eclipse, red light can pass through the Earth's atmosphere and is refracted – or bent – toward the moon, while blue light is filtered out.
This leaves the moon with a pale reddish hue during an eclipse.
Smart Window Material: Indian Institute of Technology Guwahati (IIT Guwahati) researchers have recently developed smart window materials for automatic climate control of buildings.
Key Points:
Such smart window materials would help in Climate control.
The smart window material has been developed by Dr. Debabrata Sikdar, Assistant Professor in Electronics and Electrical Engineering department at IIT Guwahati along with his research scholar Ashish Kumar Chowdhary.
According to the researchers, the smart window material designed by them can effectively control the amount of heat and light passing through it in response to an applied voltage and would ultimately help in developing efficient automatic climate control.
The results of their study have recently been published in the journal, Solar Energy Materials and Solar Cells.
The reason for developing this window was that there has been increased attention to sustainable architectural designs for better light and heat management in buildings in recent years, and deploying smart windows is the first step for such structures.
About Smart Windows:
The design of smart windows is suitable for all-weather conditions.
Smart window glasses have been designed using noble metals which can dynamically control the solar radiations.
They are inexpensive as they make use of materials like copper and indium tin oxide.
It can maintain the ambient indoor temperature and lighting in buildings or vehicles.
How is it different than conventional windows?
Conventional window designs are static. They are designed for specific climatic conditions where as the newly developed window can dynamically adjust the amount of light and heat radiation entering through it which in turn helps in conserving the energy of the building.
About IIT Guwahati:
Indian Institute of Technology (IIT) Guwahati established in 1994 has completed 25 years of glorious existence in 2019.
At present, the Institute has eleven departments, five inter-disciplinary academic centers, and four schools covering all the major engineering, science and humanities disciplines, offering BTech, BDes, MA, MDes, MTech, MSc, and Ph.D. programmes.
New Earth System Observatory: National Aeronautics and Space Administration (NASA) is developing a new system called the Earth System Observatory.
Key Points:
Currently, NASA has initiated formulation phase for First integrated part of the observatory.
In first integrated parts, the new system will be aided by the NASA-ISRO Synthetic Aperture Radar (NISAR) from the Indian Space & Research Organisation (Isro).
NISAR will carry two radar systems to measure changes in the Earth's surface, during one of the observatory's first missions intended as a pathfinder
Purpose of New Earth System Observatory:
The new observatory will help in mitigating climate change, forest fires and hurricanes.
It will also support real-time agriculture.
About the Earth System Observatory:
Each satellite in the observatory will be designed uniquely and will complement the others.
As part of the Earth System Observatory, each will work in tandem to produce holistic 3-dimensional view of Earth, from bedrock to atmosphere.
The Observatory will study clouds and weather, aerosols, water supply, and surface & ecosystems of Earth for an unprecedented understanding of the critical interactions between Earth's atmosphere, land, ocean, and ice processes, which determines how the changing climate will play out at regional and local levels, on near and long-term time scales.
What is Earth System Observatory?
It is a program by US Space Agency, NASA consisting of series of artificial satellite missions and scientific instruments in Earth orbit.
Satellite component of this program was launched in 1997.
About NASA:
National Aeronautics and Space Administration (NASA) is an independent agency of U.S. federal government, running civilian space program, aeronautics and space research.
It was established in 1958 and succeeded National Advisory Committee for Aeronautics (NACA).
Supercomputer Simorgh: Iran has recently launched its supercomputer called Simorgh.
This supercomputer is hundred times more powerful than the previous Iranian supercomputers.
This important development ranks Iran among the 10 countries with the petaflops knowledge.
About Simorgh:
The Supercomputer has been named after the benevolent Phoenix-like bird called the Simurgh.
It was developed by the Amirkabir University of Technology in Tehran, the capital of Iran.
It is located at the Iranian High Performance Computing Research Centre (IHPCRC).
The performance capacity of the Simorgh Supercomputer is 0.56 petaflops.
It is to reach 1 petaflops in two months.
In its subsequent levels it is to reach to speed of 10 petaflops.
It comprises of 42 racks in an area of 250 square metres.
In future this is to be upgraded to 400 square metres.
The total budget of the supercomputer is expected to be 9 million USD.
The Supercomputer is to be used for image processing, artificial intelligence work load, traffic and weather data.
It will also be used for cloud hosting local private firms.
Key Facts:
The supercomputer is said to be wholly designed and built by a team of Iranian engineers, who developed the country's first supercomputer a decade ago, but some of its hardware has been imported.
As United States (US) had imposed sanctions on Iran and the doors of business is completely closed to the country.
The US had imposed anti terrorism trade sanctions and has been trying to slow down its nuclear programme for decades.
Therefore, Iran must have got the US chips used in supercomputers illegally.
Iran is using bitcoin mining facilities to buy required raw materials from US and other countries.
Most of these are illegal under the sanctions imposed against the country.
In 2001, the Amirkabir University developed a 32-node PC based on Intel Pentium processors.
Again in 2007, the country had its hands on 216 AMD cores which in turn led to the most powerful supercomputer of all time.
About Iran:
Iran also called Persia, and officially the Islamic Republic of Iran is a country in Western Asia.
It is bordered to the northwest by Armenia and Azerbaijan,to the north by the Caspian Sea, to the northeast by Turkmenistan, to the east by Afghanistan and Pakistan, to the south by the Persian Gulf and the Gulf of Oman, and to the west by Turkey and Iraq.
Its central location in Eurasia and Western Asia, and its proximity to the Strait of Hormuz, give it geostrategic importance.
The capital of Iran is Tehran.
The currency used there is Iranian Rial.
The current President of Iran is Hassan Rouhani.
iSAVE: A team of Indian-origin researcher in the United States has come up with splitters for ventilators that will address the shortage of the life-saving equipment.
Highlights:
The splitters for ventilators have been named called iSAVE (Individualized System for Augmenting Ventilator Efficacy).
The equipment was recently approved by the Central Drugs Standard Control Organisation, Bengaluru.
IndVentr is the Indian partner making the device
The research and the findings have been published in the medial journal, Science Translational Medicine.
What does iSAVE do?
The equipment re-purposes the flow valves of a ventilator to provide customised support to two patients.
Ventilator support to groups of patients in emergencies has been tried out with limited success, as there are concerns about contamination and the right parameters of the patients being ensured.
Excess or too little flow of oxygen could harm the lungs.
The team took up the challenge when COVID-19 surged through the U.S., and hospitals struggled with a huge inflow of patients.
By the time the team validated its device, the flow of patients had fallen.
About the equipment:
The equipment can be assembled with an existing ventilator in less than 10 minutes even by an inexperienced staff member
The device has been validated on pig models.
The researchers used a large and small animal each and compared the values for individual ventilation and combined ventilation, which showed no significant changes.
The device is such that a small person and a large person can be ventilated at the same time, providing versatility to the equipment.
Training manuals and videos to help have also been prepared."
Note: The team validated the device in India, and the first batch has been delivered to two hospitals in Kerala.
By the month-end, 100 more units will be deployed at several hospitals.
SBIRS Geo-5 Missile Warning Satellite: The United Launch Alliance (ULA) launched the Atlas V Rocket from Cape Canaveral Space Force Station, Florida.
The Atlas V rocket carrying SBIRS Geo-5 Missile Warning Satellite for the U.S. Space Force's Space and Missile Systems Center (SMC) lifted off on May 18 at 1:37 p.m. EDT from Space Launch Complex-41 at Cape Canaveral Space Force Station.
SBIRS Geo-5 Missile Warning Satellite:
The satellite will provide key capabilities in missile warning, battle space, missile defence.
It weighs 4,850 kilograms.
As of 2018, ten SBIRS satellites were launched.
This was the 87th launch of the Atlas V rocket and the 72nd Atlas V to launch from Space Launch Complex-41 in Florida.
Atlas V:
Atlas V is a two-stage rocket which is fueled with rocket grade kerosene and liquid oxygen in its first stage and hydrogen and liquid oxygen in the second stage.
The rocket put SBRIS at a height of 35,753 kilo metres.
About SBIRS:
SBIRS is an acronym for Space Based Infrared System.
SBIRS is designed for missile warning, missile battle space and defence characterization.
It is basically a Space Tracking and Surveillance System.
It was designed to meet the Infrared Space Surveillance of United States Space Force System.
Note: In 2020 alone, the SBIRS satellites detected more than thousand missiles.
About United Launch Alliance (ULA):
United Launch Alliance (ULA) is an American spacecraft launch service provider.
It manufactures and operates a number of rocket vehicles that are capable of launching spacecraft into orbits around Earth and to other bodies in the Solar System.
The company is a joint venture between Lockheed Martin Space and Boeing Defense, Space & Security.
It was formed in December 2006.
Launch customers of the United States government include the Department of Defense (DoD), NASA, and other organizations.
United Nations Space Force:
The United States Space Force is the space service branch of the U.S. Armed Forces.
It is one of the eight U.S. uniformed services, and the world's first.
Currently, it is the only independent space force.
It was founded on 20 December 2019.
It is operated by Department of Air Force which is one of the three civilian led military departments in Department of Defence.
The current Commander-in-Chief is President Joe Biden
Haiyang-2D (HY-2D) Satellite: China recently launched a new ocean-monitoring Haiyang-2D (HY-2D) satellite into orbit.
Highlights:
The satellite was launched by a Long March-4B rocket from the Jiuquan Satellite Launch Centre, Gobi desert in northwest China.
The HY-2D has been developed by the China Academy of Space Technology (CAST), and the carrier rocket by the Shanghai Academy of Spaceflight Technology.
The HY-2D will form a constellation with the HY-2B and HY-2C satellites which will support the country's early warning and prediction of marine disasters, sustainable development and utilization of ocean resources, effective response to global climate change as well as ocean research.
It was the 370th launch by the Long March rocket series.
China's Space Programme:
The Long march rocket series has been developed by Shanghai Academy of Spaceflight Technology.
The HY-2B was launched in October 2018.
The HY-2C was launched in September 2020.
China's rover named Zhurong landed in Mars in May 2021.
It has become the second country after the United States to have a rover on the red planet.
Note: China, on 15 September 2020 successfully launched a solid propellant carrier rocket from a ship in the Yellow Sea, China.
About China National Space Administration (CNSA):
China National Space Administration (CNSA) is the national space agency of China responsible for the national space program and for planning and development of space activities.
CNSA was created in 1993 when the Ministry of Aerospace Industry was split into CNSA and the China Aerospace Science and Technology Corporation (CASC).
The CNSA operates three launch facilities: Jiuquan, in Gansu province; Taiyuan, in Shanxi province; and Xichang, in Sichuan province.
Its current Administrator is Zhang Kejian.
About CAST:
China Academy of Space Technology (CAST) is the main spacecraft development and production facility in China.
CAST was founded on 20 February 1968.
It is headquartered in Haidian District,Beijing, China.
NMMS app and Area officer monitoring App: Union Minister Narendra Singh Tomar recently launched a National Mobile Monitoring Software, NMMS app and Area officer monitoring App through Video-Conferencing.
Highlights:
The NMMS App permits taking real time attendance of workers at Mahatma Gandhi NREGS worksites along with geotagged photograph, which will increase citizen oversight of the programme besides potentially enabling processing payments faster.
Area Officer Monitoring App facilitates them to record their findings online along with time stamped and go-coordinate tagged photograph for all the schemes of Deptt of Rural Development- Mahatma Gandhi NREGS, PMAYG, PMGSY.
Aim:
These two Apps aim towards bringing in transparency and effective monitoring of schemes.
This would not only enable better record keeping of inspections by field and supervisory officials but also facilitate analysis of the findings for better programme implementation.
Mucormycosis-Black Fungus Infection in COVID: Mucormycosis, also known as black fungus infection is increasing among the COVID patients.
The National COVID Task Force recently issued an advisory against Mucormycosis.
This disease is rare but recently this disease has been increasing among COVID patients in Delhi, Gujarat and Maharashtra.
What is Mucormycosis?
Mucormycosis sometimes also called zygomycosis is a disease that mainly affects the skin, lungs and brain.
It is rare fungal infection.
It is caused by a group of molds called Mucoromycetes which are found in soil, leaves, or rotting woods.
The fungus can enter the body through breathing, open wounds or cuts.
It mainly affects people who are on medication.
The lungs or sinuses of the recovering COVID patients get affected after they inhale fungal spores from the air.
However, it is not a major threat to those with a healthy immune system.
Symptoms:
It causes redness around the eyes, nose.
Also, the person suffers from headache, fever, bloody vomits, shortness of breath, altered mental status.
Mucormycosis is suspected when a person suffers from sinusitis, local pain on cheek bone, blackish discoloration over bridge of nose, chest pain, thrombosis, plural effusion, necrosis, blurred vision, etc.
How can it be diagnosed?
You should see a doctor if you are experiencing the above symptoms post the COVID recovery.
A definite diagnosis will be made by the identification of fungi in the patient's tissue.
For this, a doctor may collect a sample of your nasal discharge.
Treatment:
Mucormycosis might lead to loss of eyes or upper jaws.
Such patients might require a surgery.
The treatment of Mucormycosis includes infusion of saline, Amphotericin and other anti-fungal therapies.
Task Force Advisory:
Advisory goes on to say that Mucormycosis, if uncared for, may turn fatal.
To prevent disease, blood glucose level should be monitored post-Covid discharge
The COVID Task Force has recommended to control hyperglycemia after discharge.
Why are COVID patients susceptible to Mucormycosis?
The immunity level of a person recovering from COVID-19 is very low.
The Mucoromycetes easily affects persons with very low immunity levels.
It is especially common among COVID patients who are treated with steroids to reduce inflammation.
Inflammation is a condition where a part of the body is swollen, reddened and is often painful due to an infection or reaction to injury.
OSIRIS-REx: The NASA Spacecraft called the "Osiris-Rex" has started a two year long journey back to the earth.
Main Facts:
The spacecraft reached asteroid Bennu in 2018.
It then spent two years flying around it and collected rubbles.
Note: Rubbles are rough fragments of brick, stones.
It will be the biggest cosmic haul for the U.S. since the Apollo moon rocks.
While NASA has returned comet dust and solar wind samples, this is the first time it's gone after pieces of an asteroid.
Japan has accomplished it twice, but in tiny amounts.
About the OSIRIS-Rex:
The mission launched to study asteroid Bennu spent 2.5 years mapping its surface.
In 2020, the scientists directed Osiris Rex to drop down and collect sixty kilo grams of regolith (top soil).
They also found that the asteroid has lots of accessible water.
The mission will help to understand the origin and evolution of solar system.
About Bennu:
Bennu — considered a broken chunk from a bigger asteroid — is believed to hold the preserved building blocks of the solar system.
It is the most hazardous asteroids currently known to the earth. Meaning it has one in 2,700 chances of hitting the earth in the late 22nd century.
It makes its closest approach to the earth once in six years.
The size of Bennu also makes it approachable.
Most of the asteroids spin very fast. This rapid spinning makes it difficult for the spacecrafts to collect samples.
The returning pieces could shed light on how the planets formed and how life arose on Earth.
They also could improve Earth's odds against any incoming rocks.
Additional Info:
However, Bennu is not the first mission on an asteroid.
Hayabusa:
Japan had sent Hayabusa.
It was launched in 2014 to collect samples from Ryugu.
It reached Ryugu in 2018.
It spent 18 months there and returned to the earth in December 2020.
Rosetta Mission:
European Space Agency had sent Rosetta Mission to explore comet Churyumov-Gerasimenko in 2004.
It was the first mission to orbit a comet.
It was also the first mission to land a probe on its surface.
Smokeless Cremation: Indian Institute of Technology (IIT), Ropar has recently developed a prototype of a moveable electric cremation system.
This system is claimed to be using first of its kind technology that involves smokeless cremation despite using wood.
The cart has been developed in collaboration with a company Cheema Boilers Limited
About the system:
The moveable electric cremation system uses half of the wood otherwise required for the cremation and still is eco-friendly because of the technology that uses combustion air system.
It is based on wick-stove technology in which the wick when lighted glows yellow.
This is converted into smokeless blue flame with the help of combustion air system installed over the wicks.
The cremation system or incinerator heats up at 1044 degree Celsius which ensures complete sterilization.
Keeping in view the present pandemic situation if this system is adopted, then it may provide respectable cremation to the near and dear ones of those who cannot afford the financial burden of arranging wood.
Uranium-214: The scientists have recently created lightest form of Uranium.
Key Facts:
The new found uranium is called the Uranium-214.
The researchers created the new uranium isotope at the Heavy Ion Research Facility in Lanzhou, China.
The discovery could reveal more about a weird alpha particle that gets ejected from certain radioactive elements as they decay.
About Uranium-214:
Uranium-214 is an isotope, or a variant of the element, with 30 more neutrons than protons, one fewer neutron than the next-lightest known uranium isotope.
Neutrons have mass.
The recently found uranium-214 is much lighter than more common uranium isotopes.
This includes uranium-235, which is used in nuclear reactors and has 51 extra neutrons.
It had a half-life of just half a milli-second. The half life of a radioactive sample is the time taken for half of the radioactive sample to decay.
The most common isotope of uranium — called uranium-238.
It has a half-life of about 4.5 billion years, which is about the age of Earth.
Significance:
This newfound isotope isn't just lighter than others, but it also showed unique behaviors during its decay.
As such, the new findings will help scientists better understand a radioactive decay process known as alpha decay, in which an atomic nucleus loses a group of two protons and two neutrons — collectively called an alpha particle.
Note: The alpha particles are those particles that get ejected from radioactive elements as they decay.
However, though scientists know that alpha decay results in the ejection of this alpha particle, after a century of study but they still don't know the exact details of how the alpha particle is formed before it gets ejected.
How was Uranium-214 created?
A beam of Argon was projected on Tungsten inside a machine called a gas-filled recoil separator — in this case the Spectrometer for Heavy Atoms and Nuclear Structure, or SHANS.
The researchers then added protons and neutrons to the material through a LASER beam to create Uranium-214.
The scientists found that protons and neutrons of Uranium-214 interacted much more strongly than in isotopes with similar number of neutrons and protons.
In other words, nuclear force in Uranium-214 was greater than the nuclear force in other isotopes.
8 extremely rare 'millisecond pulsars' discovered inside globular clusters
Millisecond pulsars: An international team of astronomers have recently discovered eight millisecond pulsars.
These pulsars were located within the dense clusters of stars, known as "globular clusters," using South Africa's MeerKAT radio telescope.
About Milli second Pulsars:
Millisecond pulsars are neutron stars.
They are extremely compact stars mainly made up of neutrons, and are amongst the most extreme objects in the universe.
They pack hundreds of thousands of times the mass of the Earth in a sphere with a diameter of about 24 km.
They spin at a rate of hundreds of rotations per second.
They emit a beam of radio waves that are detected by the observer at every rotation, like a lighthouse.
The formation of these objects is highly enhanced in the star-rich environments at the centers of globular clusters.
About the discovery:
The Pulsar discovery comes from two international collaborations TRAPUM and MeerTIME.
This is the first pulsar discovery using the MeerKAT antennas.
Ridolfi and his colleagues used the MeerKAT telescope — an array of 64 individual satellite dishes run by the South African Radio Astronomy Observatory (SARAO).
The astronomers directed the telescope towards nine globular clusters and they discovered new pulsars in six of them. Of these, six of them orbit around another star.
The discovery will help the Globular Cluster Pulsar Survey of TRAPUM.
MeerKAT Telescope
MeerKAT Telescope
It is a Karoo Array telescope with sixty-four antennas.
It is also a radio telescope.
It is located in the Northern Cape of South Africa.
It is soon to be expanded to MeerKAT+ by installing twenty more antennas.
Mapping of Osteocytes: The researchers from the Garvan Institute of Medical Research have mapped the unique genetic profile of the skeleton's 'master regulator' cells, known as Osteocytes for the first time.
The study published today in Nature Communications.
Key Findings of the study:
The researchers have outlined the genes that are switched on and off in osteocytes.
This will help in diagnosing bone diseases that have genetic component.
For the first time, the researchers have pictured the whole landscape of osteocytes.
They have found that majority of the genes that are active within osteocytes had no role in bones.
This means that they only give commands.
This discovery will help to understand what controls the skeleton actually.
About Osteocytes:
Osteocytes are the longest living bone cell, making up 90–95% of cells in bone tissue in contrast to Osteoclasts and Osteoblasts making up ~5% (40).
They are oblate shaped bone cells.
They are found in bone tissues.
They live as long as the organism lives.
There are more than 42 billion Osteocytes in human body.
The Osteocytes do not divide.
Their average half life is 25 years.
The skeleton of the humans keeps changing structurally throughout his life.
Osteocytes are the most abundant cell present in bones.
Osteocytes form when osteoblasts become buried in the mineral matrix of bone and develop distinct features.
These osteocytes form a network similar to the neurons in the brain.
There are more than 23 trillion connections between 42 billion osteocytes.
This network is responsible for monitoring bone health.
It responds to ageing.
They also send signals to other cells in the bone to build or break down an old bone.
The diseases such as osteoporosis are caused due to imbalance in these processes.
Development of Bones:
During Bone formation Osteoblast is left behind.
Osteoblasts are cells that synthesize bones.
The process of bone formation is still not known completely.
Single Crystal Blades Technology: In a major technological breakthrough, the Defence Research and Development Organisation (DRDO) on Monday said it has developed single crystal blade technology and it has supplied 60 of them to the Hindustan Aeronautics Limited (HAL) for the company's indigenous helicopter development program for helicopter engine application.
About:
It is part of a programme taken up by the Defence Metallurgical Research Laboratory (DMRL), a laboratory of the DRDO.
The DRDO will develop total five sets 300 in number, of single crystal high pressure turbine (HPT) blades using a nickel-based super alloy.
They supply of other 4 sets will be completed in due course.
This single crystal blades technology has been developed by the Defence Metallurgical Research Laboratory (DMRL), one of the DRDO's laboratories.
A few countries such as the US, the UK, France and Russia have the capability to design and manufacture single crystal components.
What is the use of single crystal blades in helicopters?
Helicopters need compact and powerful aero-engines for operating at extreme conditions and as single crystal blades have complex shape and geometry and are manufactured out of nickel-based superalloys, they are capable of withstanding high temperatures.
About DRDO:
DRDO is an acronym for the Defence Research and Development Organization.
It is India's largest research organisation. It was founded in 1958.
It is headquartered in New Delhi, India.
It is an agency under the Ministry of Defence, Government of India.
It is charged with the military's research and development.
It has a network of laboratories engaged in developing defence technologies covering various fields, like aeronautics, armaments, electronics, land combat engineering, life sciences, materials, missiles, and naval systems.
The Minister currently responsible for DRDO is Rajnath Singh, Minister of Defence.
The present Chairman of DRDO is Dr. G. Satheesh Reddy.
About HAL:
It refers to the Hindustan Aeronautics Limited.
HAL is an Indian state-owned aerospace and defence company and is governed under the management of the Indian Ministry of Defence.
It is headquartered in Bangaluru, India.
The founder of HAL is Walchand Hirachand.
It was founded on 23 December 1940.
The current Chairman and Managing Director is R Madhavan.
Tianhe space station core module: China, on April 29, 2021, launched the Tianhe space station core module of its Space Station.
It is the latest in Beijing's increasingly ambitious space programme.
Highlights:
The module that was launched is called Tianhe.
The Space Station China is building is called Tiangong.
China kick started the series of key launch missions that aim to complete the construction of the station by the end of next year.
The Long March-5B Y2 rocket, carrying the Tianhe module, blasted off from the Wenchang Spacecraft Launch Site on the coast of the southern island province of Hainan.
The launch begins the first of 11 missions necessary to construct and provision the station and send up a three-person crew by the end of next year.
The astronauts will live on the station for six months at a time.
Tianhe module:
Tianhe has a total length of 16.6 meters, a maximum diameter of 4.2 meters and a take-off mass of 22.5 tonnes, and is the largest spacecraft developed by China.
The Tianhe module will act as the management and control hub of the space station Tiangong
About Tiangong:
Tiangong means "Heavenly Space".
It is to begin its operations in 2022.
Still 11 more modules are to be launched and assembled to complete the space station.
According to the Chinese Government, the completed Space Station will look like the "Mir Station". Mir was a Russian Space Station that orbited between 1980s and 2001.
The Chinese Space Station, Tiangong will orbit the earth in the low earth orbit at a height of 400 to 450 kilometres.
The lifespan of the space station is 15 years.
It weighs more than 90 tonnes.
The size of Tiangong Space Station will be a quarter the size of the International Space Station.
Space ambitions:
The station is also expected to contribute to the peaceful development and utilisation of space resources through international cooperation, as well as to enrich technologies and experience for China's future explorations into deeper space.
The Chinese space station was expected to be a competitor to the aging International Space Station (ISS) which is a modular space station in low Earth orbit.
After International Space Station retires, Tiangong will be the only space station orbiting the earth.
International Space Station (ISS):
The International Space Station (ISS) is a multinational collaborative project involving five participating space agencies which included NASA, (US), Roscomos (Russia), JAXA (Japan), ESA (Europe), and CSA (Canada).
It is due to be retired after 2024, although NASA has said it could potentially remain functional beyond 2028.
Note: Russia has planned to launch its own space station in 2025.
Previous Chinese Mission
In 2011, Chinese launched the Tiangong – 1. It was the first prototype module that laid groundwork for the permanently crewed station.
In 2016, the second lab Tiangong – 2 was launched.
China's Lunar Missions
The Chinese are also planning to build a separate lunar space station with Russia. This space station might either be placed in the orbit of the moon or on its surface.
China's space programme has also recently brought back the first new lunar samples in more than 40 years and expects to land a probe and rover on the surface of Mars later next month.
'NEO-01' Clear Space Debris: The Chinese government has recently launched a robot prototype named as 'NEO-01', in the Earth's low orbit, on its Long March 6 rocket.
The 30kg robot prototype has been developed by Shenzhen-based space mining start-up 'Origin Space'.
The NEO-01, will also peer into deep space to observe small celestial bodies, was launched on along with a handful of satellites.
It will pave the way for future technologies capable of mining on asteroids.
Since the establishment of the world's first asteroid mining company Planetary Resources in 2009, more than a dozen firms across the world have entered the fledging sector, including 3D Systems of the United States and Japan's Astroscale.
Unlike Astroscale's technology, which uses magnets to gather up space junk, NEO-01 will use a net to capture debris and then burn it with its electric propulsion system,
Objective:
China's main objective is to observe small celestial bodies in deep space and to experiment with space debris removal techniques.
NEO-01 will use a large net to capture debris left behind by other spacecraft and then burn it using its electric propulsion system.
Zhurong: China has recently named its first-ever Mars rover "Zhurong" after an ancient fire god ahead of a landing attempt on the Red Planet in May.
Key points:
The China National Space Administration (CNSA) revealed the name at the sixth China Space Day held in Nanjing.
The Chinese name for Mars, "Huoxing," literally means "fire star."
About Zhurong:
Zhurong was the most popular of 10 shortlisted names for a public vote that opened in January, and that choice was backed by an expert panel and the CNSA itself.
The rover carries panoramic and multispectral cameras and instruments to analyze the composition of rocks.
Zhurong will also investigate subsurface characteristics with ground-penetrating radar if all goes according to plan.
Space Station Crew-2 Mission With Four Astronauts Launched: Four astronauts were recently launched to the International Space Station (ISS) from Florida as part of collaboration between NASA and SpaceX under the Commercial Crew Program.
Key Points:
The mission is called Crew-2 and is the second crew rotation of the SpaceX Crew Dragon and the first with international partners.
Out of the four astronauts, two are from NASA and two are from the Japan Aerospace Exploration Agency (JAXA) and the European Space Agency (ESA).
Shane Kimbrough and Megan McArthur from NASA will serve as the mission's spacecraft commander and pilot, while Akihiko Hoshide and Thomas Pesquet will serve as mission specialists to the space station for a six-month science mission.
Background:
Earlier, in May 2020, NASA's SpaceX Demo-2 test flight lifted off for the ISS carrying astronauts Robert Behnken and Douglas Hurley.
The aim of this test flight was to see if SpaceX capsules could be used on a regular basis to ferry astronauts to and from the ISS.
Demo-2 was followed by the Crew-1 mission in November, which was the first of six crewed missions between NASA and SpaceX marking the beginning of a new era for space travel.
Crew-2 mission:
Now, Crew-2 astronauts will join the members of Expedition 65. They will stay aboard the ISS for six months during which time they will conduct science experiments in low-Earth orbit.
Their central focus during this time will be to continue a series of Tissue Chips in Space studies.
What are Tissue Chips?
Tissue Chips are small models of human organs that contain multiple cell types that behave similarly to the human body. According to NASA, these chips can potentially speed up the process of identifying safe and effective drugs and vaccines.
About Commercial Crew Program:
Development of the Commercial Crew Program began in the second round of the Commercial Crew Development program, which was rescoped from a technology development program for human spaceflight to a competitive development program that would produce the spacecraft to be used in the Commercial Crew Program.
The main goal of this program is to make access to space easier in terms of its cost, so that cargo and crew can be easily transported to and from the ISS, enabling greater scientific research.
Through this program, NASA plans to lower its costs by sharing them with commercial partners such as Boeing and SpaceX, and also give the companies incentive to design and build the Commercial Orbital Transportation Services (COTS).
Secondly, by encouraging private companies such as Boeing and SpaceX to provide crew transportation services to and from low-Earth orbit, NASA can focus on building spacecraft and rockets meant for deep space exploration missions.
Unicorn: Scientists have discovered what may be the smallest-known black hole in the Milky Way galaxy and the closest to our solar system.
Key Points:
The researchers have nicknamed it Unicorn.
They said that the black hole is roughly three times the mass of our sun, testing the lower limits of size for these extraordinarily dense objects that possess gravitational pulls so strong not even light can escape.
A luminous star called a red giant orbits with the black hole in a so-called binary star system named V723 Mon.
The black hole is located about 1,500 light years - the distance light travels in a year, 5.9 trillion miles (9.5 trillion km) - from Earth. While it may be the closest one to us, it is still far away. By way of comparison, the closest star to our solar system, Proxima Centauri, is 4 light years away.
Black holes like this one form when massive stars die and their cores collapse.
The study is published in the Monthly Notices of the Royal Astronomical Society.
The astronomers have named it Unicorn because V723 Mon is in the Monoceros constellation, which translates to unicorn, and partly because it is a very unique system" in terms of the black hole's mass and relative closeness to Earth.
What is a black hole?
A black hole is a place in space where gravity is so strong that nothing—no particles or even electromagnetic radiation such as light—can escape from it. The theory of general relativity predicts that a sufficiently compact mass can deform spacetime to form a black hole.
There are three categories of black holes.
The smallest, like 'the Unicorn,' are so-called stellar-mass black holes formed by the gravitational collapse of a single star.
There are gargantuan 'supermassive' black holes like the one at our galaxy's center, 26,000 light-years from Earth, which is four million times the sun's mass.
A few intermediate-mass black holes also have been found with masses somewhere in between.
MOXIE: The Perseverance rover of Mars 2020 Mission of NASA recently converted carbon dioxide into oxygen.
Highlights:
This is for the first time that this has been achieved in another planet.
This was achieved by MOXIE, an instrument placed in the front side of the rover.
About MOXIE:
The Mars Oxygen In-Situ Resource Utilization Experiment is better known as MOXIE.
MOXIE was designed by the Massachusetts Institute of Technology (MIT).
It is also called "Mechanical Tree" because, it uses electricity and chemistry to split carbon molecules into carbon and oxygen. In due process, it produces carbon monoxide as a byproduct.
It is capable of generating ten grams of oxygen in one hour.
It produced five grams of oxygen in its first run. It is equal to ten minutes of breathable oxygen for an astronaut performing a normal activity.
It was built with nickel-alloy. The alloy is heat-resistant and is designated to tolerate temperatures of 1,470 degrees Fahrenheit.
It was covered with gold coating so that the heat radiated does not harm the rover.
According to the scientists at MIT, one ton version of MOXIE is capable of producing twenty-five tonnes of oxygen.
Note: Earlier missions have proved the presence of ice in Mars.
Scientists believe that extracting oxygen from the Martian atmosphere, that is rich in carbon dioxide is more feasible than extracting oxygen from ice that is present in its under surface.
Perseverance:
Perseverance carrying the Ingenuity helicopter landed on Mars on February 18, 2021. The helicopter recently made its successful flight. This was first flight in another planet.
Mars Mission- Ingenuity: Recently, NASA successfully flew its tiny experimental helicopter Ingenuity on Mars, the first powered flight on another planet and a feat a top engineer called "our Wright brothers' moment."
Data and images from the autonomous flight were transmitted 173 million miles (278 million kilometres) back to Earth where they were received by NASA's array of ground antennas and processed more than three hours later.
About Ingenuity
More than six years in the making, Ingenuity is just 19 inches (49 centimeters) tall, a spindly four-legged chopper.
Its fuselage, containing all the batteries, heaters and sensors, is the size of a tissue box.
The carbon-fiber, foam-filled rotors are the biggest pieces: Each pair stretches 4 feet (1.2 meters) tip to tip.
Ingenuity also had to be sturdy enough to withstand the Martian wind, and is topped with a solar panel for recharging the batteries, crucial for surviving the minus-130 degree Fahrenheit (minus-90 degree-Celsius) Martian nights.
Ingenuity was on autopilot for its entire flight, out of sight, direct control, or contact with the men and women on Earth who had ordered it aloft—because radio signals take too long to travel between the planets for any human operator to intervene.
The mini 4-pound (1.8-kilogram) copter even carried a bit of wing fabric from the Wright Flyer that made similar history at Kitty Hawk, North Carolina, in 1903.
About NASA
NASA is an acronym for National Aeronautics and Space Administration.
NASA is an independent agency of the United States Federal Government responsible for the civilian space program, as well as aeronautics and aerospace research.
NASA was established in 1958, succeeding the National Advisory Committee for Aeronautics (NACA).
It is headquartered in Washington, D.C., United States.
The acting administrator of NASA is Steve Jurczyk.
About Mars
Mars is the fourth planet from the Sun and the second-smallest planet in the Solar System, being larger than only Mercury.
About Mars:
Mars is sometimes called the Red Planet. It's red because of rusty iron in the ground. Like Earth, Mars has seasons, polar ice caps, volcanoes, canyons, and weather.
It has a very thin atmosphere made of carbon dioxide, nitrogen, and argon.
Mars is named for the ancient Roman god of war. The Greeks called the planet Ares (pronounced Air-EEZ). The Romans and Greeks associated the planet with war because its color resembles the color of blood.
Mars has two small moons.
Rewaconodon Indicus: The Tiki Formation in Madhya Pradesh, a treasure trove of vertebrate fossils, has recently yielded a new species and two genera of cynodonts, small rat-like animals that lived about 220 million years ago.
Key Highlights:
The researchers from the Indian Institute of Technology Kharagpur, used scanning electron microscopy to study about 10 teeth samples collected from the village of Tihki in Shahdol District, Madhya Pradesh.
The results showed that they had found a new species, and they named it Rewaconodon indicus, indicating India, the country it was discovered from.
The team also identified two new genera from the area.
The first was named Inditherium floris, after India and the Latin word therium meaning beast. As the teeth had a flower-shaped crown, it earned the species name floris.
The second was named Tikiodon cromptoni, after Tiki Formation and Greek word odon meaning tooth. The species name is after paleontologist A.W. Crompton.
Tiki Formation:
The Tiki Formation is a Late Triassic geologic formation in Madhya Pradesh.
Dinosaur remains are among the fossils that have been recovered from the formation, although none have yet been referred to a specific genus.
Phytosaur remains attributable to the genus Volcanosuchus have also been found in the Tiki Formation.
The genera Tikiodon, Tikitherium and Tikisuchus and species Rewaconodon tikiensis, Hyperodapedon tikiensis and Parvodus tikiensis have been named after the Tiki Formation.
Disc-footed bat: Meghalaya has recently yielded India's first bamboo-dwelling bat with sticky discs.
The disc-footed bat (Eudiscopus denticulus) was recorded in Meghalaya's Lailad area near the Nongkhyllem Wildlife Sanctuary, about 1,000 km west of its nearest known habitat in Myanmar.
The disc-footed bat has raised Meghalaya's bat count to 66, the most for any State in India.
It has also helped add a genus and species to the bat fauna of India.
Whitest Paint: Engineers from Purdue University in the US have recently created what they are calling the whitest paint yet.
Buildings coated with this paint may be able to cool them off enough to reduce the need for air conditioning.
About the Whitest Paint:
The team of researchers at the university created an ultra-white paint in October pushing the limits of how white paint can be.
The older formulation was made of calcium carbonate, while the new one is made up of barium sulphate, which makes it whiter.
The newer paint not only is whiter but also can keep surfaces cooler than the formulation that the researchers had previously demonstrated.
If this new paint was used to cover a roof area of 1,000 square feet, it may be able to get a cooling power of 10 kilowatts.
Typical commercial white paint gets warmer rather than cooler and that paints currently available in the market that are designed to reject heat reflect only 80-90 per cent of the sunlight and therefore, they can't make surfaces cooler than their surroundings.
The team has also claimed that this paint may be the closest equivalent to the blackest black paint called "Vantablack" that is able to absorb up to 99.9 per cent of visible light.
What makes the whitest paint so white?
Two features give the paint its extreme whiteness.
The first feature is the paint's very high concentration of a chemical compound called barium sulfate, which is also used to make photo paper and cosmetics white.
The second feature is that the barium sulfate particles are all different sizes in the paint. How much each particle scatters light depends on its size, so a wider range of particle sizes allows the paint to scatter more of the light spectrum from the sun.
Absorption of light by different colours:
One needs to note that whenever an object is seen by the eye, it is either because of sunlight or the artificial light in the room.
This light is made up of seven different colours (Violet, Indigo, Blue, Green, Yellow, Orange and Red or VIBGYOR).
Specifically, light is made up of wavelengths of different colours.
For Example: If an individual is looking at a sofa that is green, this is because the fabric or material it is made up of is able to absorb all the colours except green.
It implies that the molecules of the fabric reflect the green coloured wavelengths, which is what the eye sees.
Therefore, the colour of any object or thing is determined by the wavelength the molecules are not able to absorb.
What determines which wavelength of light will be reflected and absorbed?
The determination of which wavelength of light will be reflected and absorbed is dependent on how electrons are arranged in an atom (the building block of life, an atom is made up of electrons, protons and neutrons.
These three particles make up everything that exists in the universe.
In contrast, if an object is black, it is because it has absorbed all the wavelengths and therefore no light is reflected from them.
This is the reason that darker objects, as a result absorbing all wavelengths tend to heat up faster (during absorption the light energy is converted into heat energy).
DuroKea Series: Union Minister of Education Ramesh Pokhriyal 'Nishank' virtually launched "World 1st affordable and long-lasting hygiene product DuroKea Series", developed by IIT Hyderabad researchers.
Highlights:
The researchers have developed innovative DuroKea long-lasting technologies to combat COVID-19 virus spreading.
This next generation DuroKea antimicrobial technology starts at Rs. 189.
It kills 99.99% of germs instantly and leaves behind the long-lasting protective nanoscale coating up to 35 days till next wash.
The unique property of DuroKea range is to ensure instant killing (within 60 sec) and prolonged protection which is an immense necessity during this current pandemic situation.
This revolutionary antimicrobial property of DuroKea products has been tested and certified by Indian Government accredited lab and field-tested at the IIT Hyderabad campus.
National Super Computing Mission (NSM):
India is fast emerging a leader in high power computing with the National Super Computing Mission (NSM).
About NSM:
The NSM was launched to enhance the research capacities and capabilities in the country by connecting them to form a Supercomputing grid, with National Knowledge Network (NKN) as the backbone.
The Mission is being jointly steered by the Department of Science and Technology (DST) and the Ministry of Electronics and Information Technology (MeitY).
It is implemented by the Centre for Development of Advanced Computing (C-DAC), Pune, and the Indian Institute of Science (IISc), Bengaluru.
Phases:
This will include three systems of 3 Petaflops (PF) each and one system of 20PF as a national facility.
Computing infrastructure has already been installed in four premier institutions and installation work is in rapid progress in 9 more.
Completion in of Phase II of NSM in September 2021 will take the country's computing power to 16 Petaflops (PF).
Phase III, initiated this year, will take the computing speed to around 45 Petaflops.
The three phases will provide access to High-Performance Computing (HPC) Facilities to around 75 institutions and more than thousands of active researchers, academicians working through Nation Knowledge Network (NKN) - the backbone for supercomputing systems.
List of supercomputers:
PARAM Shivay, the first supercomputer assembled indigenously, was installed in IIT (BHU), followed by PARAM Shakti, PARAM Brahma, PARAM Yukti, PARAM Sanganak at IIT-Kharagpur IISER, Pune, JNCASR, Bengaluru and IIT Kanpur respectively.
PARAM Siddhi - AI, the high-performance computing-artificial intelligence (HPC-AI) supercomputer, has achieved global ranking of 62 in TOP 500 most powerful supercomputer systems in the world, released on 16th November 2020.
Indian National Young Academy of Sciences (INYAS):
INYAS recently launched a multipronged nationwide mass awareness campaign to bust myths about Covid 19 vaccination programme.
The campaign will be carried out through COVACNEWS android-based mobile app.
About INYAS:
Indian National Young Academy of Sciences (INYAS) in the first and only recognized young scientist academy of India.
It was founded by the Indian National Science Academy (INSA) council in 2014.
Its vision is to promote Science education and networking among young scientists at National as well as International level.
Xenobots:
Xenobots is the name given to new living robots that have been created using the stem cells of frogs by the scientists.
The new creatures were designed on a supercomputer at UVM — and then assembled and tested by biologists at Tufts University
How were the Xenobots created?
The scientists created Xenobots by micro engineering amphibian eggs with RNA.
The biologists later removed the egg membrane after 24 hours.
They then harvested the stem cell tissue from the embryo.
The tissues then formed into spheres with tiny hair like structure called cilia.
The cilia moved to propel the bots across a surface creating a Xenobot.
About Xenobots:
Xenobots are made from frog cells.
They have been named after the Xenopus laevis frog that supplied its cells to create the robot. Xenopus laevis is an African frog.
These robots are to be used to detect diseases and deliver drugs to specific areas of the body.
Xenobots are capable of healing themselves.
They can record memories.
Xenobots are less than 1 milli metre long.
They are comprised of 500-1000 living cells.
Xenobots come in different basic shapes and can scoot themselves in linear or circular directions.
They are capable of joining up together to act collectively.
They can move small objects by harnessing their cellular energy for a maximum of ten days.
How was the memory of the Xenobots created?
The memory retaining capability of the Xenobots was propelled by a protein called EosFP.
EosFP normally glows green. However, it emits red colour when exposed to a light of 390 nm wavelength.
The cells of frog embryos with messenger RNA coding enabled the Xenobots to record when exposed to blue light (at around 390 nm of wavelength).
The scientists tested the above function on ten Xenobots that were swimming around a surface where one spot was illuminated by the light of 390 nm of wavelength.
After two hours, three of the bots emitted red light and the rest remained green. This provides a memory of their travel experience.
NASA's MARS ODYSSEY:
NASA's Mars Odyssey spacecraft marks 20 historic years of mapping red planet - Mars.
Highlights:
NASA's Mars Odyssey spacecraft was launched 20 years ago on April 7.
It has made it the oldest spacecraft still working at the Red Planet.
The orbiter, which takes its name from Arthur C. Clarke's classic sci-fi novel "2001: A Space Odyssey", was sent to map the composition of the Martian surface in 2001 providing a window to the past so scientists could piece together how the planet evolved..
Project Scientist Jeffrey Plaut of NASA's Jet Propulsion Laboratory in Southern California said that before Odyssey, we didn't know where water was stored on the planet.
The feasibility of humans traveling to Mars was also the focus of an instrument aboard Odyssey that measured how much space radiation astronauts would have to contend with before it stopped working in 2003.
The most complete global maps of Mars were made using Odyssey's infrared camera, called the Thermal Emission Imaging System, or THEMIS.
CACTus and CMEs:
Scientists have recently developed a new technique for tracking the huge bubbles of gas threaded with magnetic field lines that are ejected from the Sun, disrupting space weather and causing satellite failures, geomagnetic storms, and power outages.
The new technique will be used in India's first solar mission Aditya-L1.
Coronal Mass Ejections (CMEs):
The ejections from the Sun are technically called Coronal Mass Ejections (CMEs).
These cause several disturbances to the space environment and thus forecasting their arrival time is very crucial.
The forecasting accuracy is however hindered by limited CME observations in interplanetary space.
Computer Aided CME Tracking Software (CACTus):
Computer Aided CME Tracking Software (CACTus) is a software-based on computer vision algorithm that was so far used to detect and characterize such eruptions automatically in the outer corona where these eruptions cease to show accelerations and propagate with an almost constant speed.
However, due to the vast acceleration experienced by these eruptions, this algorithm could not be applied to the inner corona observations.
This problem limited the capability to track the eruptions as CMEs accelerate in the lower corona.
Furthermore, with the advancement in space technology, there has been a tremendous increase in the amount of data obtained from spacecraft.
Thus, it can become a tedious task to identify and track the solar eruptions in a huge number of images if done manually.
CMEs Identification in Inner Solar Corona (CIISCO):
Research led by Mr. Ritesh Patel, Prof. Dipankar Banerjee, and Dr. Vaibhav Pant from Aryabhatta Research Institute of observational sciences (ARIES), Nainital along with their collaborators from Royal Observatory of Belgium, has led to the development of an algorithm, CMEs Identification in Inner Solar Corona (CIISCO).
CIISCO has been developed to detect and track the accelerating solar eruption in the lower corona.
CIISCO was tested on various eruptions observed by space observatories, including Solar-Terrestrial Relations Observatory, PROBA2/SWAP, and Solar Dynamics Observatory launched by ESA and NASA, respectively.
The parameters which are determined by CIISCO are helpful in characterizing these eruptions in the lower corona.
When CIISCO will be implemented on the large volume of data available from space observatories, it will help in improving our understanding of eruptions in the inner corona.
The research was published in the Solar Physics journal.
Aditya-L1
Aditya-L1, the first solar mission of India, will observe the lower region of the solar corona. Thus, implementation of CIISCO on the Aditya-L1 data will provide new insight into the CME properties in this less explored region.
Science and Technology Empowered Committee:
A Science and Technology Empowered Committee for COVID-19 response have recently been constituted.
Key Points:
This empowered committee has been constituted for manufacturing in high technology areas" in order to facilitate investments and promote manufacturing in technology-intensive sectors.
The committee will be chaired by Vinod Paul (member, NITI Aayog) and K. Vijay Raghavan (Principal Scientific Adviser to the government).
It said this committee would coordinate virus research among science agencies, scientists, industries and regulatory bodies.
The Committee will work with the Department of Science & Technology (DST), Department of Biotechnology(DoB), Council of Scientific and Industrial Research (CSIR), Defence Research and Development Organization(DRDO) and Indian Institute for Science to take speedy decisions on research.
Plant-Insect Gene Transfer:
International teams led by researchers from the Chinese Academy of Agricultural Sciences in Beijing have recently identified the transfer of genes from plants to insects.
Key facts:
Usually transfer of genes happen among the same family. For instance, the genes of a human parent get transferred to his or her child. However, this is not the case in the recent discovery.
The Chinese scientists discovered that whiteflies use a plant gene to defend themselves against plant toxins.
About the Gene Transfer:
The transfer of gene from one family to another is referred to as horizontal gene transfer. Here, in the recent discovery the transfer of gene is from the plant family to insect family.
The Chinese scientists have found that the insect whiteflies use the stolen gene to degrade common toxins in plants.
Plants use these toxins to defend themselves against insects.
The incorporation of the plant gene in the whiteflies allow the insects to feed on the plants safely.
The incorporated gene found was BtPMaT1.
The whiteflies use this gene to neutralize the toxic compounds produced by the plants against them.
According to the scientists, the whiteflies have incorporated the gene from the plants more than 35 million years ago.
This is one of the main reasons why whiteflies still prevail as the major threat to agricultural crops. It is because of this that they have built a strong defence mechanism against the plants using this gene incorporation.
Whiteflies:
Whiteflies are one of the major agricultural pests in the world.
They are capable of attacking 600 different plants all over the world.
Lately, these pests have acquired incredible adaptations to circumvent plant defences.
Using this discovery, the Chinese scientists have now developed a strategy to counter back the super power of whiteflies.
They have developed a new molecule that will interfere with the gene BtPMaT1.
Whiteflies Resistant Cotton:
In 2020, the National Botanical Research Institute, Lucknow developed a Whiteflies resistant cotton variety.
Cotton is one of the worst hit crops by whiteflies in India.
Whiteflies are the greatest threat to agriculture in warm and tropical regions and also in green houses.
Science & Technology Affairs Current Affairs - April 2021
NISAR: NASA and ISRO are collaborating on developing a satellite called NISAR, which will detect movements of the planet's surface as small as 0.4 inches over areas about half the size of a tennis court.
What is NISAR?
NISAR is an all-weather satellite that's going to give us an unprecedented ability to look at how Earth's surface is changing.

It is a SUV-sized satellite which is being jointly developed by the space agencies of the US and India.

The name NISAR is short for NASA-ISRO-SAR. SAR here refers to the synthetic aperture radar that NASA will use to measure changes in the surface of the Earth.

Essentially, SAR refers to a technique for producing high-resolution images.

Because of the precision, the radar can penetrate clouds and darkness, which means that it can collect data day and night in any weather.
Key Points:
The partnership agreement was signed between NASA and ISRO in 2014.

NASA will provide one of the radars for the satellite, a high-rate communication subsystem for science data, GPS receivers and a payload data subsystem.

ISRO, on the other hand, will provide the spacecraft bus, the second type of radar (called the S-band radar), the launch vehicle and associated launch services.

The satellite will be launched in 2022 from the Satish Dhawan Space Center in Sriharikota, India, into a near-polar orbit.

It will scan the globe every 12 days over the course of its three-year mission of imaging the Earth's land, ice sheets and sea ice to give an "unprecedented" view of the planet.
Indian Space Research Organization (ISRO):
ISRO is the space agency of the Government of India (GoI) and was formed in 15 august 1969.

It superseded the erstwhile "Indian National Committe For Space Research" (INCOSPAR) which was established in 1962 by the efforts of Independent India's first prime minister' Jawaharlal Nehru' and his close aide and scientist Vikram Sarabhai.

In 1972, GoI had set up a Space Commission and the Department of Space (DOS), bringing ISRO under the DOS.

ISRO then embarked on its mission to provide the Nation space based services and to develop the technologies to achieve the same independently.

Its vision is to "harness space technology for natural development while pursuing space science research & planetary exploration". ISRO built India's first Satellite Aryabhata.

It is headquartered in Bangalore, India.

The current Chairman of ISRO is K sivan.
NASA:
NASA is an acronym for National Aeronautics and Space Administration.

It is an independent agency of the United States Federal Government responsible for the civilian space program, as well as aeronautics and aerospace research.

NASA was established in 1958, succeeding the National Advisory Committee for Aeronautics (NACA).

It is headquartered in Washington, D.C., United States.

The 14th Administrator of NASA is senator Bill Nelson.
Bill Nelson: US President Joe Biden has recently nominated former Senator Bill Nelson to serve as the 14th NASA Administrator.
Highlights:
Nelson will serve as NASA's chief executive officer and will be directly accountable to the US President Biden.

In this role, he will articulate the space agency's vision, will set its programmatic and budget priorities, internal policies and assess the agency's performance.

A one-time astronaut, Nelson flew aboard the space shuttle Columbia as a payload specialist on the STS-61C mission in 1986.
Additional Info:
Last month, Indian-American Bhavya Lal was appointed as the agency's acting chief of staff by NASA.

Lal had previously served as a member of the Biden Presidential Transition Agency Review Team for the agency and oversaw the agency's transition under the administration of President Joe Biden.
World Summit on Information Society (WSIS) Forum 2021: Telecom Minister Sanjay Dhotre recently represented India at the World Summit on Information Society (WSIS) Forum 2021.
The other participants were Secretary-General of ITU (Houlin Zhao), Ministers of Russia, Afghanistan, Turkmenistan, Zimbabwe and Iran.
Key Points:
The World Summit on the Information Society (WSIS) Forum 2021 represents one of the world's largest annual gatherings of the 'ICT for development' community.

It is co-organized by International Telecommunications Union (ITU), UNESCO, UNDP and UNCTAD in close collaboration with all WSIS Action Line Facilitators.
Initiatives Highlighted by India at the Forum:
The Telecom Minister Sanjay Dhotre highlighted the policies and programmes undertaken by his Ministry such as:
Arogya Setu platform to monitor and alert health status of citizens.

CovidSavdhan system for targeted messaging in a specified area, facilitation framework for Work from Home and Work from Anywhere.

Effective use of public Wi-Fi under PM-WANI scheme enabling effective service delivery for the citizens across the country.

Under the flagship program BharatNet, nearly 6,00,000 villages are being connected through laying of more than 4,00,000 Km length of optical fiber cable and use of satellite communication services.

Using submarine cable networks small and remote islands of Andaman & Nicobar and Lakshadweep and other inaccessible areas are being connected with funding from Government.

Establishment of ITU Area office and Innovation Centre in India with involvement of SMEs, Academia and Startups in the region will go a long way in development of technologies, standards and solutions best suited for rural and remote areas of developing nations.
Artificial Photosynthesis: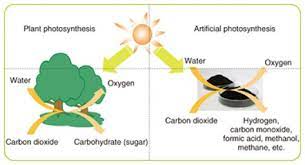 A team of Scientists from Jawaharlal Nehru Centre for Advanced Scientific Research, an autonomous institute of the Department of Science & Technology (DST), Government of India (GoI) have found a method to mimic nature's own process of reducing carbon dioxide in the atmosphere, namely photosynthesis, to capture excess carbon dioxide in the atmosphere.
Key Points:
The scientists from JNCASR designed and fabricated an integrated catalytic system based on a metal-organic framework (MOF-808).

The system comprising of a photosensitizer (molecules which absorb light and transfer the electron from the incident light into another nearby molecule) can harness solar power and a catalytic centre that can eventually reduce CO2.

The artificial photosynthesis (AP) method harnesses solar energy and converts the captured carbon dioxide to carbon monoxide (CO).

Then this CO can be used as a fuel for internal combustion engines.

The work described above has been accepted for publication in the journal 'Energy& Environmental Science' of Royal Society of Chemistry, UK.
About Photosensitizer:
Photosensitizers are molecules which absorb light (hν) and transfer the energy from the incident light into another nearby molecule.

It is chemically called "ruthenium bipyridyl complex ([Ru(bpy)2Cl2])".

It also comprises of a catalytic part called rhenium carbonyl complex ([Re(CO)5Cl]).

Both of the molecular entities lie in the close proximity and are confined to a nano-space of the porous metal-organic framework system.

This helps in absorbing the CO2 at room temperature.

The catalyst has the capability to oxidize the water in order to produce oxygen.

This photocatalytic assembly is when assessed to reduce the CO2 under direct sunlight under a water medium, it produces CO.
About Artificial Photosynthesis:
Artificial photosynthesis is a chemical process that biomimics the natural process of photosynthesis to convert sunlight, water, and carbon dioxide into carbohydrates and oxygen.

The term artificial photosynthesis is commonly used to refer to any scheme for capturing and storing the energy from sunlight in the chemical bonds of a fuel (a solar fuel).

Photocatalytic water splitting converts water into hydrogen and oxygen and is a major research topic of artificial photosynthesis.

Light-driven carbon dioxide reduction is another process studied that replicates natural carbon fixation.
Difference between Natural photosynthesis and Artificial photosynthesis:
Natural photosynthesis is very inefficient in terms of solar-to-biomass conversion.
Artificial photosynthesis short-circuits the natural process by utilizing the most energetically efficient primary events of light capture, charge separation and charge transfer.
About JNCASR:
Jawaharlal Nehru Centre for Advanced Scientific Research (JNCASR) is a multidisciplinary research institute located at Jakkur, Bangalore, India.

It is an autonomous institute which was established by the Department of Science and Technology (DST) of the Government of India, to mark the birth centenary of Pandit Jawaharlal Nehru.

Pt. Jawaharlal Nehru was the first prime minister of independent India.
Aluminium-Air Technology:
State-owned Indian Oil Corporation Ltd. has recently entered into a joint venture with Israel-based battery technology startup Phinergy to develop aluminium-air technology based battery systems for electric vehicles and stationary storage, as well as hydrogen storage solutions.
IOC Phinergy Private Limited is an Israeli start-up company specialising in hybrid lithium-ion and aluminium-air.
Highlights:
Top automakers, including Ashok Leyland and Maruti Suzuki have already signed letters of intent with the newly formed joint venture to commercially deploy the battery solutions produced by IOC Phinergy.

Aluminium-air batteries are said to be a lower cost and more energy-dense alternative to lithium-ion batteries which are currently in widespread use for electric vehicles in India.

Aluminium-air batteries utilise oxygen in the air which reacts with an aluminium hydroxide solution to oxidise the aluminium and produce electricity.

The joint venture will manufacture Aluminum-Air systems in India to boost India's flagship programme - "Make in India" and recycle used Aluminum to strengthen India's energy security.
Benefits:
Aluminium-air battery-based electric vehicles are expected to offer much greater range of 400 km or more per battery compared to lithium-ion batteries which currently offer a range of 150-200 kilometres per full charge.
The aluminium plate in an aluminium-air battery is converted into aluminium trihydroxide over time and that aluminium can be reclaimed from aluminium trihydroxide or even traded directly for industrial uses.
Aluminium-air based batteries are also expected to be significantly cheaper than lithium-ion batteries, thereby reducing the cost of electric vehicle.
Aim:
The joint venture aims to help India in its journey towards clean, sustainable, affordable, safe, and long-lasting energy options and facilitate much faster adoption of e-Vehicles in the country.
Main Concerns:
One of the key downsides of aluminium-air batteries is that they cannot be recharged like lithium-ion batteries.Therefore, large scale use of aluminium-air battery based vehicles would require the wide availability of battery swapping stations.
An aluminum air battery is not commercially produced, mainly due to the high production cost of the anode, As well as issues with corrosion of the aluminium anode due to the carbon dioxide in air.Because of this, use of this battery is restricted to mainly military applications.
Science & Technology Affairs Current Affairs - March 2021
Superior Mirage: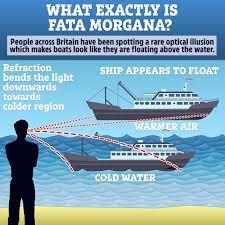 Recently a large tanker appeared to be floating off the south coast of England in an optical illusion caused by a rare weather phenomenon called the superior mirage.
The extraordinary optical illusion was spotted by David Morris who was walking along the coast by Falmouth in Cornwall. He captured it on camera.
About Superior Mirage:
A mirage is a naturally occurring optical phenomenon in which light rays bend via refraction to produce a displaced image of distant objects or the sky. The word comes to English via the French mirer, from the Latin mirari, meaning "to look at, to wonder at".

In contrast to a hallucination, a mirage is a real optical phenomenon that can be captured on camera, since light rays are actually refracted to form the false image at the observer's location.

There are two types of mirages. They are inferior mirage (meaning lower) and superior mirage (meaning higher).

An inferior mirage occurs when you have a dense layer of cold air sitting on above of your line of sight, with a layer of less dense warmer air below your line of sight.

A superior mirage is seen above a flat surface of much lower temperature than the air above it. Superior mirages occur because of the weather condition known as a temperature inversion. Passing through the temperature inversion, the light rays are bent down, and so the image appears above the true object, hence the name superior. Superior mirages tend to be more stable than inferior mirages, as cold air has no tendency to move up and warm air has no tendency to move down.

The mirage is common in the Arctic Circle but can only very rarely be seen during the UK in winter.
Fugaku: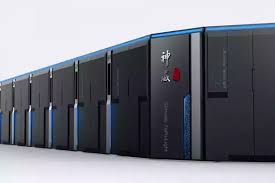 The world's most powerful supercomputer Fugaku is now fully developed in Japan, and the machine is available for research use.
Highlights:
The Japanese scientific research institute called RIKEN and Fujitsu started developing the "Fugaku" six years ago.

Fugaku has been named after an alternative name for Mount Fuji.

In April 2020, it was tested particularly in projects to combat COVID-19 pandemic.

Now, this supercomputer is fully ready and developed in Japan and is now available for research use.

The Research Organization for the Information Science and Technology (RIST) of Japan has selected some 74 projects which will use this supercomputer in the financial year 2021.

RIST has also called for proposals for new projects in several categories, and invited researchers who are interested to apply.

This supercomputer has been developed with the aim of making the device core of the computing infrastructure of Japan.
About Fugaku
It is a key national technology that has been developed with the goal to achieve research results that ultimately will help in building a long-lived and healthy society, better energy use and disaster mitigation.

It also aims to establish the government's vision of making "ultra-smart Society 5.0".

The supercomputer has topped the Top500 list, which is a "Supercomputer benchmark index", for the second year in line.

The computer has 100 times the application performance of K supercomputer.

It has been developed to implement high-resolution, large-scale and long-duration simulation.

It started development in the year 2014 as the successor to the K computer.
It is built with the Fujitsu A64FX microprocessor.
Japan:
Japan is an island country located in East Asia.

It is made up of 6,852 islands.

The Japanese name for Japan is Nihon or Nippon which means sun origin.

It is bordered by the Sea of Japan to the west and the Pacific Ocean to the east, and spans from the Sea of Okhotsk in the north to the East China Sea and Philippine Sea in the south.

Tokyo is the capital of Japan.

The currency used there is Japanese Yen.

The current Prime Minister of Japan is Yoshihide Suga.
Joint Earth Observation Satellite Mission Radar: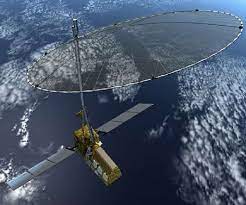 ISRO recently completed the development of a Synthetic Aperture Radar (SAR) capable of producing extremely high-resolution images for a joint earth observation satellite mission with the US space agency NASA.
Key points of NASA-ISRO SAR (NISAR):
NASA-ISRO SAR (NISAR) is a joint collaboration for a dual-frequency L and S-band SAR for earth observation.

It is the first satellite mission which will use two different radar frequencies called L-band and S-band.

These radar frequencies will be used to measure the changes in Earth's surface less than a centimetre across

The mission is targeted to launch in early 2022 from ISRO's Sriharikota spaceport in Andhra Pradesh's Nellore district, about 100 km north of Chennai.

The payload was shipped from the Ahmedabad-based Space Applications Centre (SAC) to the Jet Propulsion Laboratory (JPL) of NASA.
About the NASA-ISRO Collaboration:
NASA (National Aeronautics and Space Administration) and ISRO (Indian Space Research Organisation) had signed a partnership on September 30, 2014, to collaborate on and launch NISAR.

NASA is providing the mission's L-band SAR, a high-rate communication subsystem for science data, GPS receivers, a solid-state recorder and payload data subsystem.

ISRO is providing the spacecraft bus, the S-band radar, the launch vehicle and associated launch services for the mission, whose goal is to make global measurements of the causes and consequences of land surface changes using advanced radar imaging.
Purpose of the Mission:
The mission will provide a means of highly spatial and temporally complex processes such as ecosystem disturbances, ice sheet collapses and natural hazards like volcanoes, landslides, earthquakes and tsunamis.

It will measure the changing ecosystems of Earth, dynamic surfaces & ice masses.

The mission will also provide information regarding the biomass, natural hazards, groundwater and sea level rise.
ISRO:
ISRO is the space agency of the Government of India (GoI) and was formed in 15 august 1969.

It superseded the erstwhile "Indian National Committe for Space Research" (INCOSPAR) which was established in 1962 by the efforts of Independent India's first prime minister' Jawaharlal Nehru' and his close aide and scientist Vikram Sarabhai.

In 1972, the Government of India had set up a Space Commission and the Department of Space (DOS), bringing ISRO under the DOS.

ISRO then embarked on its mission to provide the Nation space based services and to develop the technologies to achieve the same independently.

Its vision is to "harness space technology for natural development while pursuing space science research & planetary exploration".

ISRO built India's first Satellite Aryabhata. It is headquartered in Bangalore, India.

The current Chairman of ISRO is K sivan.
NASA:
NASA is an independent agency of the United States Federal Government responsible for the civilian space program, as well as aeronautics and aerospace research.

NASA was established in 1958, succeeding the National Advisory Committee for Aeronautics (NACA).

It is headquartered in Washington, D.C., United States.

The Administrator of NASA is Jim Bridenstine and the Deputy Administrator of NASA is James Morhard.
Lunar Space Station: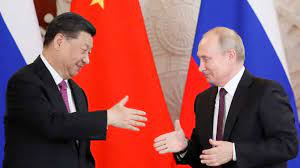 The space agencies of China and Russia have recently signed an MoU (Memorandum of Understanding) on behalf of their national governments, to jointly construct a lunar space station that will be open to all countries.
The MoU was officially signed between the Chinese space agency, China National Space Administration (CNSA) and the Russian space agency Roscosmos, on March 09, 2021.
About International Lunar Research Station:
Dubbed as the "International Scientific Lunar Station (ISLS)", will be a complex of research and experimental facilities which will be created on the surface or in orbit of the moon.

The complex will be designed to conduct multipurpose and multidisciplinary research work.

The goal of setting up ISLS is to strengthen research cooperation and promote the exploration and use of outer space for peaceful purposes in the interests of all mankind.
Arktika-M: Roscosmos State Corporation successfully launched its first satellite to monitor the Arctic's climate and environment.
Roscosmos is the space agency of Russia.

The satellite called "Arktika-M", was launched on February 28, 2021, onboard Soyuz-2.1b carrier rocket, from the Baikonur Cosmodrome in Kazakhstan.

This satellite will help to collect information to solve operational meteorology and hydrology problems, and monitoring the climate and environment in the Arctic region.
About Arktika-M:
Arktika-M is the first of the two satellites launched by Russia.

The second satellite is set for launch in 2023.

The Arktika-M is a remote-sensing and emergency communications satellite.

It will help collect meteorological data from the polar regions of the Earth.

The data will help improve weather forecasts and enable scientists to better study climate change.

It is a series of planned remote-sensing and emergency communications satellites that Russia plans to operate in a highly elliptical 12-hour orbit.

Through the launch of the satellites, Russia aims to develop a unique satellite network dedicated to monitoring the weather conditions of the Arctic region.
About Roscosmos State Corporation:
The Roscosmos State Corporation for Space Activities, commonly known as Roscosmos, is a state corporation of the Russian Federation responsible for space flights, cosmonautics programs, and aerospace research.

It was founded on 25 February 1992.

It is headquartered in 42 Shchepkina Street, Moscow, Russia.
Russia: Russia, or the Russian Federation, is a transcontinental country spanning Eastern Europe and Northern Asia.
Once the preeminent republic of the Union of Soviet Socialist Republics (U.S.S.R.; commonly known as the Soviet Union), Russia became an independent country after the dissolution of the Soviet Union in December 1991.

The capital of Russia is Moscow.

The currency used here is Russian Ruble.

The current President of Russia is Vladimir Putin.
Udaipur Science Centre: The Governor of Tripura, Ramesh Bais recently inaugurated the Udaipur Science Centre, at Udaipur, Tripura.
Key Points:
The Udaipur Science Centre has been developed at a cost of Rs 6 crore funded jointly by Ministry of Culture, Govt. of India and Dept. of Science, Technology & Environment, Government of Tripura.

Udaipur Science Centre is the 22nd Science Centre which has been developed by National Council of Science Museums (NCSM) and handed over to the State Governments under the Ministry of Culture's Scheme for Promotion of Culture of Science.

With this, NCSM has now set-up science centres in all the north eastern states.
Additional Info:
NCSM will open 4 more new science centres in different parts of India during 2021.
About Udaipur:
Udaipur, formerly known as Rangamati, is the third biggest city in Tripura.

The city was a former capital of the state during the reign of the Maharajas.

This city is famous for the Tripura Sundari temple also known as Tripureswari temple.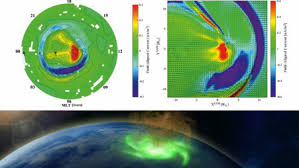 Space Hurricane: The scientists have discovered a "space hurricane" for the first time.
These hurricanes usually occur in the lower atmosphere of the Earth.

It was never observed in the upper atmosphere.

Earlier, the space hurricane was detected in August 2014 during a retrospective analysis which was led by the researchers at Shandong University of China.

Its findings were published in February 2021 in Nature Communications
Key Highlights:
The tech of scientists from USA, Norway, China and United Kingdom (UK) observed and produced the image of space hurricane using the Defense Meteorological Satellite Program (DMSP) satellites and a 3D magnetosphere modeling.

The hurricane swirled for eight hours over the North Pole in the upper atmosphere of Earth.

The hurricane that was detected over North Pole comprises of plasma with multiple spiral arms.

It was spinning in an anticlockwise direction.

The hurricane had the diameter of 1,000 kilometres while in altitude it reached from 110 kilometres to 860 kilometres.

It had the speed of up to 2,100 metres per second.
How will the study of space hurricane help the scientists?
The study of space hurricane will help the scientists to understand the important space weather effects like disturbances in high frequency radio communication, satellite drag, satellite navigation, errors in over-the-horizon radar location and communication systems.
What is space Hurricane?
A space hurricane is a huge, funnel-like, spiral geomagnetic storm that occurs above the polar Ionosphere of Earth, during extremely quiet conditions.

They are related to the aurora borealis phenomenon, as the electron precipitation from the storm's funnel produces gigantic, cyclone-shaped auroras.

The hurricane results into the stunning effect that is a huge, cyclone-shaped glowing green aurora can be observed below it.

Scientists believe that they occur in the polar regions of planets with magnetic fields.
Note: The astronomers have spotted hurricanes in space on Mars, Saturn and Jupiter.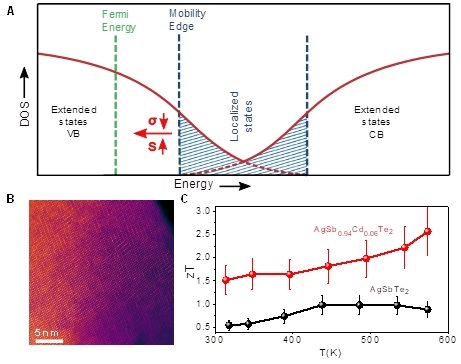 Cadmium (Cd) doped Silver Antimony Telluride (AgSbTe2): Recently, a new Lead (Pb) free material which can efficiently convert waste heat to power our small home equipment and automobiles has been found.
Details:
Scientists from Jawaharlal Nehru Centre for Advanced Scientific Research (JNCASR), Bengaluru, an autonomous institution of the Department of Science & Technology (DST), Government of have now identified a lead-free material called Cadmium (Cd) doped Silver Antimony Telluride (AgSbTe2).
Most efficient thermoelectric materials developed by scientists so far use Lead (Pb) as a major constituent element, restricting their use for mass-market applications.
This material which can efficiently allow recovery of electricity from 'waste heat' marking a paradigm shift in the thermoelectric puzzle.
This work is supported by Swarna-Jayanti fellowship and project fund from Science and Engineering Research Board (SERB) and Department of Science & Technology (DST), India.
About Waste Heat:
Energy conversion is not a very efficient process.
Only a small fraction of energy that is used is actually productive.
The rest of it becomes waste, often getting released as heat.
This waste heat can be tapped, and further converted into electrical energy.
DIWALI: It is an abbreviation for Dutch Indian Water Alliance for Leadership Initiative. Recently, in order to find solutions for water related challenges a platform called DIWALI has been developed.
Under the DIWALI platform, Both India and Netherlands could participate for designing solution for water challenges.
Highlights:
The consortium of experts from the two counties would explore the potential and sustainability of Dutch Solutions to resolve challenges in specific water challenged sites in India which are scalable, sustainable and affordable.
It is being led by Dutch consortia titled "Water for Change. Integrative and Fit-for-Purpose Water Sensitive Design Framework for Fast Growing Livable Cities" and
IIT Roorkee as lead along with other consortia member named MANIT, Bhopal; CEPT University, Ahmedabad; IIT Gandhinagar; CWRDM, Calicut.
In addition, based on assessment of R&D needs for cleaning of Ganga system and study on impacts of agriculture on quality and quantity of water in its basin, the DST and the Netherlands Organisation for Scientific Research (NWO) is stimulating sustainable research collaboration between the two countries.
They are supporting joint research in which 13 Indo-Dutch proposals involving premier research and academic organizations from both sides have been funded.
Devasthal Telescope: It is a world-class 3.6 meter optical telescope set up at Devasthal which has recently assumed global importance for observing a number of time-critical cosmic explosive events such as Gamma Ray Bursts and Supernovae.
Key Highlights:
This telescope is the Asia's largest fully steerable optical telescope.
It was set up in year 2016 by Aryabhatta Research Institute of Observational Sciences (ARIES), an autonomous research institute of DST with support from Belgian government and established India's role as a global player in astronomy research.
It is facilitating strong future collaborations with national, international institutions and industries.
The technological know-how gained from the development of this telescope and back-end instruments are beneficial for optical facilities planned for future such as the Thirty Meter Telescope – one of the mega projects in which the country is participating.
About Devasthal:
Devasthal is a picturesque mountain peak in Uttarakand from which the snowcapped Himalayas is clearly visible and the nearest settlement is 8 Km away.
The tranquil place far from the maddening crowd however stands out from many such hilly spots is being a symbol of India's rising position in global science and technology.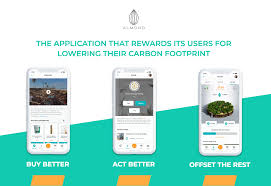 Carbon Watch: It is a mobile application to assess the carbon footprint of an individual. Recently, Chandigarh became the first state or Union Territory in India to launch Carbon Watch.
Highlights:
The app focuses on individuals' actions and calculates carbon footprint on the basis of Transport, Energy, Waste and Water consumption.
Although the app can be accessed by everyone, it has specific options for the residents of Chandigarh to compile a detail study.
The application can be downloaded through a QR code in Android supported smart cell phones.
As a person downloads the application, they will need to fill details in four categories. They are as follows:
In the category of Water, the person will be required to inform about the consumption of water.
In the Energy category, the details regarding the electricity units consumed every month at the house, monthly bill etc and usage of solar energy will have to be furnished.
In the Waste category, the individual will need to inform about the waste generated on their part and their family.
In the transport section, the individual will have to inform them about the mode of transport used by the- four-wheeler, two-wheeler or bicycle.
With the mentioned information, the mobile application will automatically calculate the carbon footprint of the individual.
The application will also provide information such as the national and world average of the emission, and the individual's level of emission generation.
It encourages people to be Climate-Smart Citizens while suggesting methods to reduce the carbon footprints as per the information furnished by the individuals.
What is Carbon Footprint?
Carbon footprint is the amount of greenhouse gases-especially carbon dioxide-released into the atmosphere by a particular human activity.
Dr Swati Mohan: The world witnessed the historic landing of NASA's Perseverance rover on the Martian surface.
It was Indian-American scientist, Swati Mohan, who led the guidance, navigation, and control operations of the Mars 2020 mission.
Indian-American Dr Swati Mohan spearheaded the development of attitude control and the landing system for the rover.
She is the key communicator between the GN&C subsystem and the rest of the project's teams.
About:
Dr Mohan had emigrated from India to the United States at the age of One. She was raised in Northern Virginia and Washington DC metro area. She completed her bachelor's degree from Cornell University in Mechanical & Aerospace Engineering, and her M.S. and Ph.D from Massachusetts Institute of Technology (MIT) in Aeronautics/Astronautics.
She has worked on Mars-2020 since almost the beginning of the project in 2013 and is currently working at NASA's Jet Propulsion Laboratory in Pasadena.
National Science Day: National Science Day is observed on 28th of February every year across India.
The day is celebrated to commemorate the discovery of the 'Raman Effect'.
On this day, Physicist CV Raman announced the discovery of the 'Raman Effect' for which he was awarded the Nobel Prize in 1930.
The day is aimed at spreading the message of the importance of science and its application in human life.
The theme for National Science Day 2021 is 'Future of Science and Technology and Innovation: Impact on Education Skills and Work'.
With a view to promote science and innovation, the government presents the National Science Communication Awards on this day.
The award was instituted in 1987.